This Art Safari is the perfect opportunity to improve your creative skills whilst based in an authentic safari camp in the Timbavati Game Reserve, Kruger.
Departure Dates 2017
1 to 5 September 2017
Introduction
Umlani Bushcamp is located in the Timbavati Game Reserve. The reserve shares unfenced borders with the Kruger National Park and is east of the Klaserie Private Nature Reserve, covering around 600 sq.kms.
On this Art Safari you will get a chance to take part in two daily game drives with Alison Nicholls – a professional wildlife artist who will share with you her field sketching techniques and show you how to create your own wildlife field sketches.
Whether you're a beginner or a seasoned wildlife artist, Alison Nicholls will teach and demonstrate how to sketch animals quickly and confidently, in a relaxed environment.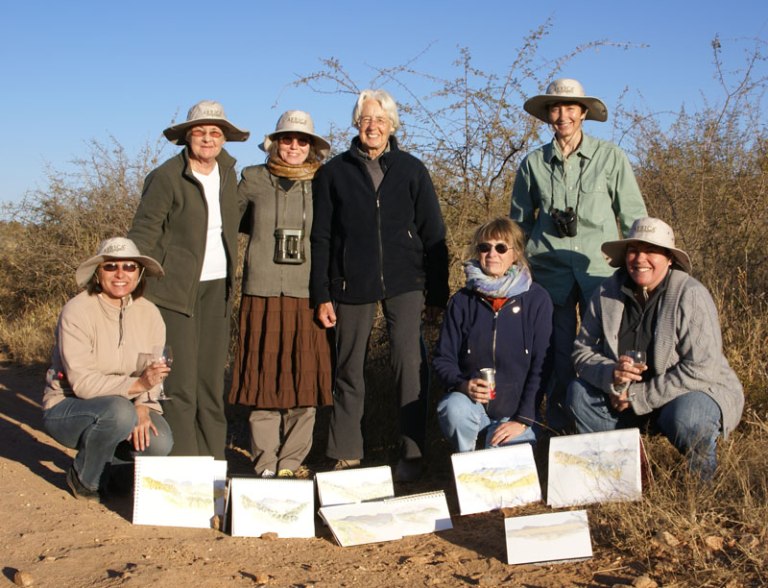 "It was amazing to have Alison right there on every game drive offering ideas and suggestions. I can't believe in such a few short days how quickly I improved my sketching!" – Barbara Womack.
Detailed Itinerary
Day 1: Arrival in Hoedspruit
Arrive at Eastgate airport (Hoedspruit), where you will meet up with your guide Alison Nicholls and the other members of your group. Once everyone has arrived, you will transfer to Umlani Bushcamp in the Timbavati Game Reserve (Kruger NP).
Once here you check into your room and acquaint yourself with Umlani Bushcamp– your home for the next 4 nights.
After a light lunch Alison Nicholls will give a short demonstration, showing how she uses simple shapes to begin her wildlife sketches. With your materials in hand and Alison Nicholls to offer advice and demonstrations, you will embark on your first art safari game drive to capture the wealth of wildlife that the Timbavati has, in your own sketchbook.
Alison Nicholls will sit in the middle of the group on drives, allowing her to easily talk to every guest. The main aim of the art safari is to teach guests to sketch wildlife quickly and confidently, so most sketching on game drives will be done in pencil, pen and other dry materials with the aim of completing as many sketches as possible of different species. Watercolour and other materials are more suitable for finishing off your artwork back at the lodge, but may be added during game drives if time allows.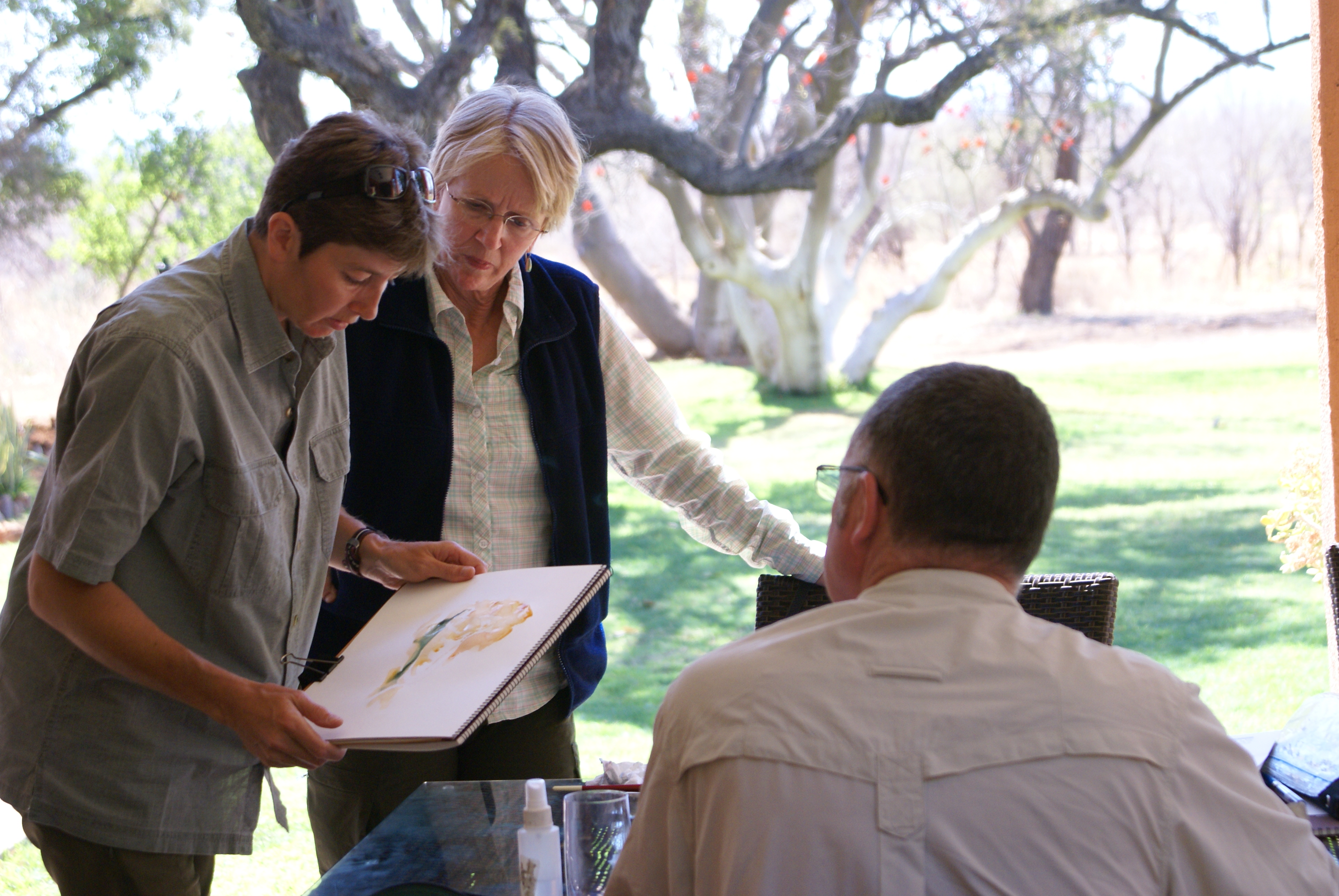 "I've been on over eighteen safaris and have never so thoroughly enjoyed my animal watching experiences. In fact, I cannot imagine going on future safaris without a sketchbook and pencil in my backpack and taking the time to sit, watch, listen, and to really "see" and record the marvels unfolding before me." – Penelope Bodry-Sanders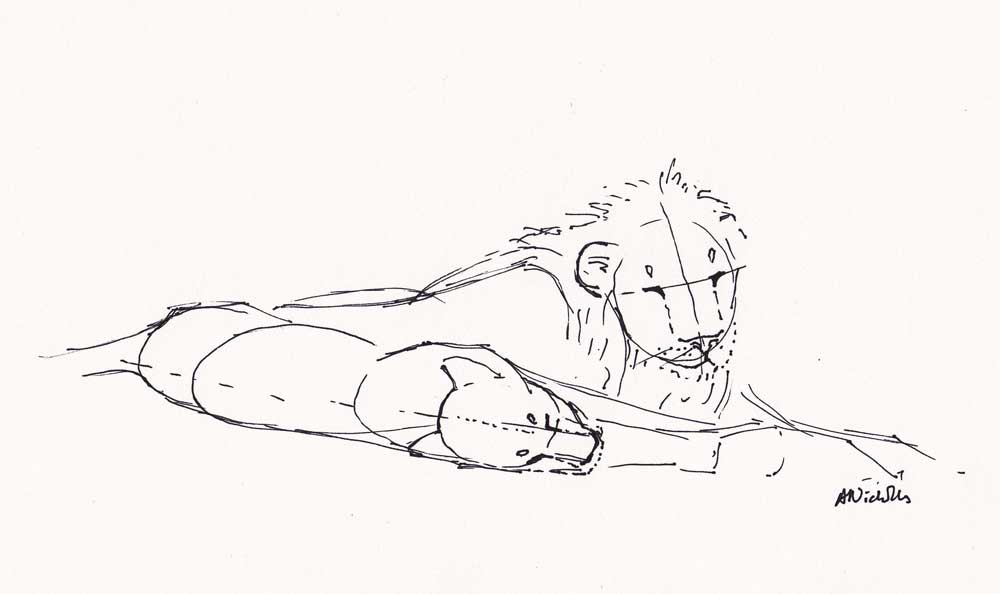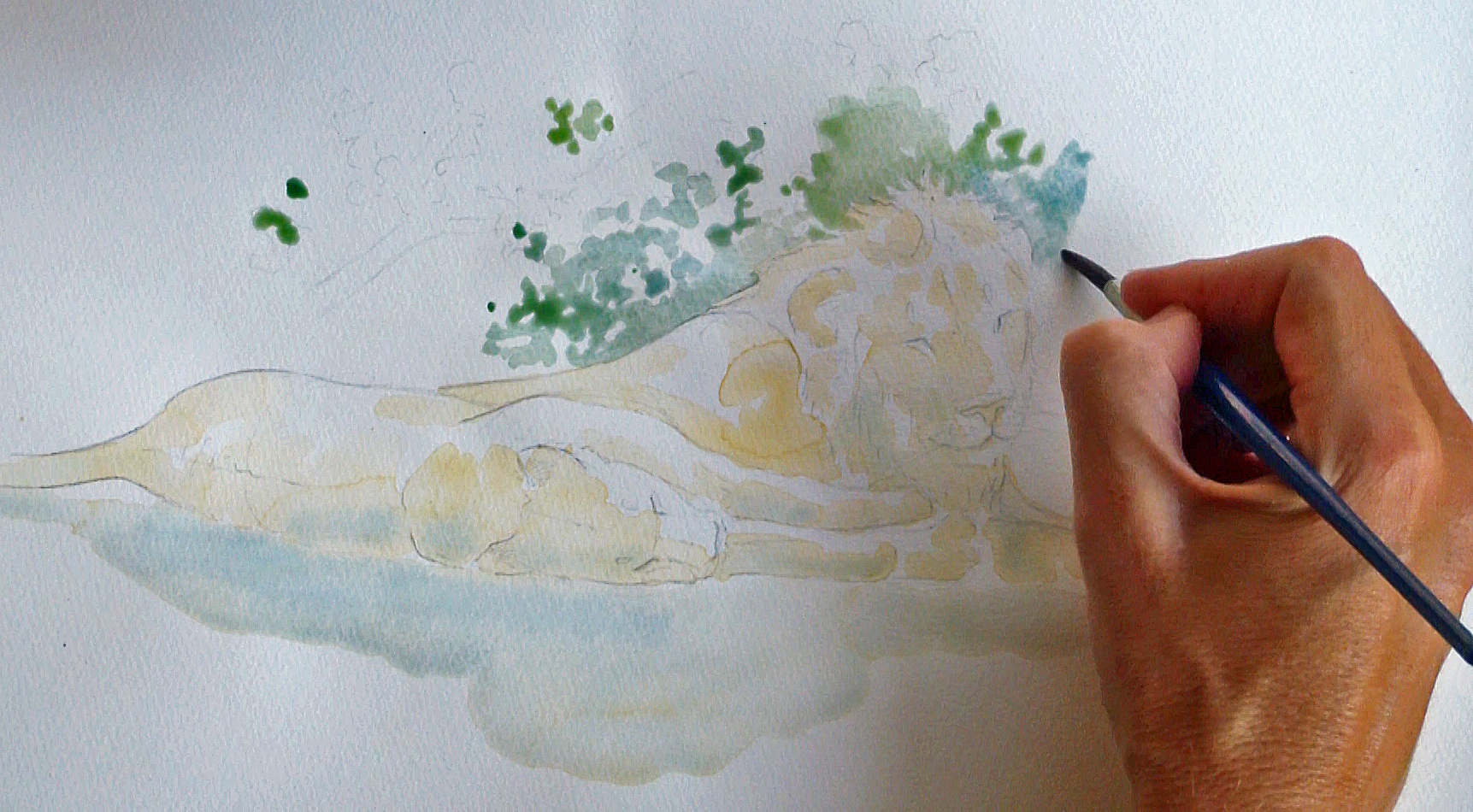 During any of the art safari game drives you will enjoy a plethora of game sightings such as elephant, rhino, buffalo, impala, kudu, zebra, giraffe, steenbok, duiker, mongoose, baboon, vervet monkey and hippo. Leopard and lion, Africa's biggest cats, prowl the bushveld and their calls can be heard in the night when you are falling asleep. Other fantastic predators found here are the spotted hyena, black-backed jackal, side-striped jackal, caracal, crocodile, cheetah, serval, and African wild dog, to name but a few.
You will then slowly return to camp, keeping an eye out for some of the nocturnal species found in the reserve. At around 20h00 dinner is served and the following day's art safari plan and sketching activities will be discussed.
Overnight at Umlani Bushcamp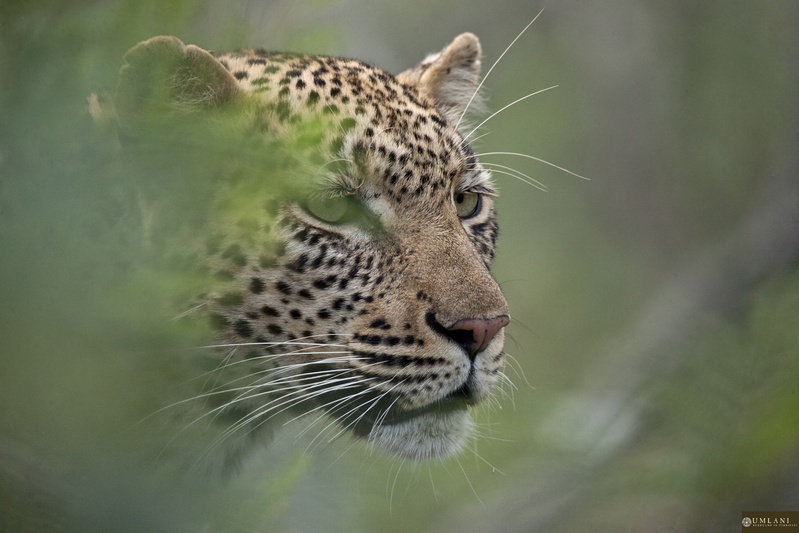 "This trip exceeded my expectations and imagination." – Stacy Edick
"I attended Alison Nicholls' Africa Geographic safari as a non-participating spouse. Using my photo safari experiences as a baseline, I'll state unequivocally that never have I experienced such professionalism, enthusiasm, organisation and warmth as I did with Alison on this safari. The photo safaris I've been on paled in comparison. Alison's organisational skills are superb, and her ability to orchestrate game drives, meals and other logistics all while providing each individual enough attention and mix it with a lot of laughter is most impressive." – Butch Mazucca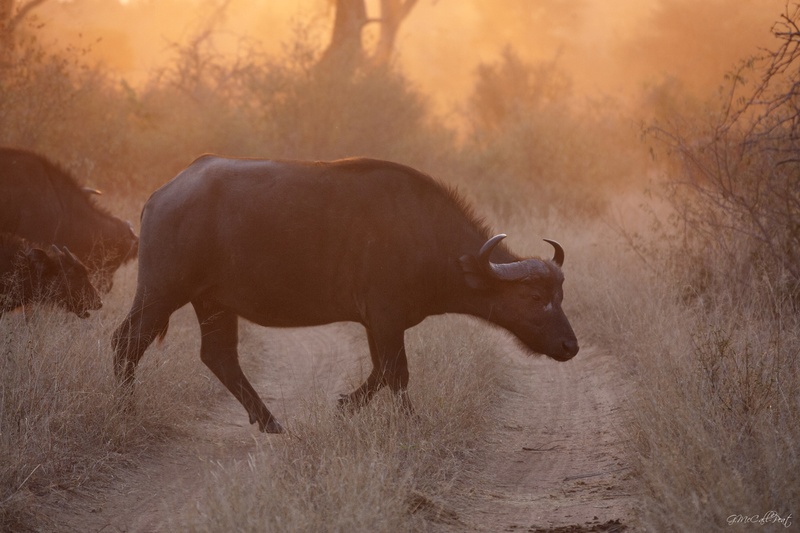 Days 2 – 4: Three full days of game-viewing and sketching in the Timbavati  Game Reserve
Each full day follows a similar routine depending on weather conditions and what has been seen thus far. Generally, your daily the routine will run as follows:
5h30: You will gather for tea, coffee and a snack
6h00: Depart on the morning art safari game drive to sketch wildlife, followed by a late brunch
12h00 – 15h00: This time will be spent at camp where guests can choose to relax by the pool or get creative by taking part in an informal art workshop by Alison Nicholls.
The workshops will feature topics chosen by guests. Some examples of past topics are:
Colour – how to use it in your wildlife sketches
Sketch to studio – using your wildlife sketches to inspire studio paintings
Composition of a wildlife sketch
In addition, Alison will be available to give short individual critique sessions.
15h00: Tea and a light lunch
16h00: Depart on the afternoon art safari game drive
20h00: Return to camp for a hearty dinner and a chat about the next day's art safari activities.
Overnights at Umlani Bushcamp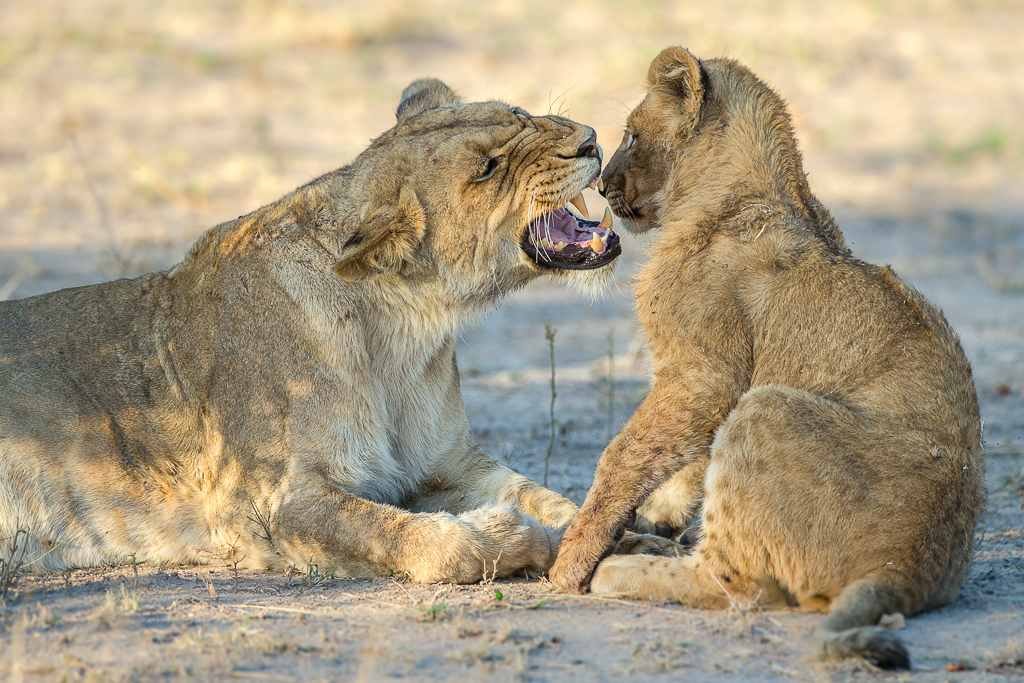 Day 5: Departure from Timbavati GameReserve
The morning game drive will be followed by a farewell brunch, checkout and departure from the Timbavati at (10h00), with new and long-lasting memories and a renewed creative outlook on nature and wildlife. Should you wish to continue with your travels, Africa Geographic will be happy to assist you with recommendations and reservations.
End of services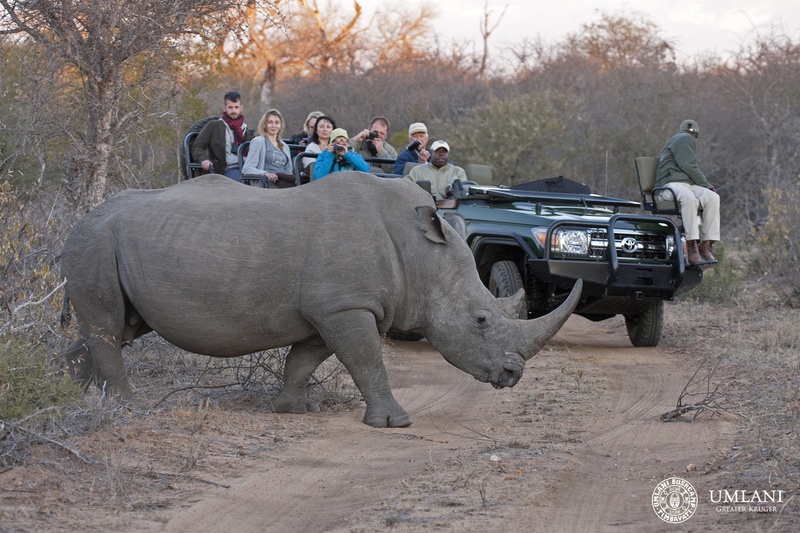 More about Timbavati Game Reserve
Timbavati is a private nature reserve with open borders to the famous Kruger National Park. It is part of the Greater Kruger eco-system, which offers a unique and extraordinary wildlife experience. All of the coveted Big Five characters are easily spotted here including the elusive leopard.
The game reserve is 600 km² / 232 mi² and lies at an altitude of 331-538 m / 1086-1765 ft in South Africa's lowveld. It is easily accessible from Hoedspruit which is barely 60 kms away form the Timbavati's Main gate
The Timbavati experience often allows guests to take walking safaris as well as game drives. Night drives, sky beds and bush dinners. It is notoriously good for night drives and it is a lot less busy and transited than other more famous nearby reserves such as the Sabi Sands.
Game viewing tends to be very good and Timbavati boasts the Big Five and all other large safari animals including elephant, buffalo, kudu, zebra, wildebeest, giraffe, impala, waterbuck and their predators: lion, leopard, cheetah and hyena. Big cats are easy to spot, but rhino is more hit and miss. African wild dogs are regular visitors to the property.
The main habitats in the reserve are grassy plains and mixed woodland.
All in all, the Timbavati is one of the most acclaimed hidden gems and secrets of the greater Kruger Area, and thus an ideal enclave to base this thrilling Art Safari.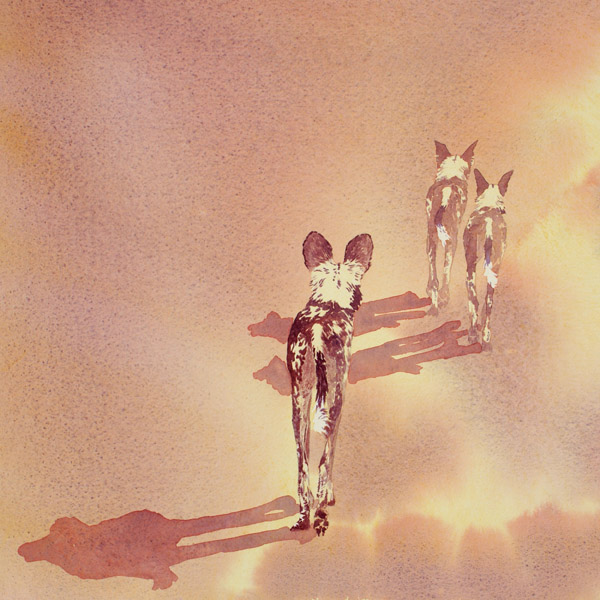 "Sketching in the bush with Alison was a delight, she is thorough, humorous, knowledgeable, and patient. I found it amazing that the placement of a single line transformed my house cat into a lion." – Celia Clowe
Accommodation
Sleeping just 16 people, accommodation at Umlani Bushcamp is in reed and thatch huts built in the local Shangaan style .
The four double huts come with double beds and en-suite facilities including an open-air bush shower. Comfortably-fitted with white mosquito nets, crisp white linen and towels as well as with standard bathroom amenities, the huts also have bottled water (although the tap water is perfectly safe to drink) and insect repellent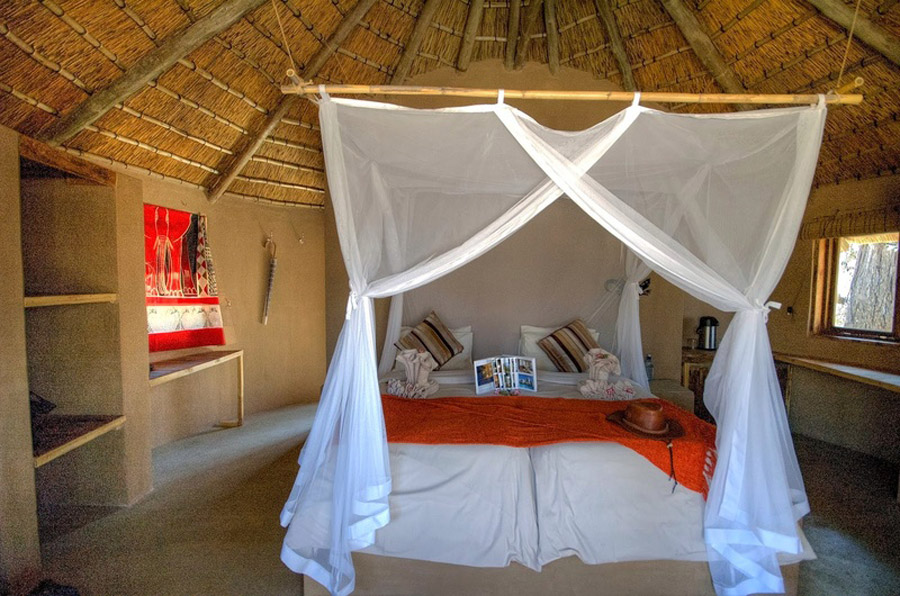 Umlani's philosophy of simplistic luxury and 'getting back to nature' is enhanced by the romance of operating without electricity, so each hut and the entire camp is lit by candlelight and oil lamps, providing a warm and romantic atmosphere. Solar panels and inverters provide ample power to recharge batteries, laptops and flashes for your photo safari.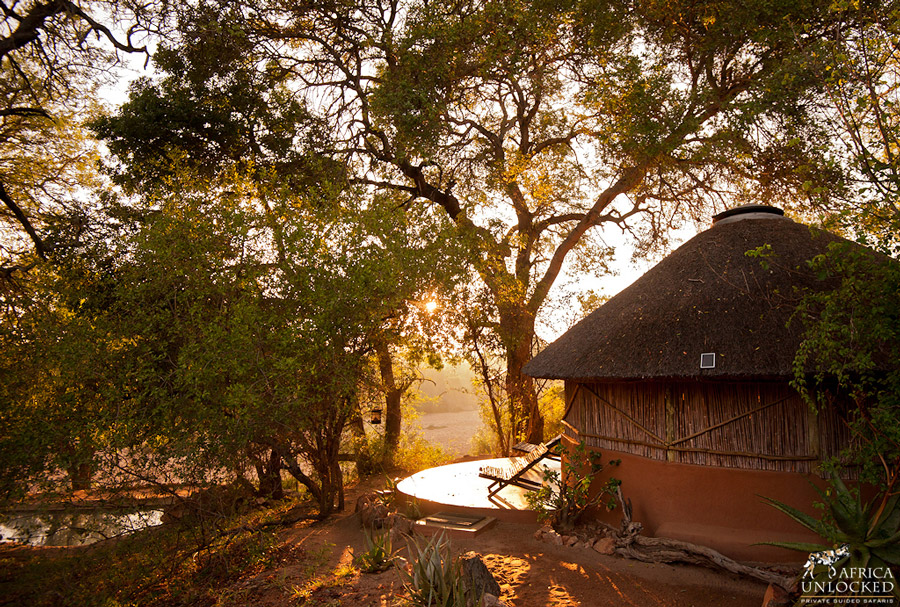 The public areas at Umlani Bushcamp are dedicated to laziness: the bar opens onto a deck overlooking the riverbed and a busy waterhole; hammocks hang between the trees around the pool and there is an elevated game viewing hide at a small dam a couple of kilometres from the camp.
Dinner is a memorable African affair in the dining room by candlelight or surrounded by lanterns and torches in the riverbed.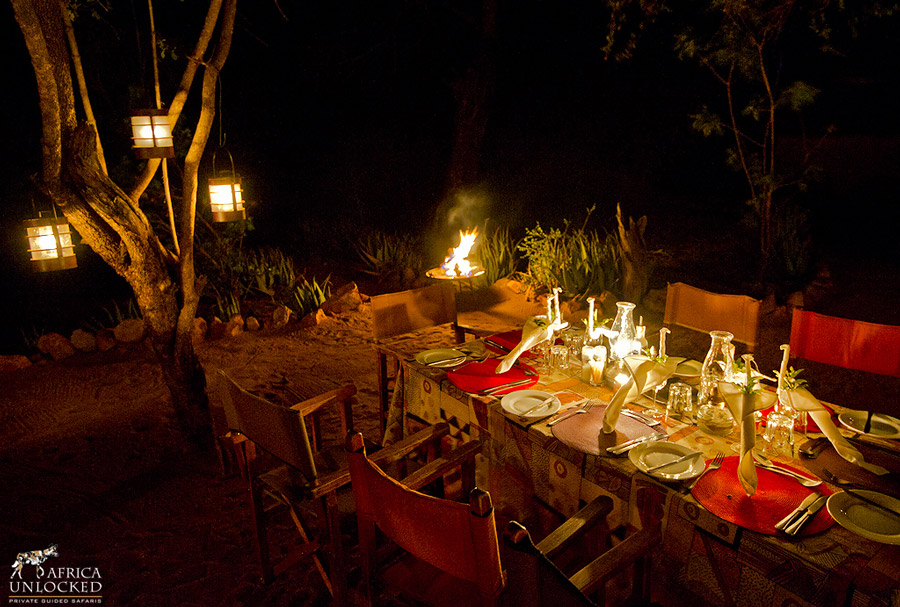 About the Guide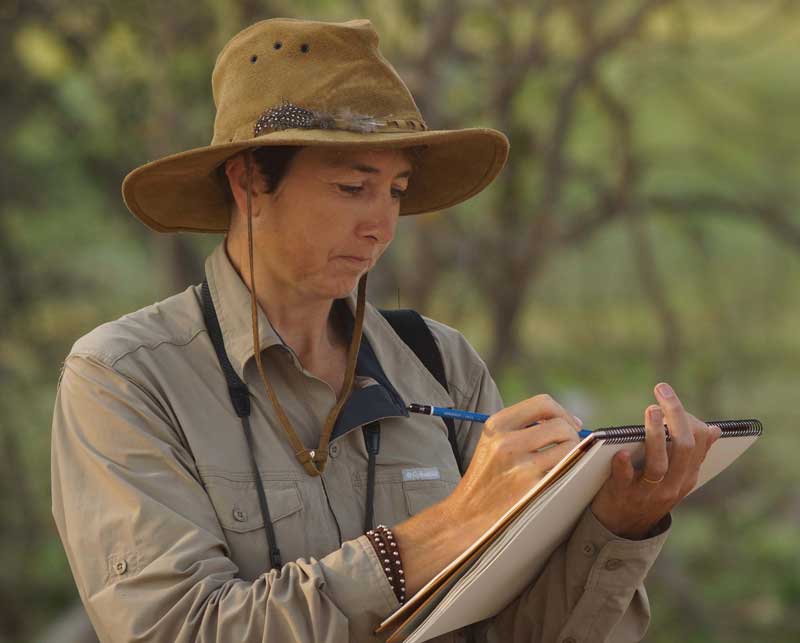 Alison Nicholls is a professional wildlife artist who lived in Botswana and Zimbabwe for 9 years. Sketching wildlife in the bush is an essential part of her work and the inspiration for her larger studio paintings comes from these hours of observation and wildlife sketching.
Alison Nicholls is a signature member of Artists For Conservation, the Society of Animal Artists, and a member of the Explorers Club and Salmagundi Club in New York City. Her work has been featured in wildlife art magazines in the USA and UK. The US Department of State used her work to promote the "Coalition Against Wildlife Trafficking" initiative and her work has been exhibited at the Botswana Mission to the United Nations in Manhattan. Her Conservation Sketching Expedition program allows her to visit African conservation projects, and then use exhibitions to raise awareness and funds for the project on her return to the USA. She lectures about Africa, wildlife and conservation issues in the region and donates a percentage from every sale to support African conservation projects.
You can see more of her work by visiting her website: www.ArtInspiredbyAfrica.com. To find out more about Alison's Art and travels read any of the following trip reports: What is an Art Safari?, 2015 Art Safari trip report, 2013 Art Safari trip report, 2011 Art Safari trip report, 2017 Art Safari trip report, or this fascinating blog about A Day on Art Safari.
"By the time we met, I already felt that I knew Alison well as she had taken the trouble to make contact with me on a number of occasions before the trip to outline what to expect, what was required and to make sure any questions were answered. Her artistic prowess is unquestioned but as a tutor, her quiet encouraging manner and friendly demeanour meant that a complete novice such as myself could reveal my artistic ineptitude with no fear of embarassment. I learnt a lot and was very much inspired to continue my efforts in future." – Alastair Gibson
Additional Information
Climate: Kruger in August is Spring time which is the height of the dry season. Temperatures at this time range from 12°C – 28°C.
Difficulty: This art safari is largely vehicle based and is not strenuous. Walks are optional.
Group size: The art safari has been limited to 6 participants and your guide Alison Nicholls.
Price includes: All accommodation, return road transfer from Eastgate Airport (Hoedspruit), all meals (breakfast, lunch and two course dinners), hot drinks and rusks, game drive snacks, soft drinks and water, local drinks (soft & alcoholic) and tea/coffees, 2 daily game drives, optional bush walks, and all conservation and entrance fees to access the reserve and guide fees. Art tuition by Alison Nicholls throughout the safari, including on twice daily game drives and during informal sketching workshops at Umlani Bushcamp. WiFi access in the lounge area. 24/7 office support.
Price excludes: International or domestic flights, visas, items of personal nature, telephone calls, laundry, travel and medical insurance, gratuities, excess baggage charges, or any activities not specified in the itinerary.
"Alison taught us how to really look at an animal and see things that you don't see from photos. I was able to continue sketching on the rest of our trip in Africa and found the game drives to be more interesting than before because I was constantly trying to sketch, and by the end of our trip my sketches had much improved and I now have my own references for future paintings. Alison's art safaris would work for any level of experience and non-participating spouses can enjoy it as well." – Bobbi Bryson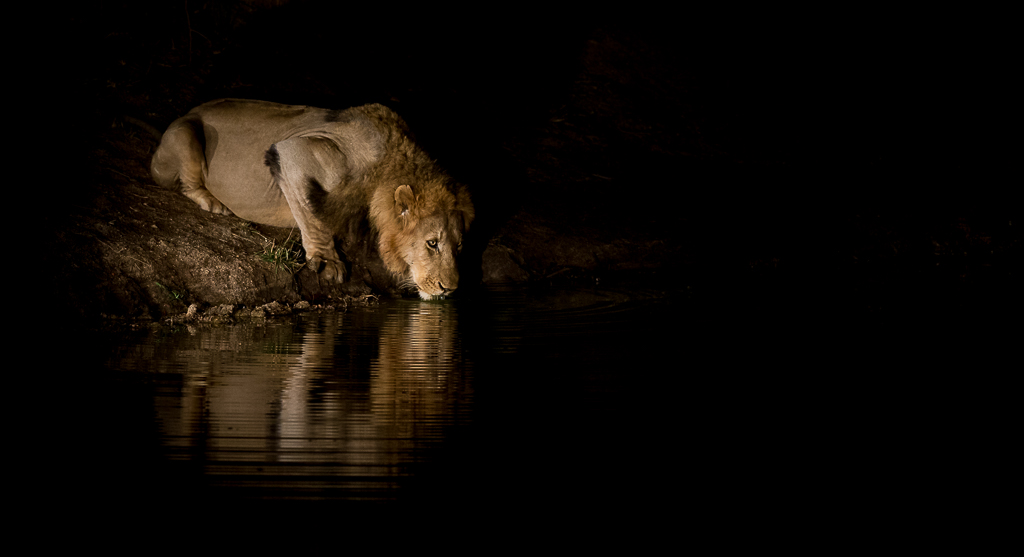 Booking and payment details: Once you have decided to join one of our safaris, you will need to contact us for a booking form, which will include details relating to deposit and final payments etc. As our groups are small they fill up quickly.