Trek for mountain gorillas and golden monkeys in Rwanda's Volcanoes National Park, visit the twin lakes of Burera and Ruhondo, watch the sun set over Lake Kivu, track Grauer's lowland gorillas in Kahuzi-Biega National Park, see chimpanzees and colobus monkeys in Nyungwe Forest National Park and learn about the history of Rwanda on this nine day primate extravaganza!
Departure dates
Tailored dates for 2016 and 2017
Price

Introduction
Tracking mountain gorillas in Rwanda is understandably heralded as one of the most exhilarating bucket list pilgrimages in the world. However, this wildlife experience often eclipses the many equally as incredible primate viewing opportunities that Rwanda and the neighbouring DRC have to offer.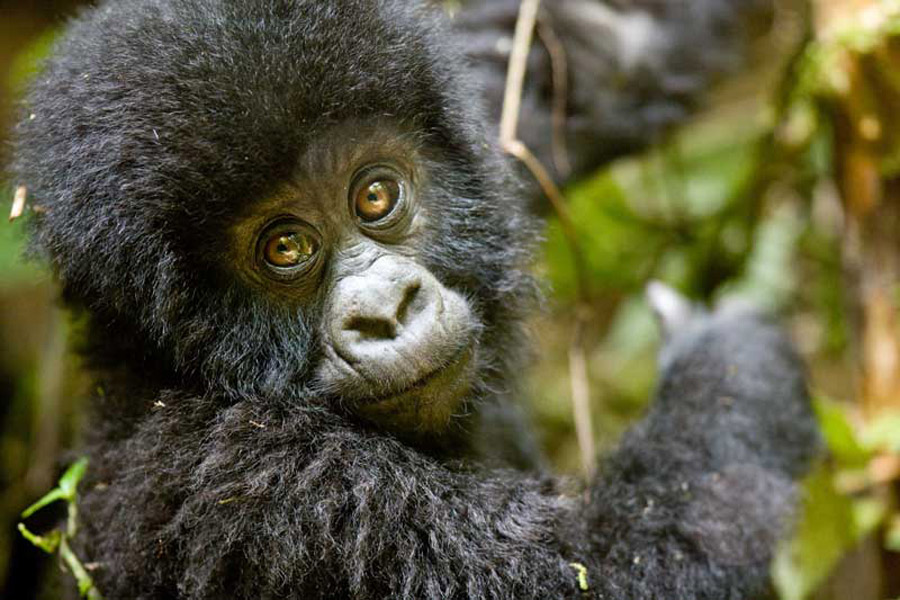 What if we told you that on top of meeting the mountain gorillas, we could offer you the rare chance to watch a troop of golden monkeys and track Grauer's lowland gorillas – the largest and most endangered gorilla in the world? What's more, you'll also be able to spend a morning in the company of a chimpanzee family and join Africa's biggest mega troop of pied colobus monkeys!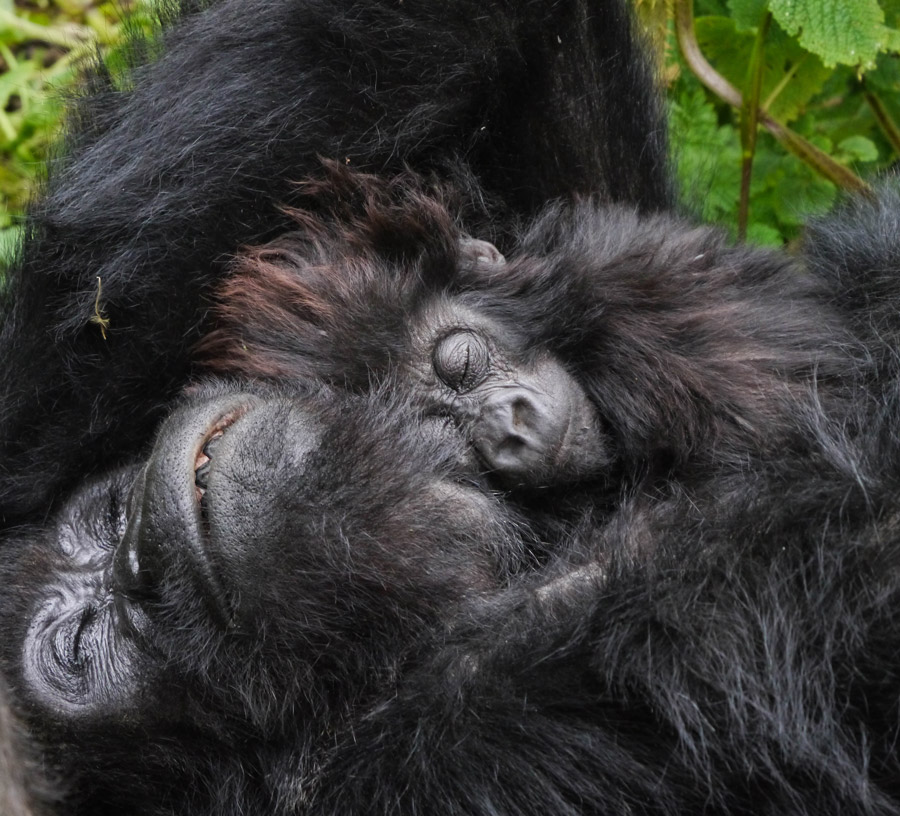 This would all involve trekking through the forested hills of Volcanoes National Park in Rwanda, taking a speedboat across Lake Kivu, meandering across the lower reaches of Kahuzi Biega National Park in the Democratic Republic of Congo, and crossing Africa's highest canopy walkway in the continent's largest tract of afro-montane forest in Nyungwe.
Over the course of nine days, this Africa Geographic Travel itinerary offers all these things and more. To make life easier, no domestic flights are required on this trip, nor tiring drives of more than four hours. And the best part is that there are three different prices to suit your budget and travel style, and dates can be tailored to fit your schedules.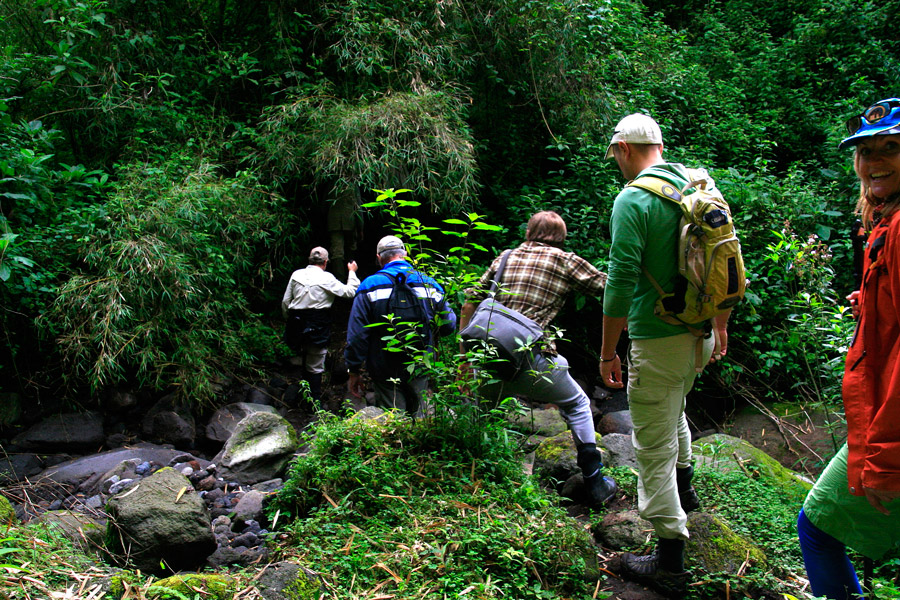 Detailed Itinerary
Day 1: Arrival in Kigali and transfer to Rwanda's Volcanoes National Park
On arrival at Kigali International Airport you will be met by our representative and whisked off on a short three-hour drive towards Ruhengeri, a small town near the magical Volcanoes National Park.  Here you will be able to settle in at a hotel of your choice (see accommodation section below).
During the late afternoon you will have the chance to freshen up and explore your surroundings before indulging in a delicious home-cooked dinner at the lodge's restaurant.
At a time of your convenience your guide will debrief you on the basics of gorilla trekking to prepare you for the following day's adventures.
Dinner and overnight at a hotel of your choice in Ruhengeri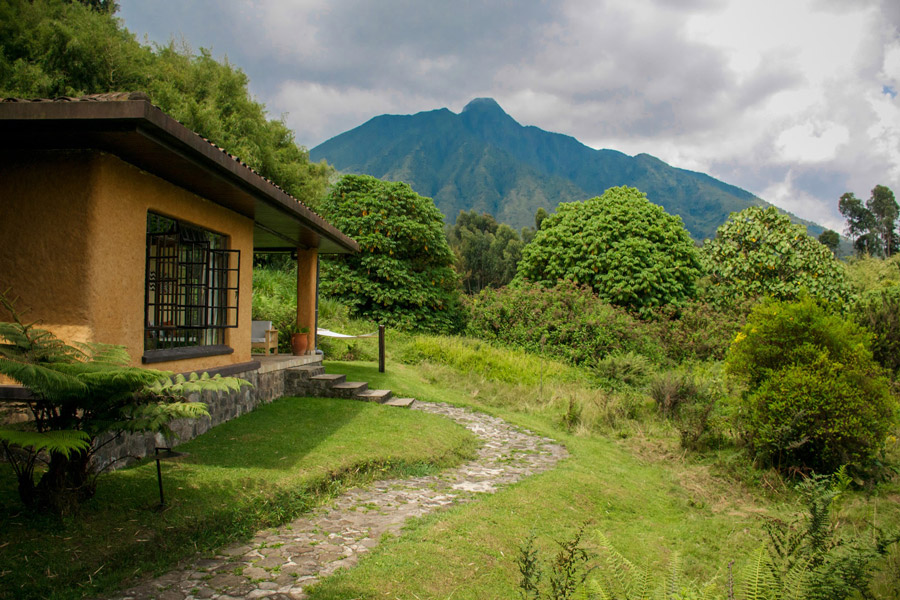 Day 2: Tracking mountain gorillas and visiting the twin lakes of Burera and Ruhondo
After breakfast you will take a short drive to the Volcanoes National Park's office headquarters where you will meet the excellent local guides and trackers that will lead you into the Virunga Mountains on your gorilla tracking experience. Beforehand you will be given an informative talk on tracking etiquette and your physical condition will be assessed so that a mountain gorilla group can be assigned to you accordingly.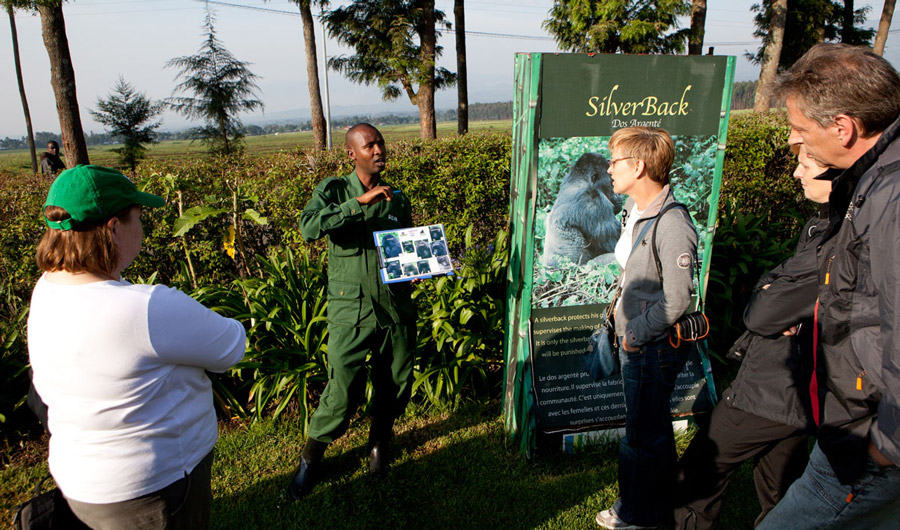 Before you embark on your adventure, you will be introduced to your team of rangers, porters and trail assistants. The gorilla trekking experience can then take between one and six hours depending on a variety of environmental and physical factors, and you could climb to altitudes above 7,500 feet (2,300 metres). The terrain in Rwanda's Volcanoes National Park can be rough, as well as muddy and slippery at times, but your experienced leader will ensure that the group progresses at a pace that is comfortable for everyone. Fret not, for there will also be frequent stops to take in the views, hydrate, rest, take plenty of photographs, and generally just enjoy yourself.
Although the gorilla tracking experience can be physically demanding, the beauty of the surrounding scenery always makes the trek worthwhile. All fatigue will be forgotten once the gorillas are located and you watch in awe while these gentle giants go about their daily routine in peace. In most instances gorilla groups are likely to be grooming, resting, casually eating, or absorbed in some other primal social activity. Being followed by the expressive eyes of a mountain gorilla is one of the most poignant wildlife experiences that Africa has to offer.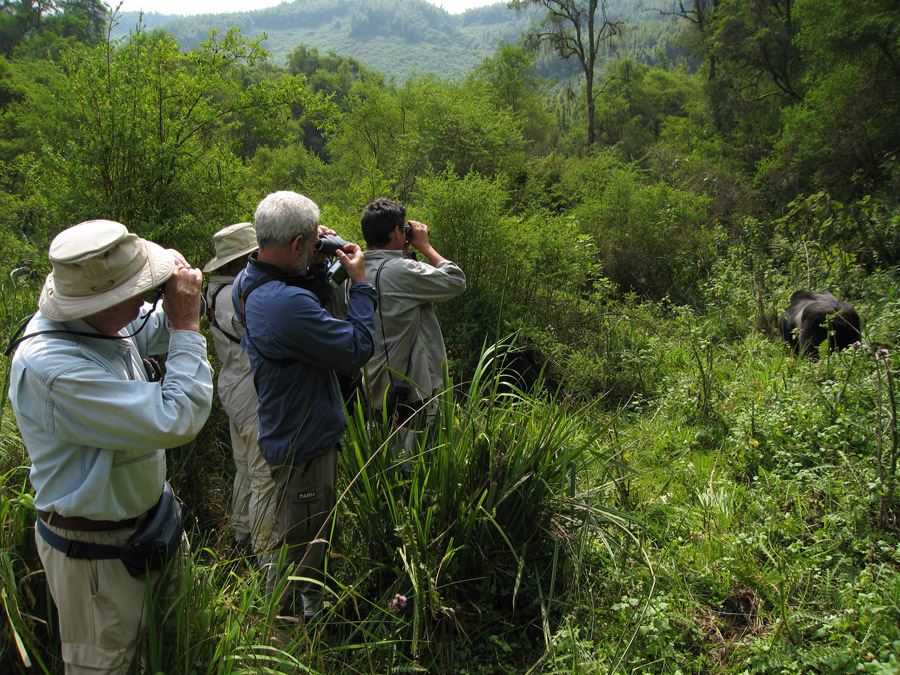 After 45 minutes fly by, you will step away from their realm and trek back to the lodge for a shower, a change of clothes and some lunch.
Later in the afternoon you will take a relaxing drive into the hills to visit the picturesque twin lakes of Burera and Ruhondo, and a stop at Virunga Safari Lodge for drinks will give you the chance to absorb the magnificent views.
Back at the hotel in Ruhengeri a wholesome meal awaits before you retire for a good night's rest to gather energy for the golden monkey trek.
Dinner and overnight at a hotel of your choice in Ruhengeri
Day 3: Searching for golden monkeys and watching the sun set over Lake Kivu
After breakfast you will gather once again at the Volcanoes National Park headquarters, but this time golden monkeys are on the agenda. The golden monkey is a local subspecies of the widespread Sykes monkey, also known as the blue monkey, which is endemic to the high altitude forests of the Volcanoes National Park.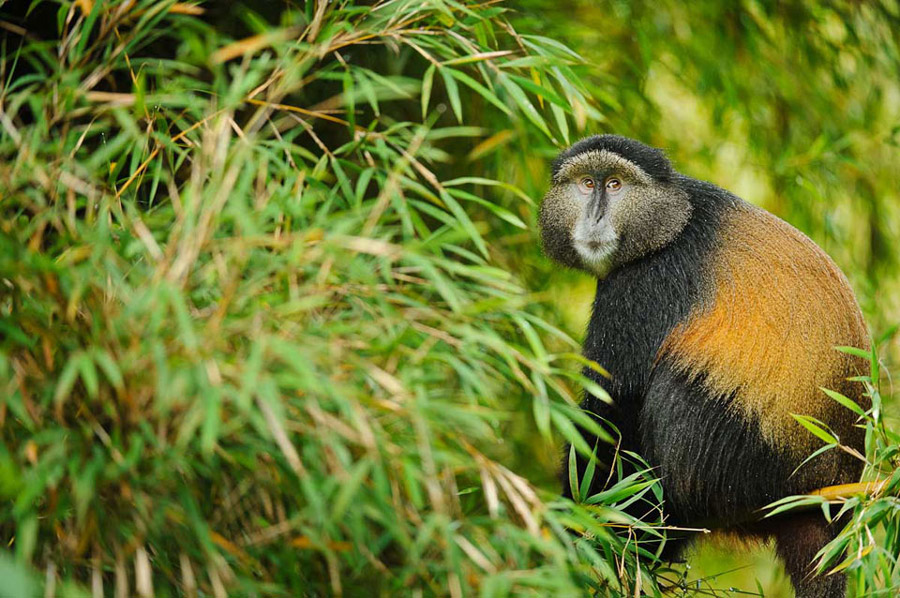 These monkeys have an endearing nature; they are playful and inquisitive and often spend their time leaping from bamboo branches or frolicking on the forest floor.
The habituated group that you are most likely to encounter has around 80-100 members and resides at the foot of Mt Sabyinyo. The trek to find the golden monkeys is only attempted in the cool of the mornings, and once you find them after a couple of hours, you will be allowed to observe and photograph them for about an hour.
After this trek you will return to headquarters and your hotel, from which you will head towards the town of Gisenyi on the shores of Lake Kivu after lunch.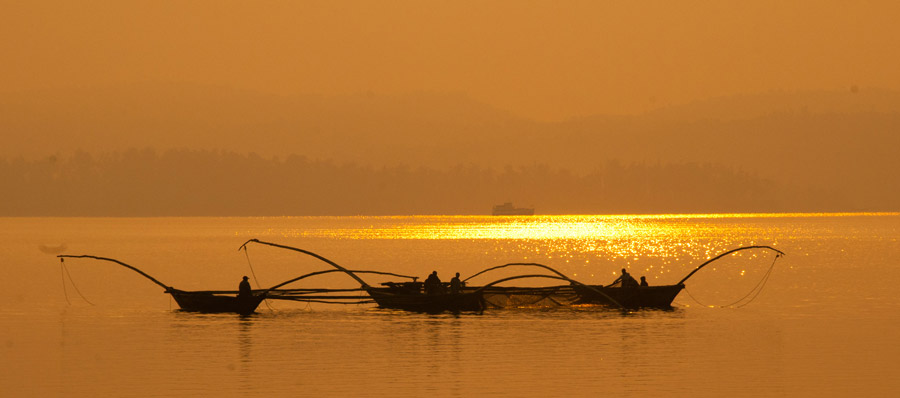 Nothing specific has been planned for the afternoon so as to allow everyone to rest, catch up with diaries, swim in the lake or just enjoy the sunset. That said, there is a range of boating and other nearby activities on offer if you prefer to keep active.
Dinner and overnight at a hotel of your choice in Gisenyi
Day 4: Crossing Lake Kivu en route to Bukavu in the DRC
After an early breakfast you will cross the Rwanda/DRC border and board a speedboat that is docked at Goma's port. The trip across Lake Kivu reaches Bukavu just two hours later.
On arrival you will be transferred to your hotel before taking a short tour of Bukavu town in the afternoon. During this tour you will visit the Congolese National Tourism Offices to formalise and collect all required access permits to track Grauer's lowland gorillas in Kahuzi-Biega National Park the following day.
Dinner and overnight at a hotel of your choice in Bukavu
Day 5: Trekking for Grauer's lowland gorillas in Kahuzi-Biega National Park
After breakfast and a short drive to the Kahuzi-Biega National Park headquarters, you will meet the rangers and trail guides that will lead the day's expedition in search of one of Africa's rarest apes – the Grauer's lowland gorilla. The Grauer's gorilla is only found in eastern DRC, and it is protected over a number of dwindling locations.
The Grauer's gorilla is the largest of all gorilla subspecies, with males in the wild reaching weights of 250kg and heights of 2m when standing upright. Females are considerably smaller with a maximum weight of 110kg and a height of 140cm.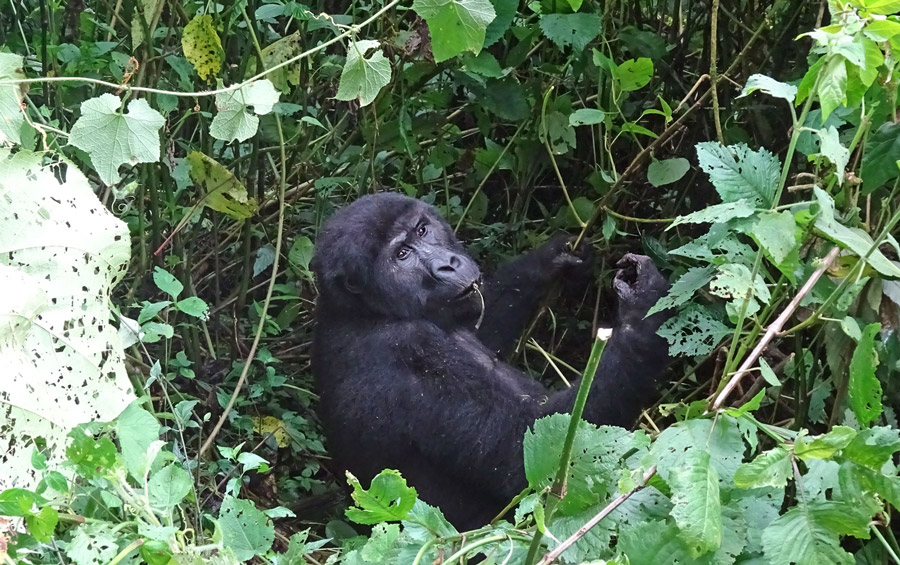 You can typically expect to make your way through the dense vegetation of Kahuzi-Biega for up to two hours. During this time, there is also the possibility of coming across other primate "megas" like the enchanting owl-faced guenon. The colourful Ruwenzori turaco abounds in this area and if Lady Luck is looking down on you, you may just find yourself stepping into the footprints of a roaming forest elephant.
However, nothing will compete with the moment when you first notice a Grauer's gorilla's eyes peering inquisitively at you. A quick scan will most likely reveal the rest of the group; their beady eyes staring at you from deep in the bamboo.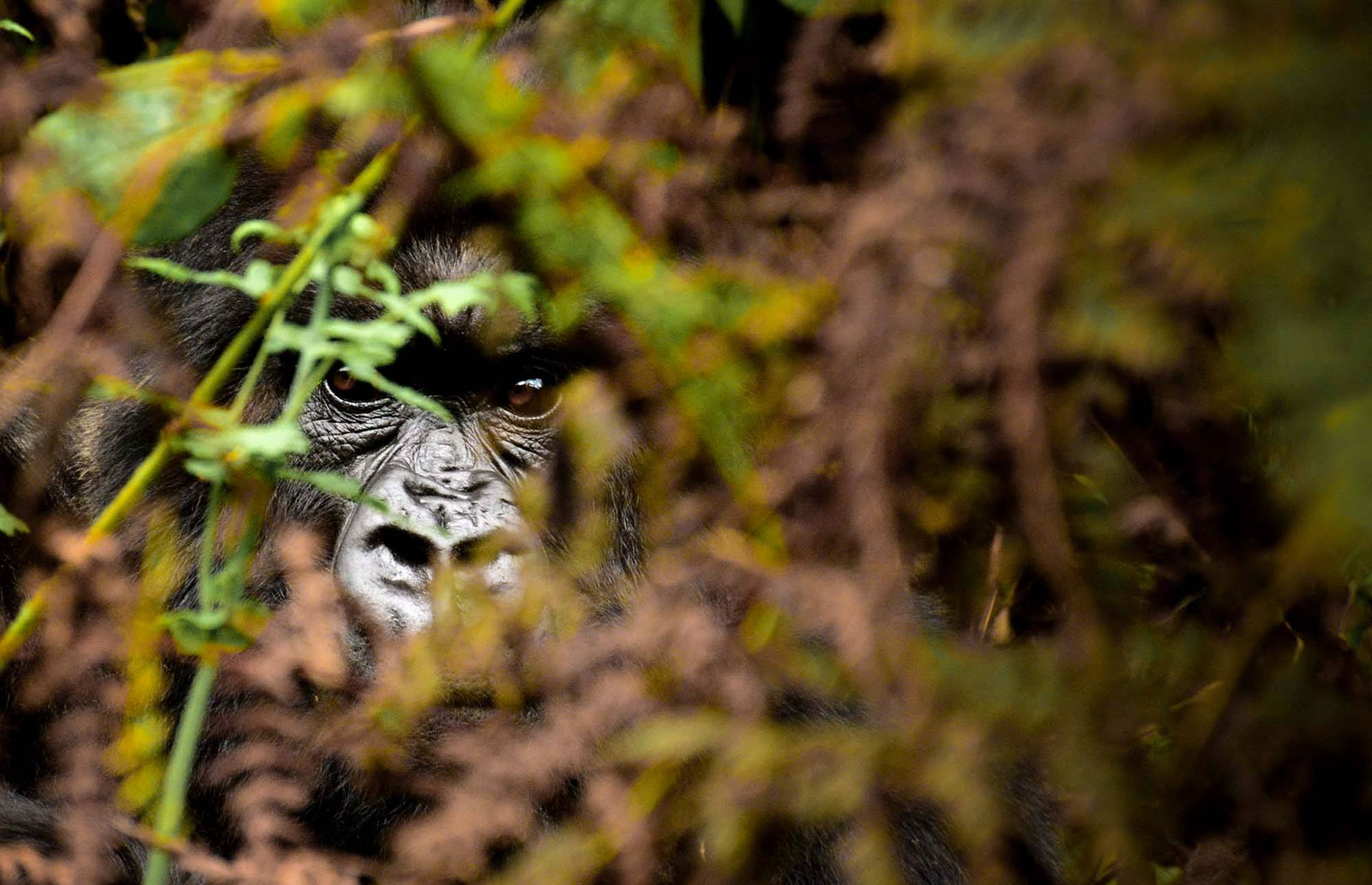 The next hour is spent in the company of these lowland creatures, watching them feed, play, rest, groom, teach and discover. Soon enough you may even find yourself recognising the different facial expressions and personalities of each family member.
If you are lucky enough to track down Chimanuka's family, you will meet the four sets of twins that this troop is raising. This is a unique phenomenon that has baffled and excited the world's primatologists.
Once your hour-long encounter is over, you will return to headquarters where a picnic lunch waits.
In the late afternoon you will return to your hotel in Bukavu to enjoy your evening at leisure.
Dinner and overnight at a hotel of your choice in Bukavu
Day 6: Transfer to Nyungwe Forest National Park in Rwanda
Shortly after breakfast you will cross the DRC/Rwanda border and proceed on a short drive towards Nyungwe Forest National Park.
On arrival you will check-in at a hotel of your choice – namely the stunning Nyungwe Forest Lodge or the modest Gisakura Guest House Hotel – where lunch will be served.
After familiarising yourself with your new whereabouts you will set off on a short walk to experience Nyungwe's forest canopy realm at its best. Climbing onto East Africa's highest canopy walkway, which hovers 50m above the forest floor, you will have the chance to admire Nyungwe's birds, epiphytic plantlife and primate diversity. The sprawling views of Nyungwe Forest – Africa's largest tract of afro-montane forest – are simply unforgettable.
Dinner and overnight at your chosen hotel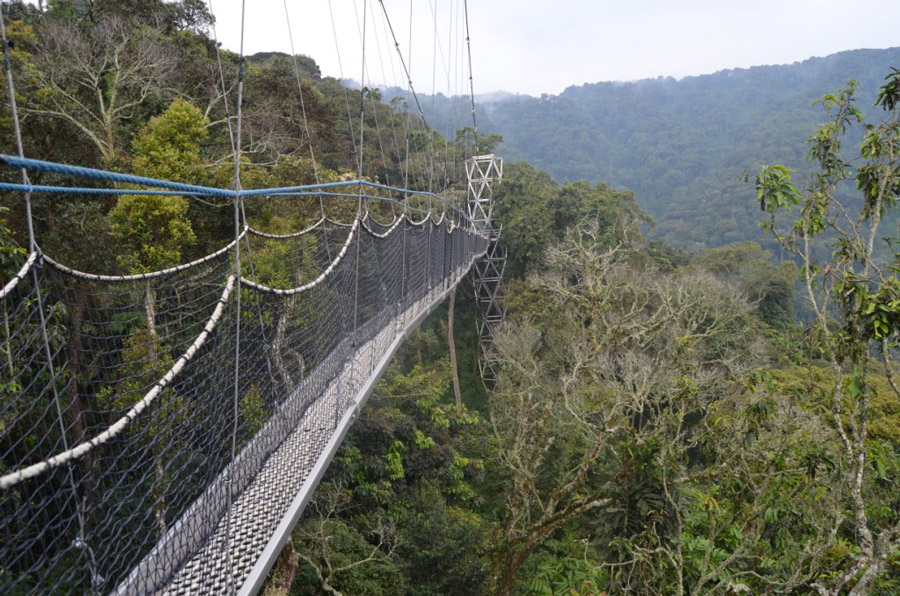 Day 7: Tracking chimpanzees and the pied colobus mega troop walk
Thanks to its 13 species of primates and 300 species of birds, including 25 Albertine Rift endemics, Nyungwe Forest is a hotspot for anyone passionate about birding and primates. Hiking and trail walking enthusiasts are blessed with130 kilometres of extraordinarily well-maintained trails that allow visitors to explore its riches.
Starting very early in the morning, you will have the chance to trek and meet Nyungwe's chimpanzees. As with other primate trekking in the region, you will be adequately briefed and prepared for your meeting. Reaching them can be strenuous as a result of Nyungwe's topography, however, their engaging playfulness and human-like characteristics make this a remarkable experience.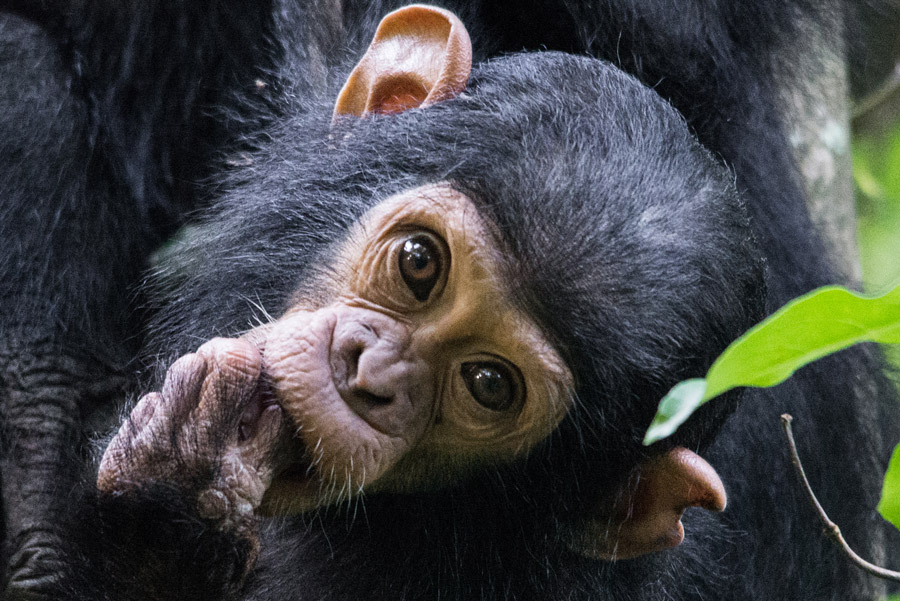 After lunch you will head out again to the trails below Uwinka in the heart of Nyungwe in search of one of the largest troops of Rwenzori pied colobus monkeys in Africa. With more than 400 individuals, this promises to be a primate watcher's dream as the troops also attracts a myriad of other primate species, such as the grey-cheeked mangabey, L'Hoest's, Grivet's, Syke's, silver, blue, red-tailed monkeys, and the olive baboon.
Dinner and overnight in Nyungwe Forest at your chosen hotel
Day 8: Visit Murambi Genocide site and Butare National Museum en route to Kigali
On your journey from Nyungwe to Butare, you will have the chance to visit the Murambi Genocide Site and the Butare National Museum.
Lunch will be enjoyed in Butare before a relaxed drive back to Kigali.
In Kigali you will check-in at the Flame Tree Village Hotel and a farewell al fresco dinner will be served to celebrate a great trip.
Overnight at the Flame Tree Village Hotel
Day 9: Optional Kigali city tour, transfer and departure from Kigali Airport
Depending on your departure flight times, a city tour of Kigali can be arranged.  Thereafter, you will be transferred to Kigali International Airport for your homebound flight.
End of services
Accommodation

Additional Information
Climate: Temperatures typically vary from 15°C to 29°C and are rarely below 14°C or above 31°C.
Difficulty: Trekking for gorilla and golden monkeys takes place at altitudes of 3,000 metres above sea level. Grauer's gorillas are found at slightly lower altitudes ranging between 1700-2800 metres above sea level, but in pretty similar terrain to mountain gorillas. Chimpanzees are often found at 1600-2300 metres above sea level in Cyamudongo Forest in Nyungwe National Park. All primate treks require an average physical fitness to reach these targets and the slowest member in your party will determine the group's speed. The pace will be moderate, with plenty of stops to rest, ask questions, re-hydrate, and enjoy the forest and views. Local porters can be hired to assist you if required.
Price includes: Transfers to and from the airport in Kigali, Rwanda, on arrival and departure days. Accommodation on a full-board basis. All meals mentioned in the itinerary – starting with dinner on arrival day and ending with breakfast on departure day. Coffee/tea and an unlimited supply of mineral water during transfers. All trekking permits, park fees, museum entrance fees, and activities mentioned in the itinerary. All ground transportation in a 4×4 WD vehicle, with fuel provided, and the services of our English–speaking tour guide/driver. Speedboat transfer from Goma to Bukavu. Driver and guide fees. 24/7 office support.
Price excludes: International or local airfare, but we can help you to book your tickets. Visas and airport departure taxes. Internet services, items of a personal nature, telephone calls, laundry, travel and medical insurance, tips, excess baggage charges, gratuities to all staff. Any activities not specified in the itinerary.
Flight details: The cost of return flights to Kigali in Rwanda is not included. Should you wish to book with us, we will do our utmost to secure your booking at the best possible rate. Should you wish to extend your stay/do an additional trip before this tour, please contact us for details.
Booking and payment details: Once you have decided to join one of our safaris, you will need to contact us for a booking form, which will include details relating to the deposit and final payments.
Recommended reading: For the most authoritative and up-to-date information about Rwanda as a travel destination, we recommend Wild Rwanda. Beautifully written and lavishly illustrated, this book contains everything you need to know about Rwanda's habitats, reserves and national parks, as well as information on where and how to find its most iconic birds, primates and fascinating wildlife. Click here to purchase your copy. Read more here about the top 10 ways to protect mountain gorillas.