Written by: Sue Northam-Ras
Many people choose their wine based on grape varietal, farm name, brand or label, and WWF's sugarbird and protea label has come to hold the collective wisdom of many conservation stories waiting to be discovered in the wine world. Explore a fascinating new world of wine in the WWF South Africa's exciting new 192-page hardcover book The Wine Kingdom: Celebrating conservation in the Cape Winelands.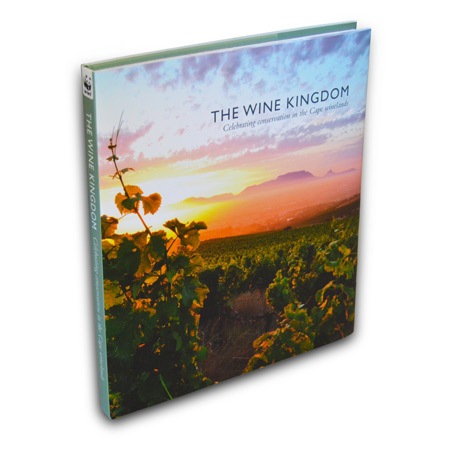 To stand a chance to win a copy of The Wine Kingdom, follow WWF South Africa on Facebook and take part in their weekly competition during the month of November.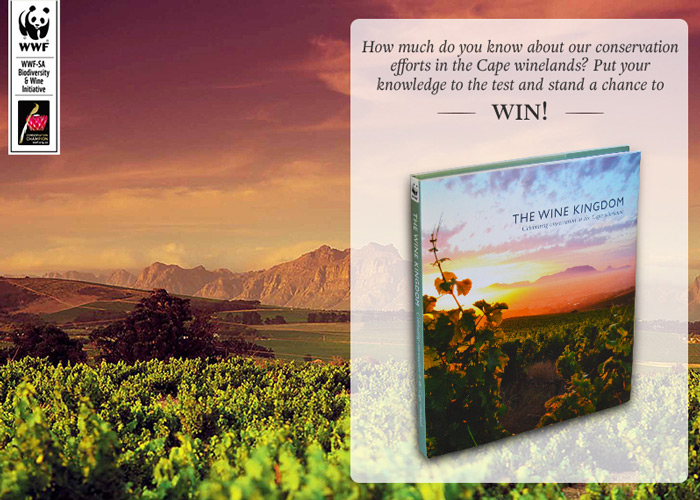 With 95 percent of South Africa's wine growing taking place in the Cape Winelands, vines and other crops, and the Cape's unique vegetation, vie for space and balanced co-existence. In the early 2000s there was a rapid vineyard expansion into highly threatened habitats in the Cape Winelands, resulting in the introduction of a unique conservation and wine industry collaboration – the Biodiversity and Wine Initiative (BWI). Its aim was to promote responsible farming practices and prevent further loss of conservation-worthy habitat and endangered species in an area that is home to two global biodiversity hotspots – the Succulent Karoo and Cape Floral Kingdom.
Co-ordinated in recent years by WWF South Africa, the BWI used a membership model – including entry-level BWI Members and industry-leading BWI Champions – to promote awareness and participation in driving conservation-minded farming practices. Through this initiative, the South African wine industry has received global recognition as leaders of the global wine sector in demonstrating the balance between nature and farming.
Between 2005 and 2015, nearly 90% of SA wine producers have embedded responsible environmental practices into their business, and a third of all producers have committed land to conservation.
Within only 10 years the conservation sector and wine industry's commitment has resulted in many success stories such as the immense clearing of invasive alien vegetation, rivers flowing once again, landscapes and wetlands being restored and indigenous flora and fauna returning. Many of these fascinating stories are captured in The Wine Kingdom, including delightful pages of species rediscovered and a wonderful chapter on walking in the winelands.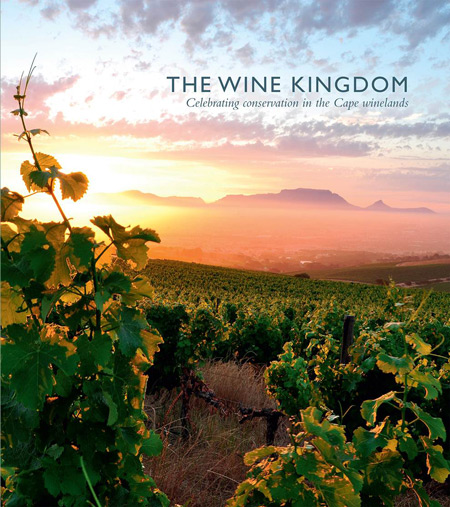 The Wine Kingdom is for the passionate wine lover who wants to learn about their favourite farm, as well as the curious armchair conservationist. Beautiful maps show where each of the BWI farms are to be found, and conservation highlights are captured of WWF's Conservation Champions such as the likes of Spier, Graham Beck, Vergelegen, Lourensford, Paul Cluver and many more.

You can buy the book at WWF's online shop or place an order through info@wwf.org.za.
To support the conservation work that the WWF is doing, get a MyPlanet card and the next time you shop for wine, or a number of other products, you can give back by selecting them as a beneficiary!

To find out more about the Cape Winelands, you can also read: The Cape Winelands with a difference.
Subscribe to our newsletter.