Information provided by: Saving the Survivors 
South Africa's Eastern Cape has suffered major losses to poaching in the last few weeks. On 30th April this year, two white rhino – an adult cow and her young calf – were poached at Lombardini Game Farm. Both animals were shot and killed with a large calibre rifle, and the horns of the cow were removed. The senseless killing of the two month old calf was disturbing as the poachers left the calf's horn intact but shot him anyway.
Only a week later Lombardini was to suffer another loss when a sub-adult white rhino bull was shot, killed and the horns removed. A four year old rhino heifer (female) also went missing. She was found in dire condition a couple of days later.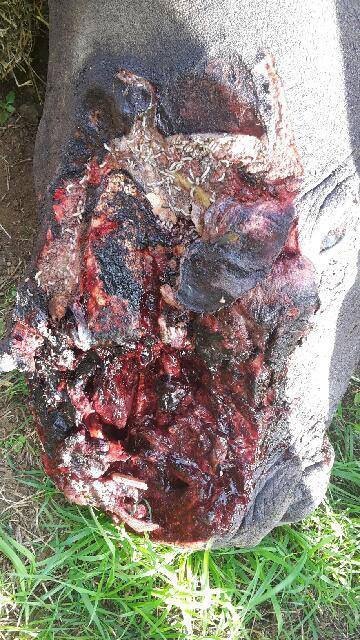 Her face was badly mutilated; both horns were savagely hacked off. Although she was still alive, there was serious damage to her face. In the process of removing her horns, the nasal bone was badly fractured and a section completely removed, exposing the sinus cavities and nasal passage. Added to that was a severe infestation of maggots. It is assumed that she was immobilised (darted) with an opioid drug and left to die. Against all odds she survived.
Various Eastern Cape wildlife veterinarians assisted with supportive veterinary treatment and translocated her to holding facilities at Shamwari Game Reserve.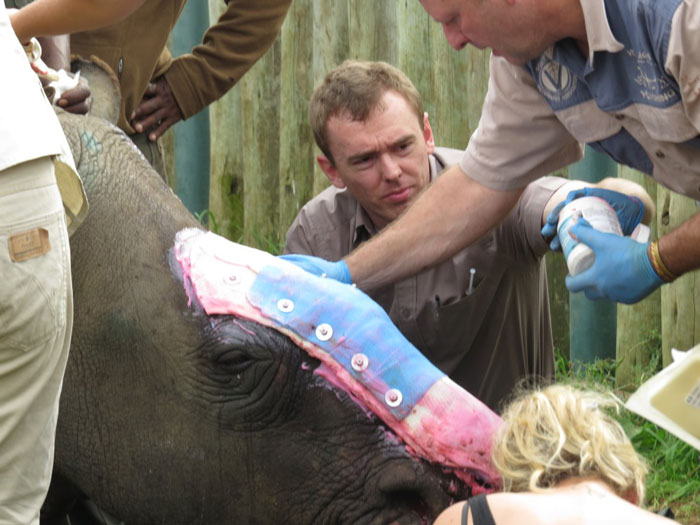 Dr Gerhard Steenkamp from the University of Pretoria's Veterinary Faculty and one of the expert vets from Saving the Survivors, travelled to Shamwari to assess her condition, upon which it was established that she could indeed be saved. She undertook major surgery on Monday, 18th May.
The damage to her face was severe. The wounds had to be cleaned, lots of dead and damaged tissue removed and an artificial cast fitted to cover the extensive wounds. The cast is to prevent damage while looking for food as well as to prevent bacterial infection and maggot infestation.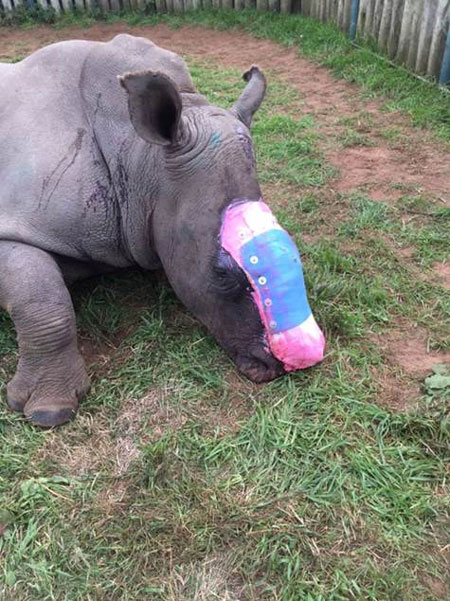 After surgery she was released from the boma (pens) into a small camp where she can be closely observed and feed on natural vegetation. It must be stressed that although her condition has improved, the prognosis is still guarded. She is by no means out of danger at present although she is getting excellent veterinary care.
"She has got a long road ahead of her. We estimate it will take least a year until the wound is actually healed. We know this through the treatment of Lion Den, who was treated by Dr Johan Marais, who heads up Saving the Survivors, and Dr William Fowld's treatment of Thandi. In both cases the will of the animal to survive proved a telling factor," stated Dr Steenkamp.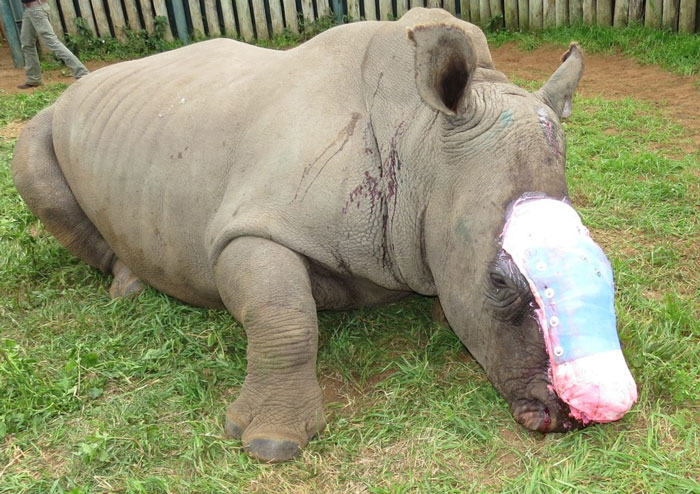 Dr Marias also added: "We have successfully treated a rhino in the Freestate that was in a similar condition. So from experience, we believe that she has a fighting chance. With the experience of the Saving the Survivors team in the treatment of poached rhino, we believe that she has a real shot at recovery. The welfare of this rhino is paramount and we will do our utmost to ensure her comfort and survival."