Since 20 October, more than 200 abandoned African penguin chicks have been admitted to SANCCOB (the Southern African Foundation for the Conservation of Coastal Birds), the non-profit seabird centre. The organisation has dubbed October through to January 'chick season', when hundreds of small fluffy African penguin chicks that have been abandoned by their parents in the colonies are admitted to SANCCOB's centres in Cape Town (Western Cape) and Cape St. Francis (Eastern Cape).
Once admitted, they receive the best care in the world before being released back into the wild; healthy, well-fed and ready to face life in the ocean as wild penguins.
This mass abandonment of chicks has been recorded since the early 1900s, when adults abandon their young during their annual moult. During this time, the parents replace their 'tuxedo' with a brand new set of waterproof feathers and are unable to hunt for fish and feed their young during the three to four week moulting process. As a result, the chicks that have yet to fledge are abandoned and face starvation unless conservation organisations like SANCCOB and its partners, CapeNature and SANParks (Table Mountain National Park and the Marine Rangers section of  the Addo Elephant National Park) intervene.
The rehabilitation of a chick can take anything from six weeks to three months depending on their size and condition. Nicky Stander, SANCCOB's rehabilitation manager, indicated that: "The majority of the chicks admitted this year are significantly smaller and younger than in previous years. This means that they will stay for much longer at SANCCOB and the cost of raising them will increase as a result."
Once they are at a fledging age and at the correct weight, health and their feathers are waterproof, they receive the final nod of approval from SANCCOB's veterinary team and get released back into an established colony like Boulders Beach, Robben Island, Stony Point, Bird and St Croix islands. Since the project's inception in 2006, SANCCOB has successfully hand-reared and released almost 4,000 chicks.
Due to the rapid decline in population numbers, the African penguin was reclassified as endangered in 2010 and today it is estimated that less than 2% (25,000 breeding pairs) of the species remain in the wild. The survival of individual penguins is critical if South Africa is to retain the wild population of one of its most charismatic wildlife species. Through the Chick Bolstering Project (CBP), SANCCOB and its project partners are contributing to the wild African penguin population by rescuing abandoned eggs and chicks, and releasing them back into the wild after being successfully hand-reared at its seabird centres.

Watch these adorable African penguin chicks:
httpv://youtu.be/L8zibiqyBhU
Ongoing monitoring and research has proven that their survival rate is comparable to that of naturally reared birds and consequently, this is one of the most important interventions to conserve the dwindling African penguin population. But the success of this important project is dependent upon meeting essential costs including fish, medicine, veterinary supplies, electricity for the incubators, staff training and equipment.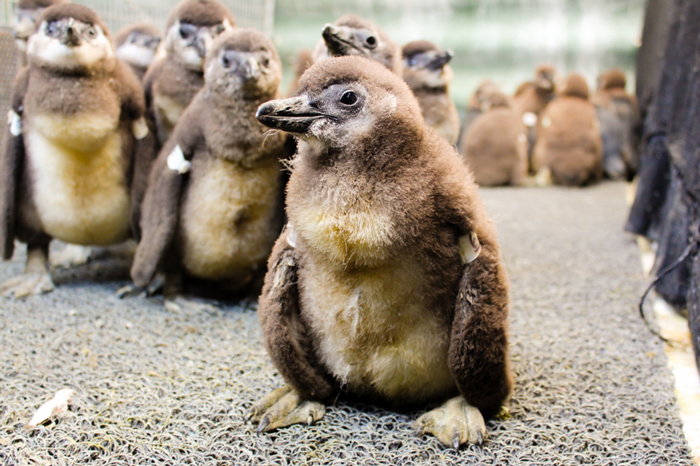 SANCCOB asks the public to help raise these African penguin chicks over the festive period by contributing to their rehabilitation costs.
R200 buys three boxes of fish
R500 helps to buy medicine and veterinary supplies
R1,000 helps to feed and care for one chick
Donations can be made by visiting SANCCOB's donations page  or calling (021) 557 6155. Alternatively, the public can adopt and name a Christmas chick for R500/$50/€36. Each adoption includes a photograph of the chick, a certificate of adoption, a thank you letter, a sticker that says: 'I adopted an African penguin', and postage.
You can further show your support for African penguins and the work of SANCCOB by signing up for a MyPlanet card and selecting them as your beneficiary.