There is nothing more soul fulfilling than taking in the sights and sounds of the African bush as the day transforms into night. It is the most magical hour in Hwange, when a balmy breeze flows over the land as it cools and nocturnal wildlife begins to stir underneath a dusky blanket of colour flecked with stars.
httpv://youtu.be/2NywTu_FwKU
Fiery-necked night jars, black-backed jackals and tree frogs break the stillness with their hauntingly beautiful symphony of calls to the low rumble of a herd of elephants as they gather round the pan to drink below.
Taking this in from the comfort and safety of your very own private star-bed, is an unparalleled affair which few will ever be lucky enough to experience. Or so you think…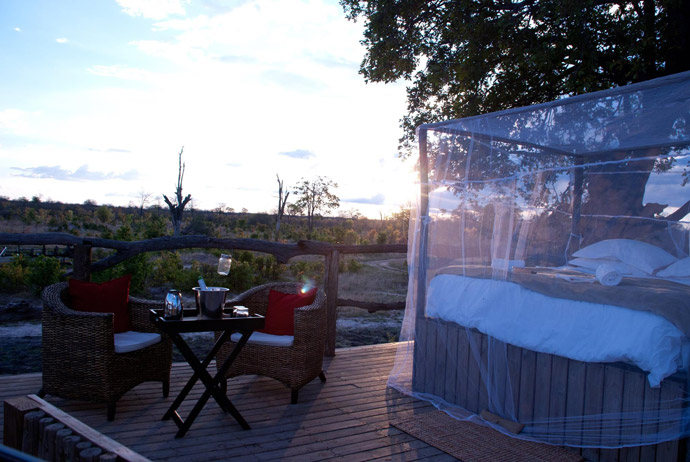 Elephant's Eye, Hwange's sleep-out deck aptly named "The Eye" has significantly reduced its prices to $75 per night all year round. Added to this, guests will receive a complimentary bottle of champagne to toast as the sun sets and they settle in for the night. The good news is that clients who stay at Elephant's Eye for four or more nights, will receive a night at The Eye absolutely free!
Having been escorted from the main lodge to the sleep-out deck just before the sun dips beneath the horizon, you will be greeted with a romantic sundowner. Their guide will ensure that you are settled in comfortably and securely before leaving you to experience the night time bush under a carpet of stars.
Be sure not to worry about setting an alarm however as the rising sun (or elephants) are sure to wake you up after an unforgettable night's sleep.