Written by: Andreas Boussery
We trekked for about two hours through thick vegetation, before catching our first glimpse of the day: Jupiter's family crossed the path about ten metres in front of us and headed into the thickest patch of forest in the area.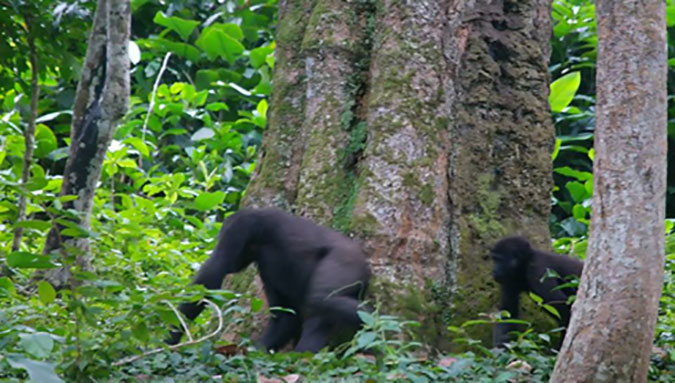 We followed our tracker who knew that there was a rootsite close by and was sure that the gorillas were bound for it. We stayed right close behind him, only able to see the person in front of us and the impenetrable walls of vegetation (maranthaceae) on all sides. Five metres, wait for five minutes, two more steps, wait for ten minutes… and so it proceeded for about an hour, in the hot, humid, insect-filled Congo rainforest.
Then, we took a sudden left, away from the group. We speed up and the tracker lead us to the other side of the rootsite. We stood in front of a sudden clearing in the forest where the gorillas feed on the roots of specific trees, creating a perfect spot for us to watch the family in peace.
One or two of the adolescents come out first and as they walked into the clearing they ran, turned, tumbled and played. After about five minutes we'd got about half of the family in sight. The adults continued to eat while the youngsters had the time of their lives.
Watch video footage of this family of gorillas here:
As the juvenile chased an adolescent round the tree, I just had to start filming. I have been working as a guide at Odzala Discovery Camps for six months, focusing on the gorillas and clocking in quite a lot of time with these gorgeous animals. But never had I seen them in such a stunning spot, playing and loving life to the fullest. They really are at home in the jungle!
Subscribe to our newsletter.