Lions are usually see sleeping. Not this time! We were on a late afternoon drive in the Sabi Sand Private Game Reserve (Greater Kruger) and had just left an amazing sighting of a leopard on a kudu kill. We rounded the corner to find four male lions walking down the road. Written by: Ryan Thomson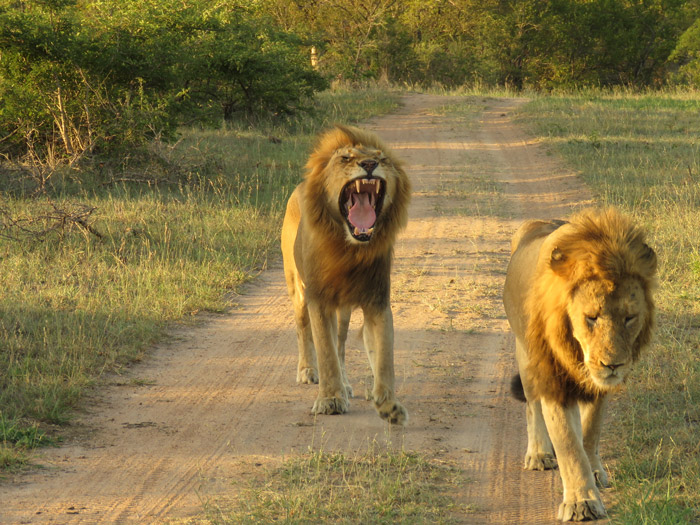 This is the video of what happened next:
We followed them to a waterhole, where they had a quick drink of water and were moving away when they noticed a herd of buffalo walking towards the waterhole. The wind and light were both in the big cats' favour, and they had instinctively positioned themselves, using the vehicles as cover.
As the buffalo reached the water, we could see the lions were fixated on two calves towards the back. All of a sudden two of these huge predators took off and headed in a straight line for the buffalo. It took a couple of seconds before the buffalo noticed the lion, but by then it was too late. They had a calf in a vice-grip – locked onto its throat.
But we noticed the hunt wasn't finished yet.
The two other pride members had continued to chase the herd and one of them that had killed the calf joined them. They continued chasing the buffalo until we lost sight of them as they entered a thicket.
We drove in the direction that the buffalo had run, and we saw that two of the big cats had managed to catch a heavily pregnant buffalo cow and were fighting to bring her down. Eventually they brought her to the ground and proceeded to put her in a chokehold until she died.
While this was going on, the fourth lion had managed to catch a third buffalo, another calf, but was having difficulty killing it. So once the adult female was dead, a lion left her to go help the fourth lion kill his buffalo.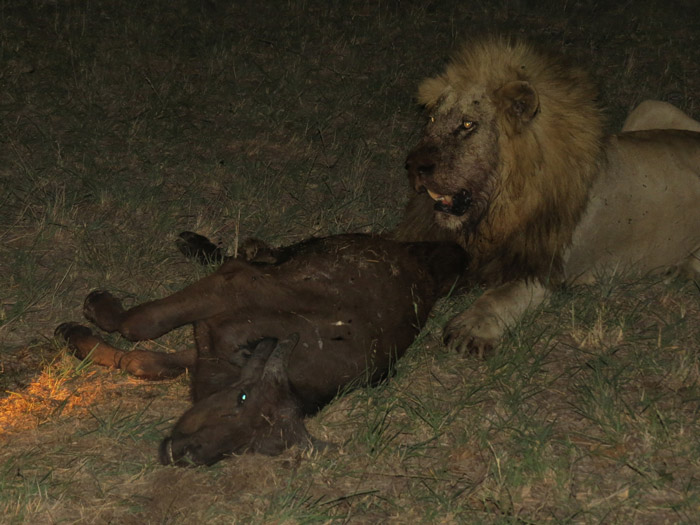 When we returned the following morning, we saw that the fetus of the pregnant buffalo had been removed and eaten, so I guess one could argue that four lions killed four buffalo.
To better understand lions, read this interesting article: The African Lion