Unlike leopards, lions clearly aren't designed to climb trees. However, this doesn't seem to be stopping them, with more and more prides of tree-climbing lions popping up all over Africa.
One of the first sightings of tree climbing lions was reported in Uganda's Queen Elizabeth National Park. At the time, this was an apparently unique phenomenon. Over time, more sightings were reported in Tanzania's Lake Manyara National Park, as well as the Kruger National Park in South Africa and the Savuti region in Botswana.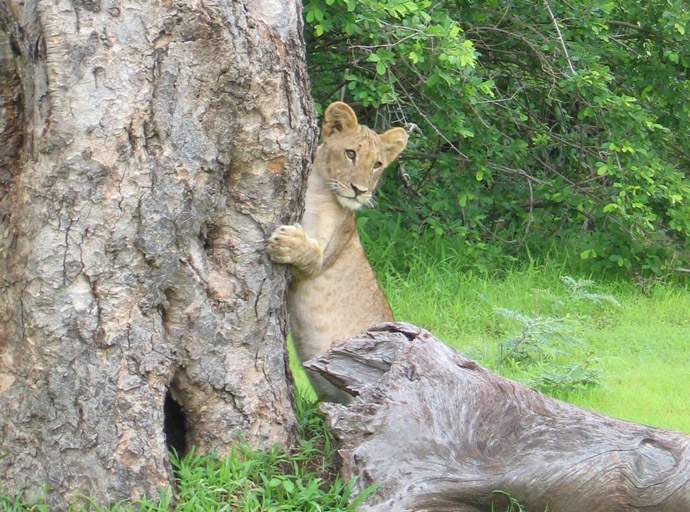 While these may be the most well-known destinations for tree-climbing lions, they are certainly not the only places where this phenomenon can be witnessed anymore. In fact, recently, guests at Robin Pope Safaris' Luangwa River Camp have been treated to two sightings of lions in trees.
The first sighting occurred just a couple of weeks ago. Braving the wet weather, guests headed out on a game drive and it wasn't long before they happened across a pride of five lionesses and their cubs attempting to climb trees. The older ones managed to show off and get quite high, showing us a classic leopard pose on a branch with the legs dangling over. The little ones barely managed a few feet up!
This initial incident appeared to be an exercise purely for fun, however, when guests spotted lions lounging in the tree branches again just a week later, we started to wonder if this might be becoming a regular occurrence.
The weather was still rather damp though so we suspect they may just be trying to find a dry patch. Nonetheless, we will be keeping our eyes peeled for lions when scanning the trees from now on. Maybe these lions will be Africa's next pride of famous tree-climbing lions.