Rwanda tourism is rapidly increasing. This tiny land-locked country is mostly known for mountain gorilla trekking in Parc National Des Volcans. The park today has 10 habituated gorilla groups available for tourism purposes. Because Rwanda offers the best gorilla trekking location in the world, the destination receives thousands of tourists per year, making the tourism industry the leading foreign exchange earner.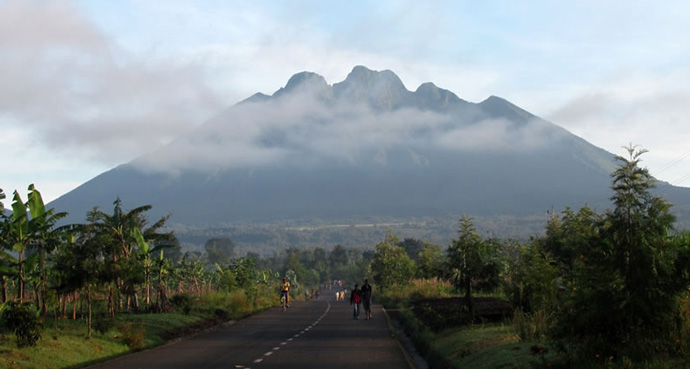 Most of the tourists in Rwanda come from countries like the United Sates of America (USA), Canada, Australia, South Africa, United Arab Emirates, United Kingdom, China and Taiwan, German, Belgium and many others.
Statistics show that over 51% of the tourists to Rwanda visit Parc National Des Volcans, 37% go to Akagera National Park and 12% to Nyungwe National Park.
Many tour operators offer a wide variety of safari packages into Rwanda and the length of the trip depends on one's budget and interests. Below are the top things one can do on a 5-day gorilla safari in Volcanoes National Park, Rwanda.
Mountain gorilla trekking
This is the main tourist activity in the park and starts with a morning preparation at the park headquarters in Kinigi where all tourists are briefed about the activity and divided into groups, each group not exceeding eight persons.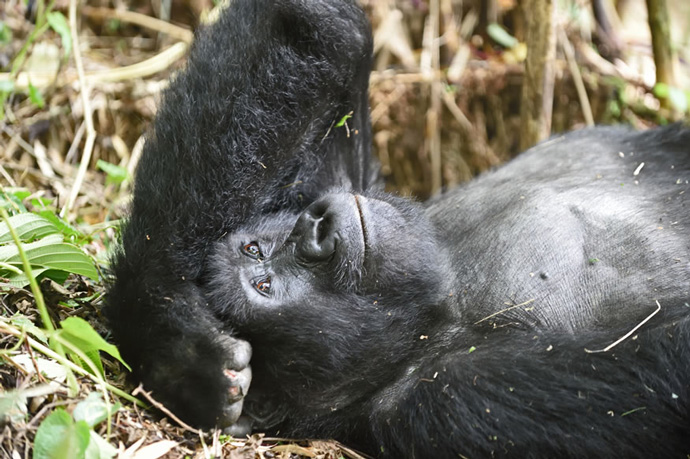 Each group of tourists is then assigned to one gorilla family. The trek in search for the mountain gorillas in the jungle is quiet strenuous, led by trained guides, accompanied by trained rangers and porters. Once you meet the gorillas, you are allowed to stay with them for a maximum of 60 minutes, take pictures (without flash) and video.  After the one hour, you will descend to the base and embark back to your lodge for refreshments and lunch.
Some tourists do more than one gorilla trek. This offers an opportunity to visit two different gorilla families on different days. However, if you choose two gorilla treks, you need two gorilla permits and each permit costs US$750.
Golden monkey trekking
Trekking the rare golden monkeys in Parc National Des Volcans is less strenuous than gorilla trekking. It is conducted in the morning and ends by midday. This means one can enjoy a community walk or visit Iby'Iwacu cultural village in the evening.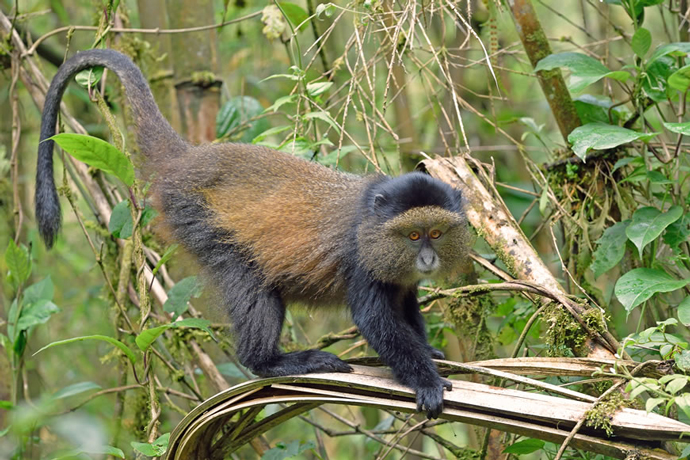 Hiking
Besides gorillas and golden monkey trekking, there are the Bisoke mountain and Karisimbi hiking experiences. Additionally, tourists to Volcanoes National Park can hike to the grave yard of the Late Dian Fossey; an American primatologist who spent close to two decades in the park protecting and studying about the mountain gorillas. She was killed by poachers in 1985. Her grave site is nestled between the beautiful peaks of Karisimbi and Bisoke.