While planning a safari to Uganda, one can't help but wonder what safari activities uniquely define Uganda as compared to other tourist destinations in Africa. 
Also known as 'The Pearl of Africa', Uganda is a true beauty in every sense of the word, endowed with magnificent wildlife, impressive landscapes, and very warm and welcoming people.

Here are some of the top activities you should do while on your Ugandan safari:
Go for a gorilla trek in Bwindi Impenetrable Forest National Park
The mountain gorillas are an endangered primate species only found in three countries: Uganda, Rwanda and DR Congo. Uganda stands out as the best place to track mountain gorillas, considering the fact that the Bwindi Impenetrable Forest National Park not only has over a half of the remaining mountain gorilla population the world, but also that permit is relatively cheaper than Rwanda's.
Mountain gorilla trekking tops the list of things to do in Uganda!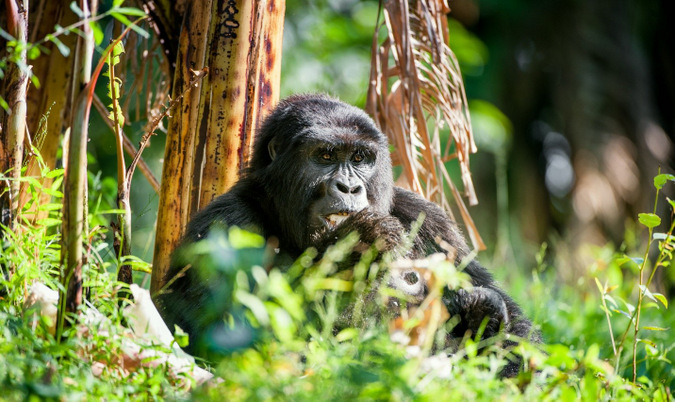 Chimpanzee tracking in the Kibale Forest National Park
Visiting the Kibale Forest National Park allows you see over 13 primate species, including chimpanzees, L'Hoest monkeys, bush babies, blue monkeys, red colobus and red-tailed monkeys. Exploring the Kibale Forest National Park defines the true primate safari in Africa.
Visit the tree climbing lions in Ishasha
Ishasha is an area in Queen Elizabeth National Park popular for the tree climbing lions. Spotting these lions can be one of the most exciting safari moments considering that tree climbing lions are found in only a handful of places across Africa.
Visit the Murchison Falls
The Murchison Falls are located where the Nile River runs through Uganda's largest national park, the Murchison Falls National Park. The park has several attractions and wildlife, making a trip there definitely worth the time. A hike to the top of the falls allows you spot the Nile force its way through a narrow gorge approximately 8 metres wide, to form one of the world's strongest waterfalls.
The three days Murchison Falls safari is highly recommended if you are to fully enjoy this marvellous national park.