Self-drive tours are becoming very popular in Uganda, and car rental companies are mushrooming in Kampala and other towns like Entebbe, Mbarara, Kabale and Jinja among others. Driving in Uganda is challenging because of old cars, insecurity, poor and narrow roads among others. The tips below will help keep you safe through your self-drive safari in Uganda;

1) Check the Car
Check the car thoroughly before starting your journey. Tyres must be in good conditions and always make sure the spare tyre is in good shape. For longer trips, we recommend 2 spare tyres. It is also worth checking the water level, lights, oil, wiper blades and for any leakages. The service tag will show you when the car was last serviced.
2) Don't Drive at Night
We have no street lights in Uganda and some areas have high-way robbers, that said it is definitely not safe to drive at night. And even getting assistance is not easy.

3) Use Road map and GPS
Because you are driving in a foreign country, we advise that you use a road map and GPS navigation. Credible car rental companies such as 4×4 Uganda provide cars with GPS and road maps at no extra charge.
4) Follow Traffic Laws
Traffic laws will save you from dangers on the road, for instance, read road signs, don't drink and drive and always wear your seat belt and get your passengers to wear theirs too to avoid charges.

5) Take Breaks, Eat and Fuel the car
Take breaks to refresh, eat, buy enough supplies and fuel the car. Don't leave big towns without filling your gas tank because you may not know the distance to the next gas station. There are no fuel stations in National parks; therefore, you should go to the park with enough fuel.
6) Don't drive tired
Avoid driving when you are tired. Either park and rest, or switch with your colleague if he or she has a valid driver's license.

7) Take care of Weather changes
Your driving speed will change with the weather. Control your speed when its raining because roads are slippery. Murram roads are the worst, very dusty with potholes, and impassable when it rains. That's why we recommend 4×4 cars.
8) Pay attention to other road users
Uganda roads are narrow, some without pedestrian walks. Therefore, drivers should be attentive to observe other road users such as bodaboda riders (Motor bikes for passengers), cyclists, students and cattle crossing among others.

9) Know the Park rules and Regulations
You must observe park rules and regulations for your safety; don't feed animals, don't walk alone in the park, stay inside your tent and don't keep food items in the tent because, animals like hyenas and lions can smell it. You will pay a fine of UGX100.000 for over speeding in the park, and US$ 150 for off-track driving.
10) Mobile Network coverage
Some parts of the country do not have clear network coverage. Therefore, you are advised to use satellite phones.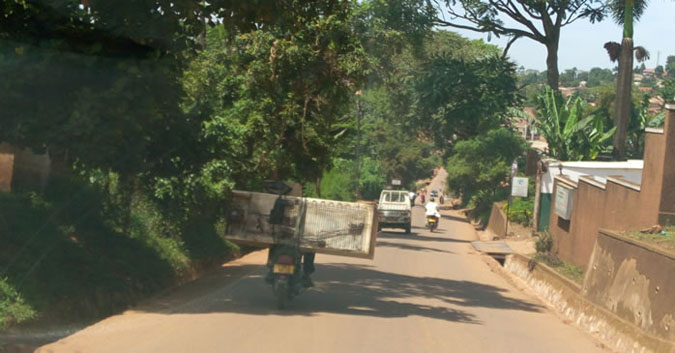 Subscribe to our newsletter.