Written by: Doris Dondur
I have hiked to Machu Picchu in Peru and Everest Base Camp in Nepal. But climbing Kilimanjaro before my 50th birthday had been a goal of mine for over three decades. I would unlikely be in a position again – both from a preparation and financial perspective – to get another shot at it; so I needed to make 100% certain that I did everything possible to give myself the best chance to summit.
I knew from extensive research into trekking operators that from a high safety standard and summit success rate, that there was only one company that I would consider – Wild Frontiers.
Every decision I took about my Kilimanjaro experience was formulated around my mantra of "give yourself the best chance." For this reason I decided to go 'pole pole' (slowly, slowly in Swahili) up the mountain – this is the surest way to successfully reach the top! Unfortunately this was the biggest challenge to my very competitive spirit – when people passed me I wanted to keep up with them and walk as fast as possible to get to the next overnight camp.
I was to do a solo climb with a support team of guides and porters – I expected a team of three but ended up with a support team of seven people! Whilst the summit is not something that should be attempted without a reasonable level of fitness, it is achievable – especially as there is no technical skill required.
I chose the Machame-Mweka Route; it is described as the most scenic route and I had the option to add an additional day to go up in altitude and descend, giving my body a better opportunity to acclimatise to the very thin air and lack of oxygen and so reduce the likelihood of contracting acute mountain sickness. 
Here is my daily log from the trek:
Day 1 – Distance covered: 11 km
My heart is pounding – I am about to embark on the biggest adventure of my lifetime.
Isaac, my guide and I, chit-chat throughout the day and quickly arrive at our overnight camp, Machame. I am somewhat disappointed as I realise that I have not even broken into a sweat during the day or felt that I was overexerting myself – man this is going to be a walk in the park. I was enthralled by the serenity of walking through the rainforest. The day's lowlight: the long drops are as bad as I was warned.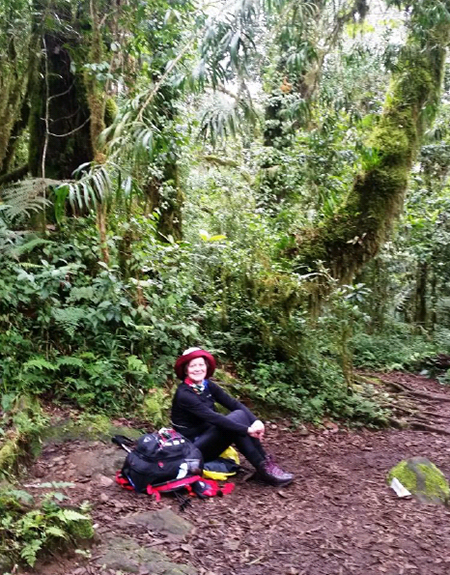 The first part of the hike follows a 4×4 track, after which it becomes narrower and steeper. Our porters had walked ahead and by the time we get to camp my tent is set up and my duffel bag placed neatly inside it. I get asked for my sleeping bag so that it can be neatly spread out and the liner placed inside it – it is essential as the temperature drops to below zero soon after the sun sets. I also hand over my water bottles and hydration pack and one of the porters fills them up and adds the water purification tablets. I take out my inflatable mattress – another tip I was provided with – the mat I get provided with to place my sleeping bag on is very, very thin and the tent ground sheet is also thin. The mattress is a necessity to protect my back from uneven terrain. And as soon as I start inflating it one of the porters rushes over and takes it from me, inflates it and places it under my sleeping bag.
I quickly realise that they are completely focused on me not expending a single unit of unnecessary energy, as I will need to use every possible hidden bit of energy on summit night. I also very quickly understand that my every move is watched very closely – am I walking steadily, am I tired, am I drinking enough water, am I cramping, do my walking strides vary from day to day?
I see through all of it – the porter who brings my food checks how much I eat and Isaac comes and "complains" that I am not eating enough and I am going to struggle from day four if I continue eating "like I am on diet". The porter who takes my water bottles from me at night is actually checking how much water I consumed during the day and again I get "moaned at" if I have not had at least three litres of water. I also realise that my 'water provider' has taken my water purification tablets so as to make 100% sure that it is not an "end-of-day" task that I forget and end up with diarrhea and severe stomach cramps which force me to turn around.
Isaac and I debrief after dinner – he is meticulously pedantic with checking that my blood pressure is 100%, that I am breathing normally and even my pulse gets taken a few times a day. Bottom line: conditions are difficult on this route, and your guide will do everything they can to make your climb as comfortable as possible.
Day 2 – Distance covered: 9 km
The trekking today is much steeper than yesterday and at a constant gradient – so I remind myself – pole-pole – keep going at the slow, steady pace Isaac has told me to take. Further along the route there are a few flatter sections, with a few steep ascents in between.
From the lunch stop we start traversing westwards, which makes the hiking a lot easier, as it is at a more relaxed angle. There are one or two relatively steep spots along the way, but nothing serious. After crossing the ridge, we descend down to camp on the Shira Platea and our camp at Shira – it's a pretty exposed and cold campsite, in the morning the ground and tents are frozen over. Magnificent sunset and sunrise though!
Day 3 – Distance covered: 15 km
Isaac warns me: "Today is a long and tiring day, but essential to your acclimatisation."
We walk for about eight to nine hours up to 4,600m and I am completely amazed at how picturesque the alpine desert is, even though only the hardiest of plant species can survive in this extremely harsh terrain. On parts of the route toward Lava tower it looks like a lunar landscape, with nothing but dust and huge round lava rocks. At the Lava Tower Isaac insists I have a hot lunch so my support teams set up my mess tent and the kitchen tent just to prepare a hot lunch consisting of soup, freshly fried chips, vegetables and roast chicken, and fresh fruit for dessert. Isaac tells me after lunch, "Well done and just so you know; getting to this altitude and not having symptoms of AMS and being able to eat a hot lunch means that you have your ticket to the top."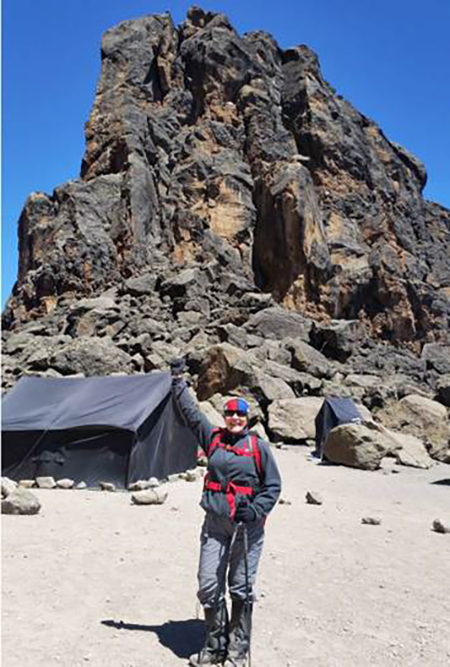 After lunch we descend, dropping back down to an altitude 3,950m at Barranco Camp. We walk up a ridge, straight toward the cone of Kibo, and have good views of the ice fields on the western side of the mountain and the ancient glacier ice of the Breach Wall on Kibo. From here there are a few steep downhill sections, especially to get back down to Barranco.
The whole idea of today is to hike to a higher altitude and return to sleep low. This should help immensely with acclimatisation. This is my favourite camp and the most beautiful one with a magnificent view of Kibo from camp and the Umbwe Valley below, neither of which I saw when we arrived in the dark the previous night. I am gob smacked when I crawl out of my tent the following morning and see this beauty.
Day 4 – Distance covered: 6 km
The first obstacle this morning is a steep, near vertical, rocky ridge known as the Barranco Wall which looks like a sheer rock face and terrifies me completely, as I contemplate what I have let myself in for. For the first time I start having doubts about my sanity. The top, which is of course much further than "just around the corner", which is what Isaac keeps telling me for a good two hours, has spectacular views of Kibo once again.
After this we descend sharply into the Karanga Valley.
Day 5  – Distance covered: 4 km
There is a short, but steep ascent out of the valley, and from there we continue across to Barafu camp. We only walk for four hours and Isaac keeps telling me: "Drink more water, you are not drinking enough. You need to be well hydrated as tomorrow will be a long, hard day."
We trek through a very rocky and inhospitable terrain, and the amazing views of Kilimanjaro's two peaks, Mawenzi and Kibo, make up for the lack of vegetation.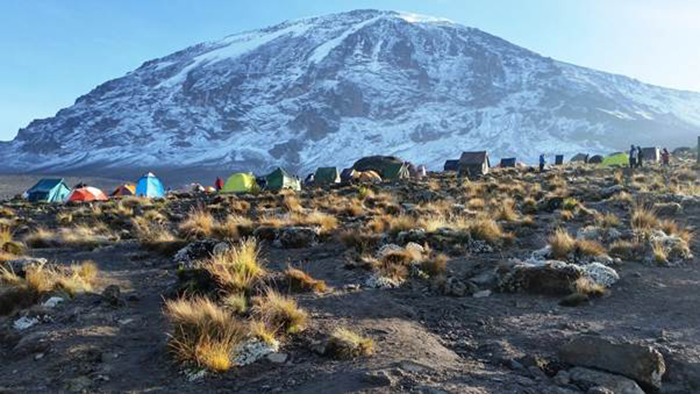 We get to Barafu at midday, I am told to eat a good portion of lunch and then have a nap as I need to gather all my strength for the summit. It is very cold and drizzling and the camp area is covered under a very thick cloud layer; it is a miserable day up here.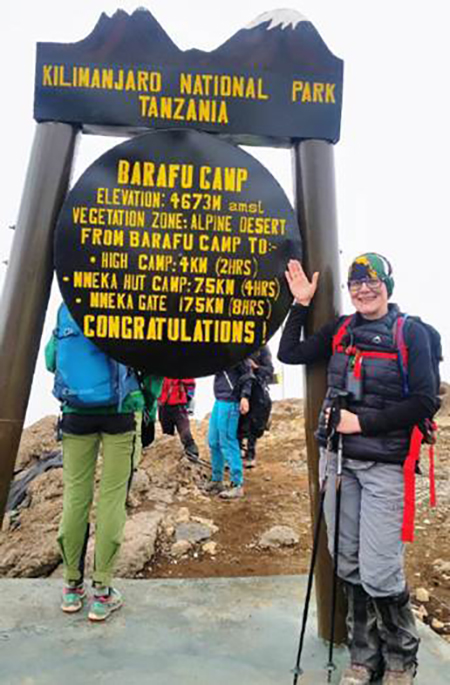 I have a nap and get woken at 5pm. I am not hungry… and Isaac insists that I eat. I say I can't, Isaac says I must. Isaac wins.
We practise the "Kili shuffle", putting one foot in front of the other very, very slowly! He tells me that I must listen to him and if he says I have to turn around, I must do just that!
He continues by saying that it will be very cold tomorrow – especially when we stop for lunch and rest after the summit and when the adrenaline subsides.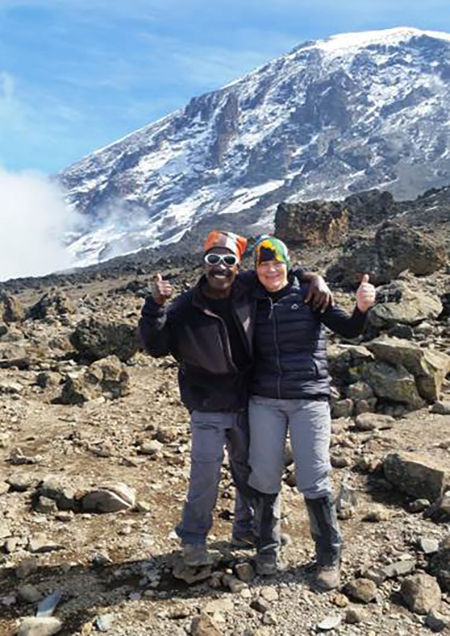 He reminds me to arrange all my summit gear as the temperature when I wake up will be well below freezing. Three pairs of socks (inner thins, a trekker middle thickness pair and the summit very thick woollen ones, I also place a heat pad into each of the top socks), five layers of bottoms (my special Kilimanjaro thermalite tights, professional climalite thermal long johns, fleece pants, hiking pants and on top of all of that my waterproof pants). Oh and my knee high gaiters. My tops: two pairs of thermalite bodywarmers, a wicker layer, a thin fleece top, a thick fleece top and then the three-in-one snow jacket on top of all of that. Two pairs of fleece gloves, then a heat pad on top of every hand and then mittens to round of that picture. Two balaclavas cover my face with only my eyes protruding and to crown it all is my head lamp.
I tell Isaac that I will surely get heat exhaustion from all of this plus I am going to look like a very round snowman and I cannot possibly walk in all those layers of clothing. A few hours later I establish that I can walk in all of those layers and am certainly not going to die of heat exhaustion but I am not cold either.
He checks my day pack; removes a few things and makes sure that my hydration system is full and in working condition. He adds my other two water bottles and turns them upside down in my day pack as water freezes in a container from the top.
He reminds me that we will be climbing uphill for approximately four to five hours. He will stop frequently to ensure that I rest and he will continuously check my breathing and oxygen saturation levels, reminding me that he is carrying portable oxygen if I need it. He ends by reinforcing that he, and not I, will be making the decision as to whether I am able to continue to Uhuru Peak. Right Isaac, understood.
I settle down for the night as a sense of calm prevails over me and fall asleep very quickly.
Day 6 – Summit day! Distance covered: 23 km
I am woken at 11 pm with hot tea and biscuits. The chef has even prepared snacks for me to take along. Isaac and I set off shortly before midnight and the road ahead is a slow one – we are but two in a very long human queue – all with our headlamps on, whilst performing the Kili shuffle. The headlamps on the trail to the summit look like fireflies in a long curving row, while our hiking boots crunch-crunch over the frozen ground. Very few people are speaking as the exertion of speech is simply too much and summit night on Kilimanjaro turns out to be slow, arduous and cold. This trek to the summit is an extremely hard test of mental resilience as I see people turning around, saying that they simply cannot continue, people coughing blood and being forced to turned around by their guide and many simply crying because of the excruciating headaches, nausea and general lack of energy; knowing that this means that their dream to summit Kilimanjaro is over for now.
I reach Gillman's Point. Here I experience the most hypnotic sunrise ever – the sunrise over Africa! The feeling of being above the clouds, high enough to see the curvature of Earth is humbling and levelling. Literally less than five minutes later I reach Stella Point on top of the crater rim and Uhuru Peak is in sight! The hike to Uhuru Peak takes about 45 minutes and I get that once-in-lifetime photograph of me standing next to the sign indicating that I have reached the highest point in Africa!
The ultimate show-stopper view of the spectacular hanging glaciers from Uhuru Peak leave me overwhelmed with emotion and unable to speak or describe what I am feeling.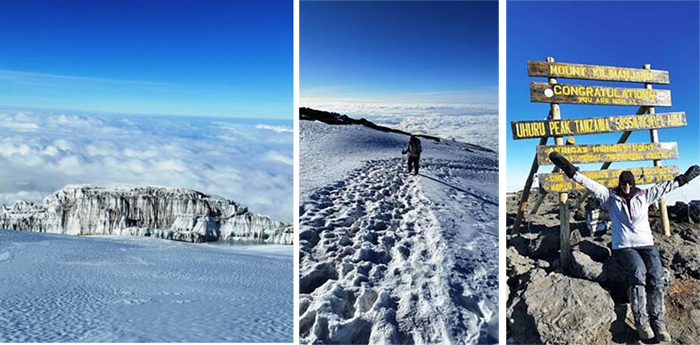 We descend with me in high spirits. I slide down the very dusty scree slope by skidding down the loose gravel with big steps and some side-ways moves.
I do not think I have ever been so exhausted and am fast asleep by 8pm.
Day 7 – Distance covered: 16 km 
My last day on the mountain. I either run or walk the last few kilometres and it only takes us three hours to get to Mweka Gate. This is my last night in Moshi and with plenty to celebrate as I am presented with a certificate to attest to my successful summit! I feel so enriched by this experience and can unequivocally state that this is not for the faint hearted – it tested me to my limits – both physically and mentally.