In his recent visit to Kenya, Price William described wildlife rangers as "Africa's unsung heroes" and praised them for their "extraordinary commitment". This recognition is well deserved as most rangers spend their lives living in the bush, often spending long periods of time away from their own families. It's definitely not a 9-5 type job.
As many rangers are spurred into their careers by a love of nature and wildlife, it's not uncommon for them to go above and beyond the call of duty by doing whatever they can to contribute to conservation. The Zambian Carnivore Programme is just one of the many organisations that aims to reward these rangers for their efforts.

Dedicated to preserving large carnivore species, their prey and the ecosystems that they reside in, the Zambian Carnivore Programme is a non-profit registered trust in Zambia. Each year, the programme recognises rangers that have contributed to carnivore conservation.
This year, twelve guides from the Luangwa Valley were recognised for their efforts and Robin Pope Safaris ranger, Betram Njobvu, won the Zambian Carnivore Programme's annual South Luangwa Carnivore Monitoring Award for Safari Guides! Two other Robin Pope Safaris rangers, Fred Phiri and Chilumba Lungu, were also included in the list of twelve rangers given recognition. This fantastic and well-deserved achievement comes after the rangers spent several months vigilantly observing the predators and supplying the Zambian Carnivore Programme with data and photos detailing the movements and hunting patterns of the predators.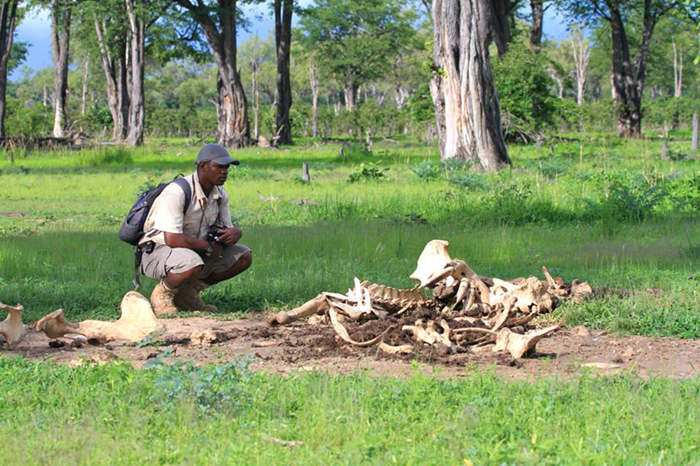 Betram, or Bertie as he is fondly referred to around camp, shares a little more about himself:
When and how did you decide that you wanted to be a ranger?
I was born in the bush and grew up in the bush. Many of my family members are also rangers, including my uncle and two brothers. As a kid, I developed a deep love for animals, especially birds. My grandfather used to tell me animal stories and this made me love animals even more.
One of my favourite stories that he used to tell me as a boy was about why the warthog runs with its tail in the air. He would tell me that when God was creating animals, the last animal to be created was the warthog. God did not have enough skin left so the warthog was given a very tight skin. Now, when a warthog closes his eyes, the tail comes up because the skin is pulled forward. I believed him for a very long time.
What do you do at Robin Pope Safaris and how long have you been there?
I joined Robin Pope Safaris in 2004. In 2006 I started guiding at Tena Tena and have been there ever since! I am now managing Tena Tena camp, as well as guiding.
What is your favourite part of being a ranger?
The little that we can do actually means a lot and it feels great to be playing a part in conserving nature. It is also great when the guests get involved and are interested. I think we should be very proud of the monitoring.
Robin Pope Safaris could not be prouder of Betram and his achievements. Dedicated, strong-willed and passionate people; it takes a lot to make a good ranger and Betram is definitely one of the best!