Written by: Matthew McLean
The cycle and performance of nature often reminds me of a Broadway show or a West-End production. The main characters are ever-present – vocal (especially the male lions) and powerful in their own right.
They interact with the natural set and the rest of the cast in a riveting combination of plot twists, dialogue, violence and romance; an addictive production that we at Leopard Mountain Safari Lodge are privileged to watch!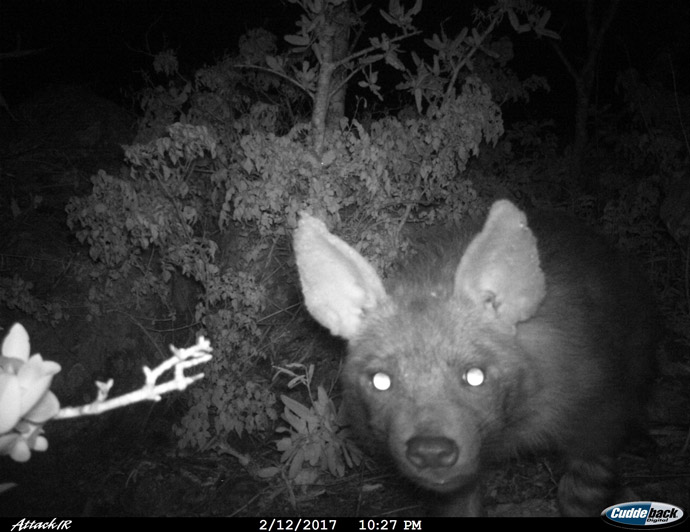 However, at the end of such a production, it is important to acknowledge the work of the crew whose job it is to prepare the set, clean up after the cast and prepare for tomorrow's repeat performance. In the case of Zululand wildlife, one of the rarest species to provide such a critical service is the brown hyena (Hyaena Brunnea).
A largely misunderstood animal, hyenas fulfill a vital role in cleaning up the bush and contributing to the energy flow and nutrient cycle within an ecosystem. The hyena is a unique and characteristic creature whose reputation has always been overshadowed by their strange practices – crunching bones, strange howling and cackling laughs (picture The Lion King!).
The lodge's trails camera was recently set up on the summit of Leopard Mountain itself – hoping to see what rare and wonderful creatures were occupying the heights above the lodge. We were certainly not disappointed as a sub-adult brown hyena frequented the camera, obviously very curious or perhaps keen to advance his/her social media presence. Sadly, we haven't been able to link it's Instagram profile but we thought we'd publish the footage anyway!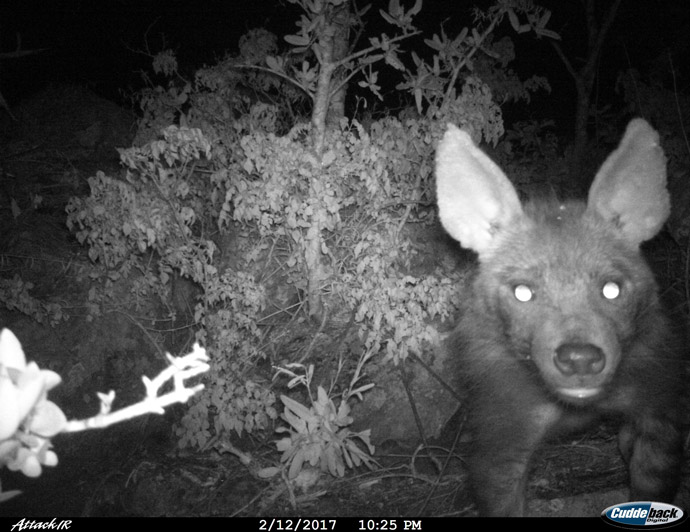 Brown hyenas are not water-dependent and as such they exist in some particularly harsh environments, favouring rocky outcrops, the dry deserts of Namibia and mountainous regions – i.e. the summit of Leopard Mountain! In Zululand, we occupy the very edge of their existing distribution area and they are certainly not a common sight. With this in mind, we have been very lucky to have some reports of sightings the last few months by our lodge and reserve staff.
Primarily scavenging, the bulk of their diet is derived from feeding on carcasses and stealing kills from other predators. They are known for their aggression in dealing with other predators such as black-backed jackals, cheetah and, incredibly, leopards. In some instances, adult brown hyenas can charge an adult male leopard! The star of our trails camera footage is clearly a sub-adult, perhaps between two-four years old.
httpv://youtu.be/S6KLRRwMm_8
During one clip, it was fascinating to watch a social behaviour unique to them and some mongoose species called 'anal pasting' whereby the animal secretes a black and white paste onto either a twig, boulder or blade of grass in order to mark territory and communicate with other hyena.
Recognising the rarity of the species in our area, it's exciting to see more evidence of their presence, especially of a curious young adult! We certainly hope they make an appearance on our safaris at Leopard Mountain and look forward to learning more about their activities within Manyoni Private Game Reserve!