We've all seen those awesome "viral" videos that seem to spring up overnight and create a massive online sensation. So how do travel marketers create the next big #ViralVideo? And, on a broader level, is video an important tool for travel marketing?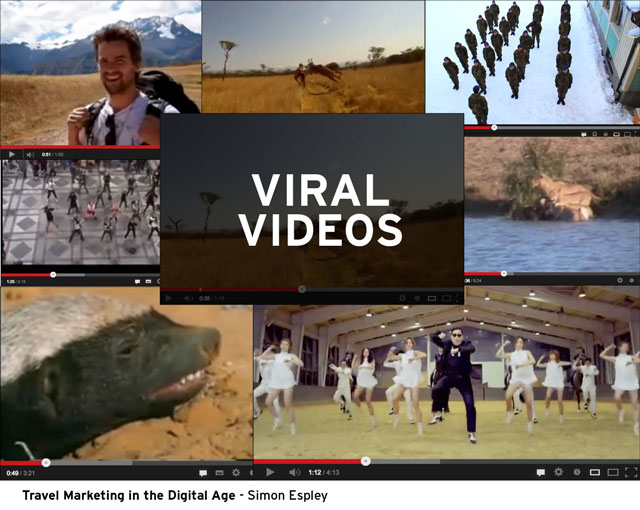 Let's deal with the viral topic first
Of the >100 hours of video uploaded onto Youtube every minute, very few videos burst into the viral video hall of fame. Here are some of my favorites from recent years:
Notice that some of these videos are scripted and some are about being in the right place at the right time. Looking at the variety of content in these examples its obvious that there are no strict rules about what will go viral.
Viral videos are unpredictable, with widely ranging content, length and style. And most are not created viral – the viral bit happens later, often via a happy collision of many factors. The truth is, there is no proven formula for producing viral videos. The video will often lie dormant for many months and even years before a unique set of events triggers social sharing. So what are the triggers and why do people share the video?
Why some videos go viral: 6 Reasons
Extract:
"The basic elements of highly successful online videos are really just fundamental principles of human interaction"
Every travel marketer should read The Tipping Point by Malcom Gladwell – and apply those lessons to all social campaigns, including videos.
Is video important for travel marketing?
Recent entries into the online video space include short form social video apps for the mobile space Instagram (owned by Facebook) and Vine (owned by Twitter). In time these short form video apps and their successors will prove to be huge tools for travel marketing because of the social sharing potential.
Of course videos going viral can be bad news for your brand – as a few lodges have found out recently when their badly behaved rangers become internet sensations for the wrong reasons.
Parting thought
My prediction is that travel marketers who seize the short form social video opportunity by investing time and energy, get creative and involve staff and guests will do very well out of it. Those that don't – well they won't.
My next post:
5 Dumbest comments by travel marketers
Sign up or connect
Want to sign up to receive an email notification when my next post in this series has been published?
Lets connect on Linkedin and Twitter
Send your questions to me here