The closest any of us have come to a volcano is when we had to make one for a school science project. If feelings of frustration come to mind from making the paper mache model, to cleaning up the mixture of baking soda and vinegar, then that's the volcano we're talking about.
To better understand why anyone would want to climb an active volcano, some members of our Wild Frontiers team tackled Mount Nyiragongo in the DR Congo. But not before experiencing some of the sights and sounds of Uganda, the highlight of which was undoubtedly the mountain gorilla trek in the Bwindi Impenetrable Forest. Spellbinding!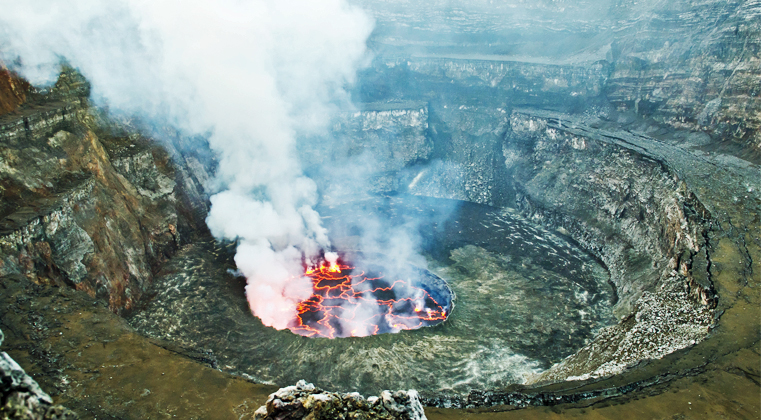 Tackling Mount Nyiragongo
From Buhoma, we made our way across the DR Congo border at Bunagana. With an overnight stay at Mikeno Lodge, we took in the views of Mount Mikeno and Mount Nyriagongo towering over the rainforest. You only begin to understand the immensity of the rainforests in the DR Congo, once you are there front and centre.
After a drive from Mikeno Lodge to Kibati patrol post, we were eager to get under way. A beautiful evergreen carpet of forest stretches its way from the lower slopes up towards Nyriagongo's peak. It's amazing to think that for all its destructive power, Nyiragongo is actually a giver of life to the forests we were walking through – a beautiful irony. With a strong local walking stick in hand and our porters in tow we were off at 11:00 am.
The trail started as a gentle hike through the undergrowth and hillside trees until about lunch time. After refuelling ourselves the next section began with volcanic rock as a path. Loose volcanic soil and fragments of volcanic rock meant our walking sticks came in handy to keep our balance as we progressed upwards. Quite a warm day seemed to become warmer and items of excess clothes were added to the porters' packs as we progressed.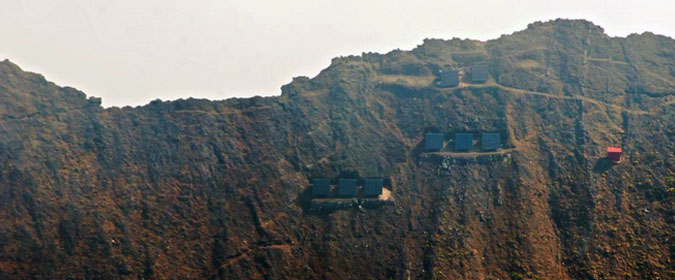 By 3 pm we could see wonderful views of Goma and the extinct volcano below us, whilst taking a small rest for photographs. The serious hiking started from 4:00 pm with the last scramble up the lava mountain, which was steep and slippery under foot as we pushed ourselves upward. At one point my fear of heights kicked in slightly and I decided not to look down further than my feet, and used my hands to help balance as I crawled upward like a crab.
The air began to cool as we neared the peak and for some the altitude seemed to slow them down considerably. But by 5:30 pm we were all up top and sitting on the rim enjoying the amazing view of the crater and its lava lake.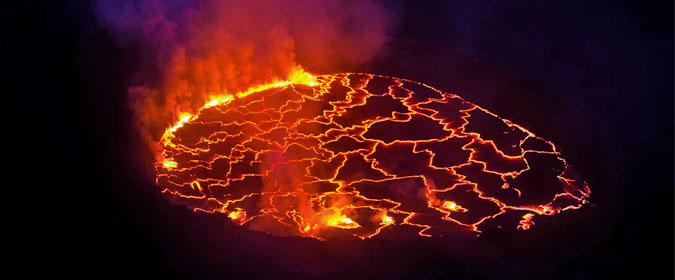 We settled into our two-man wooden huts that had two mattresses in each and lit a fire (we even had to carry up charcoal, and we were glad we did) to warm us up, including a cup of tea. Dinner was soup, noodles and chocolate around the camp fire with our jackets, gloves and scarves all on. As the night closed in we saw a different aspect of the lava as it glowed bright red against the night sky. Every so often there was a loud bang or hiss as steam escaped through different parts of the crater.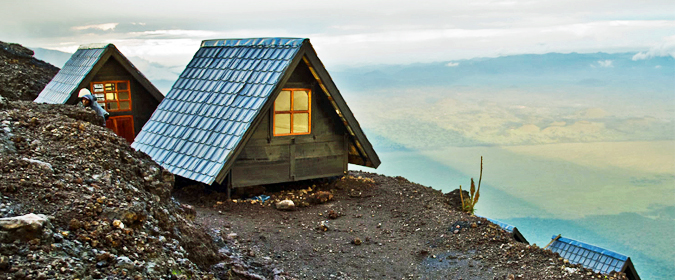 Constantly changing, the scene was worth the time in the cold for photographs and videos. Thanks to our digital camera we were able to experiment enough to produce a really nice family photo. The night proved chilly (around 5ºC) with quite a bit of tossing and turning  as the mattresses have a nice dip in them from their frequent use.
Morning light arrived about 6:30 am and we dug ourselves out of our sleeping bags and threw on extra layers of clothing while enjoying a quick cup of tea, and waffles from the French patisserie in Goma and then set off back down the mountain.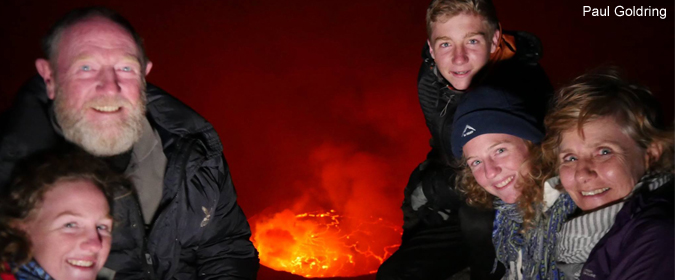 You may think going down is easier but it's not – mist surrounded us in the early morning, and the loose volcanic rock makes for quite a treacherous and slippery trip downhill. Our calves and thigh muscles were being used to the full and slowly but surely we made it down by around 11:30 am to the trail head where the obligatory tipping and swapping of emails for our fellow travellers was executed before racing back in the jeeps to the border crossing with Uganda. Crossing into Uganda took about 30 minutes and we arrived back at Travellers Rest in Kisoro just the other side in time for a good shower, and gin and tonic before sunset.
Is it all it's cracked up to be? You might be asking. Well, you could ask that about any tour. Experience is the best teacher, and from our experience we know it was an amazing one. Ten days, two countries and one unbelievable experience.
Wild Frontiers now offers a Uganda experience along with a Nyiragongo hike, contact us today for more information.