The renowned elephant conservationist, Cynthia Moss, recently wrote: "The establishment of the conservancies in Kenya has been the single most successful conservation initiative since the creation of national parks in the 1940s. Conservancies protect land for Kenya's wildlife and, even more importantly, they create sanctuaries of safety. In addition conservancies bring benefits in the form of direct payments and jobs to the people who share the land with wildlife."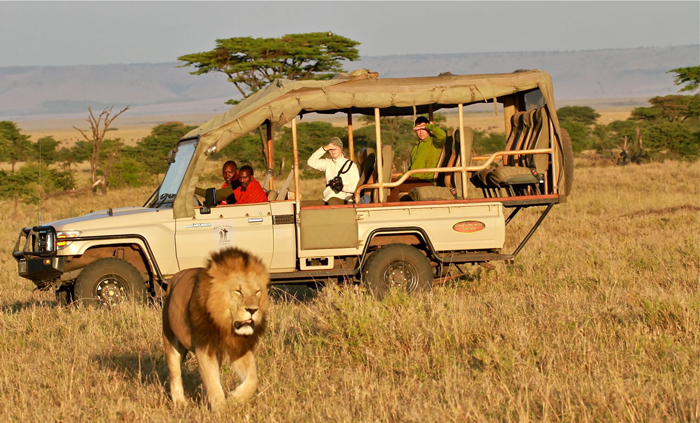 The managing director of Gamewatchers Safaris and Porini Camps, Mr Jake Grieves-Cook, explains why a safari on conservancy land provides the most rewarding wildlife experience that also makes a big difference:
Some statistics estimate that 70% of Kenya's wildlife lives outside of the national parks and reserves, resulting in two major difficulties. The first is that the protected areas are not big enough to sustain the country's wildlife. And the second issue is that human–wildlife conflict in migratory corridors and dispersal areas is a recurrent problem. Most national parks and reserves are, therefore, heavily dependent on surrounding community and privately owned lands for their ecological integrity. Much of the wildlife relies on the unprotected land for migration and dispersion in search of food, water, security, and breeding grounds.
The above reasons highlight the importance of the innovative Porini conservancy model where land is leased on a per acre basis from the individual owners whose plots form the conservancy. Thanks to an annual rental increase, the landowner's income is guaranteed, regardless of whether the actual numbers in tourists fluctuate. They are, therefore, not dependent on having more tourists in the conservancy in order to have a growing income, which removes the pressure to over-develop tourist facilities.
httpv://youtu.be/boVTJ9c5zlc
Visitors who stay in the small Porini camps within conservancies have a very special safari experience as they get to see wildlife without the masses of other tourists present. Porini has established a formula of no more than one tent per 700 acres, and no more than twelve guest tents per camp in the conservancies that they have also been involved in establishing. These include the Selenkay Conservancy in the Amboseli ecosystem and Ol Kinyei, Olare Motorogi and Naboisho conservancies in the Maasai Mara. This ensures a low density form of tourism, which has less impact on the environment while providing a more intimate experience for the visitor.
httpv://youtu.be/mT5qU-epOJQ
The underlying philosophy is that if people benefit from wildlife and other natural resources then they will take care of these resources, and use them sustainably.
Contact Gamewatchers Safaris for more information on the conservancies in Kenya and where to stay. Choose a camp in one of the conservancies where income from tourism contributes towards the costs of leasing the land as protected wildlife habitat, and help to make a difference.