Written by Hillary Gaertner
When I'm looking to find a new and undiscovered vacation destination, I start by browsing my favourite travel bloggers' Instagram accounts – everyone's personal travel experts. I may not know them personally, but their wanderlust instincts have never steered me wrong. 
This is more or less how I found out about a secret island on the Zambezi River known as Sindabezi Island.
It started with a picture of this: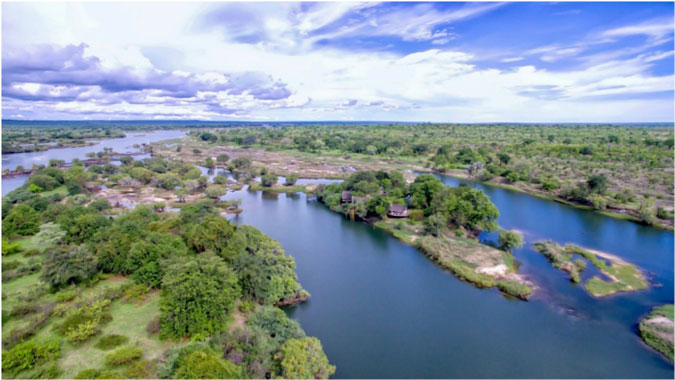 Then this: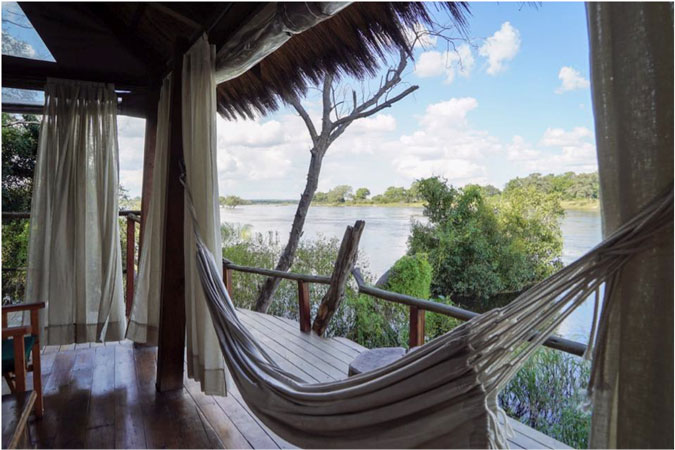 Followed by more whimsical photos and the travel trigger words: 'secret island' and 'private island'.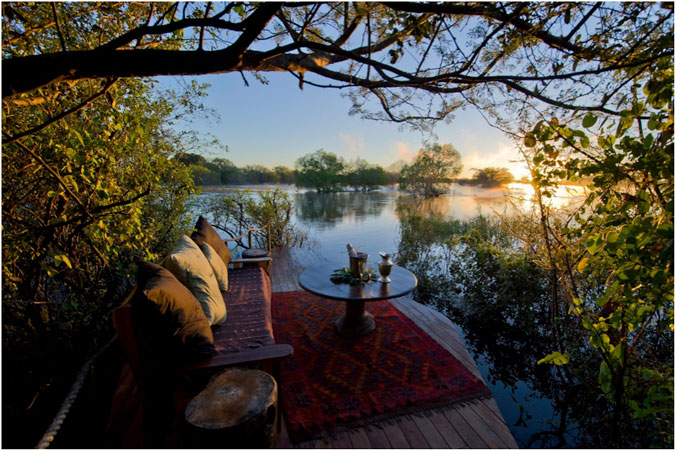 You can only hear those words muttered so many times before wanting to know every last detail, right?
Discovering the Zambezi's secret island
Sindabezi is not your typical island holiday. The exclusive bush camp, smaller than the size of a soccer field, is situated on a private isle on the Zambezi River and can only be accessed by boat.
You can't swim in the waters that surround it, nor catch fresh seafood of the day. You can, however, scout for hippos and elephants while gently cruising on the river before returning to a warm outdoor bubble bath.
Perched on stilted wooden decks, the five chalets are open to the great outdoors on all sides, allowing guests to soak up the sights and sounds of the African bush.
Sindabezi travel bloggers
Top travel bloggers from around the world have been paying their visits to Zambia's secret island. They give us the inside scoop about what it's really like to stay at Sindabezi by travelling far off the grid:
♦ Misha from Wildluxe
"Sindabezi is one of the most unique and adventurous wilderness experiences in all of Africa. It allows guests the chance to relish in nature in its most raw and rugged form. Being able to encounter the wildlife of the Zambezi, literally from the privacy of your own island, is priceless. It's a place to get away from it all, forget about everything and unwind.
While touristy places seem to take away from the ability to enjoy an authentic travel experience, Sindabezi is remote, on its own island, and only has five chalets. You won't have to deal with crowds – or many other people at all for that matter."
Follow Wildluxe on Instagram.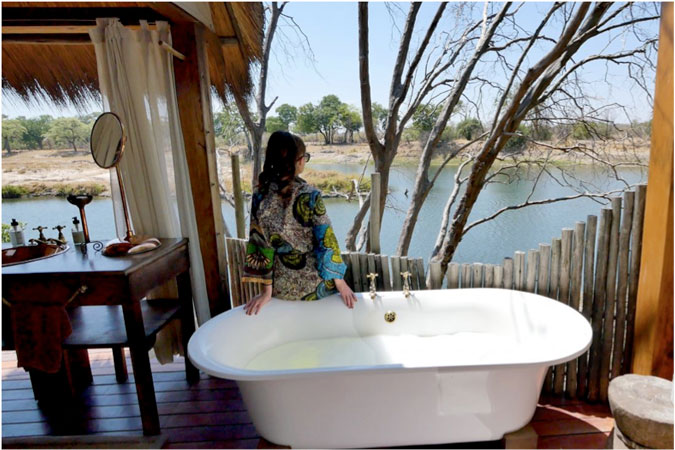 ♦ Cameron and Natasha from The World Pursuit
"We're big fans of eco-friendly lodges and businesses in Africa. After visiting countless lodges around Africa, Sindabezi remains as one of the top eco-lodges. The island is entirely solar powered, aims to use zero plastic, and all the cooking is done with gas.
It is an exclusive island eco-retreat in the middle of the mighty Zambezi River and surrounded by wildlife. It's one of a kind."
Follow the World Pursuit on Instagram.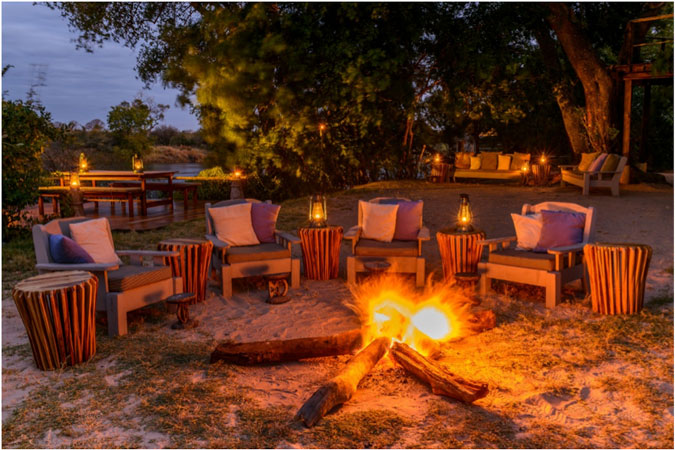 ♦ Marvin from Niedblog
"From the decorative mosquito net that drapes over the bed to the open-air bathtub, you can tell someone with a love for detail and nature designed the look and feel of Sindabezi. Hearing the hippos grunt during the night and feeling the sun rising while taking a rest in the room or cosy hammock was the quintessential experience.
The staff, well-informed and naturally friendly, took care of our every need. Taking a cruise around the island and ending it with a sunset drink in an environment that is so unique was one of my personal highlights."
Follow Niedblog on Instagram.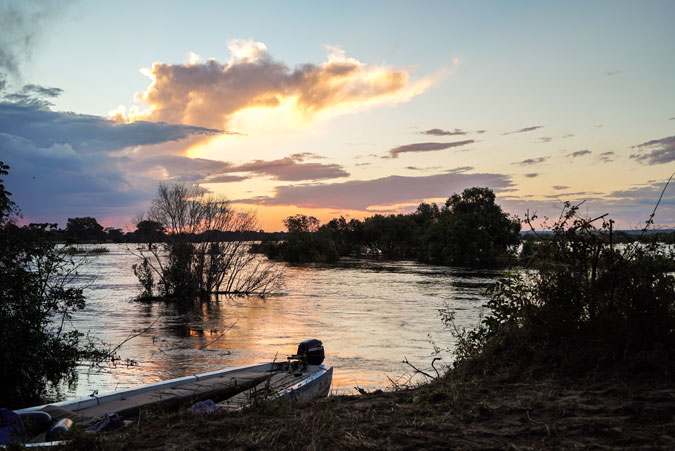 ♦ Maren, freelance journalist and blogger at Pomme Des Garcons
"Arriving on the tiny private island left me speechless. The view, the staff, the food – everything was just perfect. We loved our breakfast and lunch close to the river watching the water flow and checking out the hippos, crocodiles and all kinds of other living things lazing about.
Then we had dinner on a floating platform in the middle of the Zambezi. From the starter to dessert everything was hand-delivered to us by canoe and undeniably delicious. It was my birthday weekend and I was surprised not only with a lovely live song but also a birthday cake. What a time to be alive."
Follow Maren on Instagram.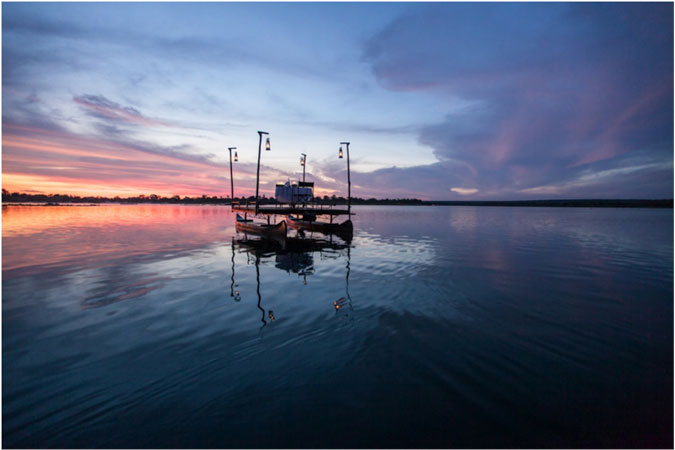 The secret is out: Sindabezi Island is the African paradise you should travel to next! Plus, you can stay four nights and only pay for three during most of the year and combine your stay with their sister property, Tongabezi.