Written by: Clinical Psychologist Berenice Meintjes
As one born of wanderlust, I have led a charmed life. I have bowed before calving glaciers in Alaska, caught my breath at the edge of the Grand Canyon, floated serenely on a mokoro in the Okavango Delta, ridden on the back of a motorbike driven by a 16 year old through the indigenous forests of Sierra Leone during war, and walked in peace on the white shores of Zanzibar. But I count this as one of the greatest privileges within a privilege – sitting here on the wooden deck of a canvas tent in the Kruger National Park.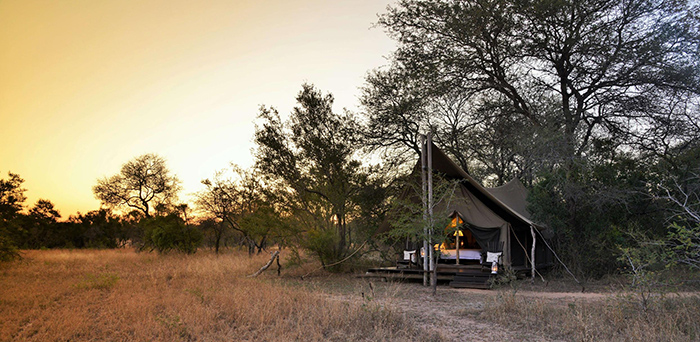 Set in a private concession, Plains Tented Camp is situated at the edge of the Timbitene Plains deep in the heart of the park. As I sit here writing these words, my breath snags as I look up to see a young zebra initiate a game of 'follow-the-leader' and a long youthful line of zebra make wide circles around the open plain for about 15 minutes.
Why, you might wonder, despite my worldly travels, is the Kruger National Park the place I choose to return every single year for my annual longer holiday? Here are my besotted reasons:
1. Dramatic wildlife interaction
Just this week I watched spellbound as a pack of 12 hyena started hunting three young male lion. They rose up in unison, circled the lions and began to move in, starting wide and closing in ever-tightening circles. What horrified me most somehow, was the intensity of the youngest hyena, a thrill of the hunt shining in her black, focused eyes.
The movement of the hyena nonetheless became hesitant as they backed away to a growl from the oldest of the three lions. Bravado won and the display of calm confidence by the lion trio was too much for the hyenas even though they outnumbered the lion four to one. If even one of the lions had shown any sign of weakness, or worst, had started running, the hyena pack's killer instincts would have magnified instantly and they would have moved in for the kill.
This is just one example, where in the past fortnight I saw a leopard drag a fat warthog past our car, having to rest often for the weight of the kill.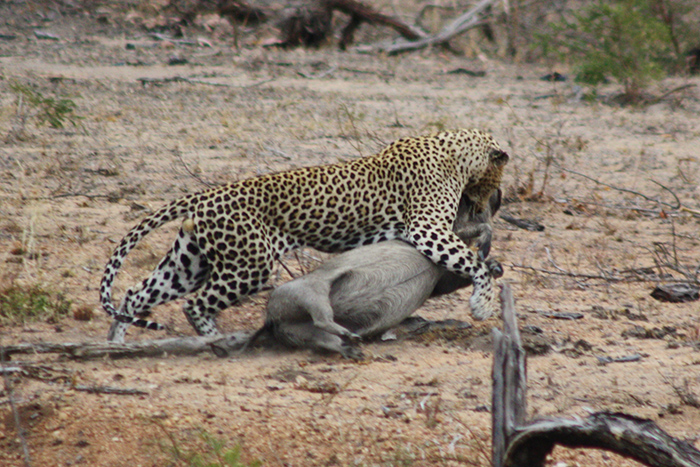 I witnessed a martial eagle kill a fully grown steenbok.
And I watched a sassy female lion strut in front of a rather exhausted-looking male lion, demanding lion babies from his handsome genes.
She looked rather satisfied by his brief performance and the poor guy had another woman in waiting nearby.
Early the next morning I enjoyed watching three pairs of different aged hyena puppies engage in wild, rough play.
Every year I visit I marvel at completely different animal interactions. Since the Kruger National Park takes a minimalist approach to intervention, wildlife may interact in natural ways for us to witness. The park is many animal-generations old, so this is a natural environment, yet they are relatively used to cars stopping to watch their antics.
2. It's vast
Larger than many countries, the Kruger National Park (KNP) is roughly 20,000km², over 60km wide and over 350km long. The park spans different ecological zones and one of my favourite things to do, when I have enough time, is to travel slowly from north to south, marvelling at the different biomes and fascinating variations in geology.
A German tourist recently remarked that he had expected to see great wildlife at the KNP, but what had blown him away was the spectacular views, his favourite being from Olifants Camp down to the gorge and river where elephants really do drink and bathe daily. This tourist regretted not having booked a longer stay in order to appreciate more of the scenery and was already planning a lengthier return trip.
Because of the vastness of the park and diversity of biomes, there are pockets where highly protected species can flourish. I have seen black rhino, pangolin, saddle-bill stork, ground hornbill and many other endangered animals potter happily about their ways. I have yet to see the elusive aardvark which has been sighted increasingly of late.
3. It's highly ordered
I know this is not to everyone's taste, but I appreciate the very regulated nature of the park. There are well-developed roads and excellent infrastructure. Tourists and even qualified guides may not drive off the roads, speed, litter or disembark from their vehicles except at specially designated view points and picnic sights. Only licensed and well qualified guides may lead walking safaris.
There is a fierce sense of ownership of the park by South Africans and you will find yourself quickly scolded if you break any of the park rules. Why I like this, is that it protects and fauna and flora from too much natural human enthusiasm – that sense that the rules are there for everyone else "and if I make one small exception it is OK." With so many thousands of visitors to the park each year, that one small exception quickly causes untold damage to the environment and unnecessary stress to the animals and birds.
I have been in less regulated parks in other parts of Africa and am always disturbed by the impact on the environment. As Nikki Meyer, lodge manager of Rhino Post Safari Lodge writes in her article "Stay on the Road", the cost of unprotected tourist activity is high. I recently stayed at a luxury lodge in a small private game reserve where a ranger followed a black rhino into the bush to the point that the distressed rhino turned and charged our vehicle.
For such a private, solitary animal, this felt to me like an infringement of his dignity, safety and natural way of being in the wild.
4. Diversity of birdlife
I love Kruger in the late summer months, where the display of fantastical colour and shape of migrant birds makes the soul soar – from the largest bird of prey, to the smallest blue waxbill, the flitting of the bee-eater, the circling of vultures and swoop of the bateleur.
5. Efficient and friendly staff
Perhaps one reaps the investment one makes into respectful relationships with others, but I have yet to experience a grumpy or unprofessional interaction with Kruger National Park staff. This week I witnessed a man complaining aggressively, on and on, about a mistake in a booking communication, which sounded very much like the fault of his own travel company. Throughout this trial, the SANParks check-in staff remained humble, patient and polite, though we did roll our eyes back once he finally left, enough said.
6. Others' shared love of the park
This week while staying at Kruger I shared a Facebook post saying, "I have fallen into another space-time-dimension and I may not find my way out. Do visit (and if you do, please bring more rusks)." All who enter, fall under the spell of the other-worldly park. There is actually a Facebook page called Kruger National Park Best Place on Earth (KNPBPOE). What I love most from this page, aside from the spectacular animal photography, are the excited posts from people all over the world as they pack for their trip to the KNP.
In KNP people are eager to network and share information about animal sightings and your safari may be a social as you prefer. Many visitors to the park will simply wave happily as they drive past others. At the famous sunset waterholes you may hear the delighted rustle of snack packets down the row of cars of happy tourists. Back at camp and at the picnic sites there is a flurry of activity around the 'sightings board' where people indicate where they have encountered their favourite animally treasures.
The park is also big enough to escape the crowds, and the private concessions have their own roads which are protected from other traffic. Some of the camps are small enough to book out a whole camp to yourselves. Head to the north of the park if you prefer more solitude, and head for the dirt roads and the boundaries of the park for quieter viewing.
7. Daily rhythm
Once after my mother and I had been in the park for more than a week already, we were stopped by an American woman yelling "Stop! Stop! Elephant!" She pointed to a distant small blob on the horizon and we chuckled, knowing her day was about to get much better when she rounded the corner to see a whole herd of adult and baby elephants munching right next to the road.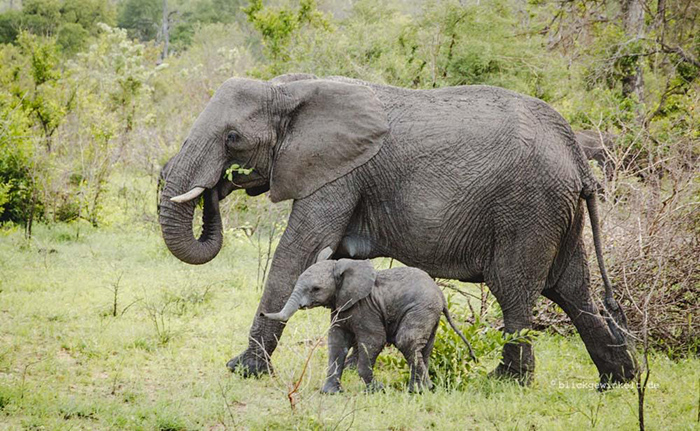 "Newbies" we call these tourists and even when we arrive each time at KNP, we find ourselves excited again by every new sighting. Initially we intensely speculate about where to find what, and rush about to see as much as possible. But sooner or later the gentle daily 'rhythm is gonna get you'. We start moving about more slowly, appreciating smaller things and simply stop to marvel at a beautiful sunrise.
We become enthusiastic to see whatever serendipitous gift the park has to offer us, rather than searching for some specific animal or bird. Our photography improves as our eyes becomes attuned to the golden light.
There is a pleasing daily rhythm at Kruger which we find ourselves naturally falling into – rising early to head out as those camp gates open and game are most active, stopping for coffee and rusks or a big outdoor fry-up breakfast, having an ice-cream in the heat of the day, taking a long nap, heading out to a waterhole for sundowners, cooking on an open fire and gazing upwards at the starry skies.
As I sit here and now, it is late afternoon and the grasses are already turning from ochre to pink. From my nature-hide deck at Plains Tented Camp I look up again from my pontificating because of a loud trumpeting. A memory of elephants is parading in from the left to the waterhole in front of my tent for their daily drink.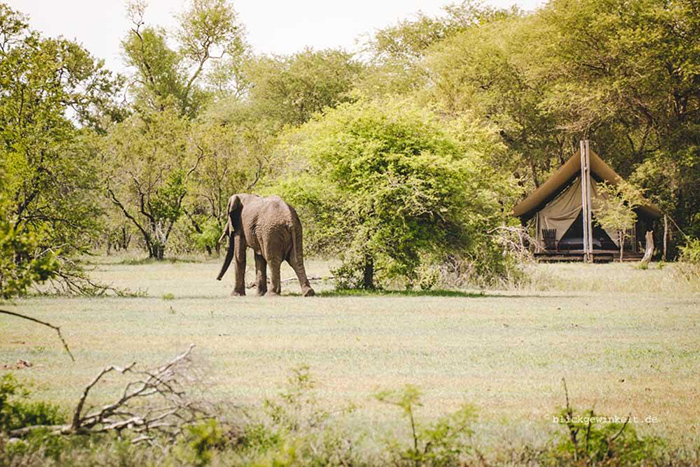 There is a small baby elephant, too short to reach the water, though he tries to be big. His kindly mother gives him a gentle shower. The teenagers think this is great fun and spray themselves and each other.
I take a mental image of the row of fat elephant bums lined up at the water and store this in my travel journal.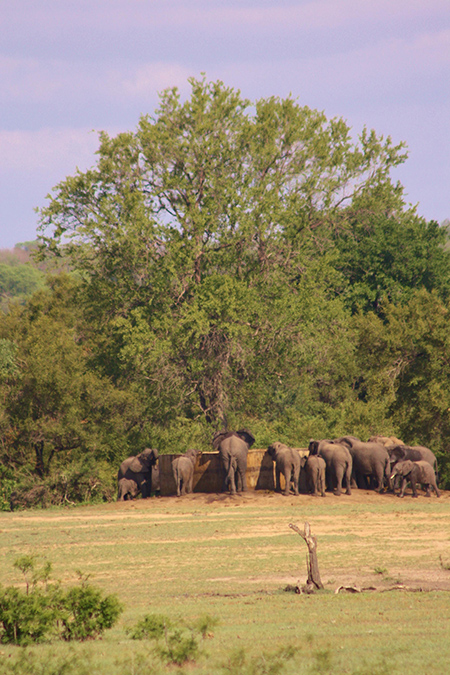 With sighs of silent gratitude for all that has been and that has led me here, I recall the words of T. S. Eliot:
We shall not cease from exploration,
And the end of all our exploring
Will be to arrive where we started
And know the place for the first time.
Subscribe to our newsletter.