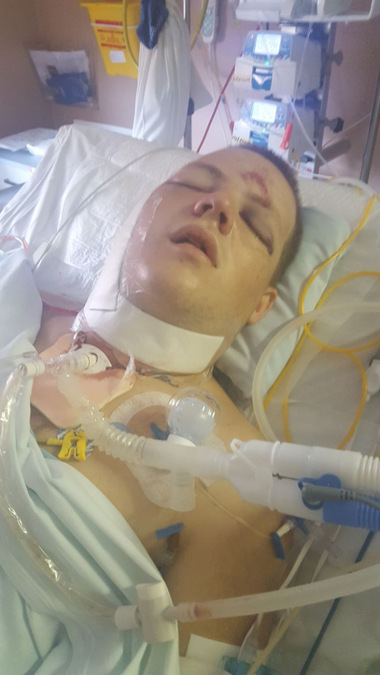 A wildlife ranger in South Africa, who works to protect rhinos and elephants against poaching, has been gored by a rogue elephant while checking the reserve's fences. He remains in critical condition and a fundraising page has been set up to help cover the medical expenses.
See below the message left by the family on the GoGetFunding page:
"Erick is one of those special young men – he made a decision to dedicate his life's work to protecting rhino's and elephants – animals endangered in South Africa – due to horrific poaching for nothing more then the ivory in their horns and tusks.
He always thought that his greatest danger would be from armed poachers (many using automatic weapons) – little did he know that on 1st of February he would be fighting for his life, because the very animal he was trying to protect would attack him
Whilst doing nothing more dangerous then checking fences, four rogue elephants set upon Erick and his partner. Both men split up trying to reduce the danger. He ran to the left and his partner to the right. One elephant chased him, kneeled down and essentially nailed him into a tree. He managed to crawl about 30 metres to the road where he was found by game rangers. He was rushed to a hospital in Tzaneen, where doctors were presented with a massive set of injuries including:
– his throat was split
– his esophagus and trachea were severed
– his ankle was broken
– his jaw was broken in three places
– his vocal chords and facial nerves have been damaged
He is now on a ventilator and under sedation. The road to recovery is not going to be easy.
He needs to be transferred by air ambulance closer to home in Johannesburg and for rehabilitation to begin. Without first world treatment there is a 95% chance that he won't speak or be able to eat normally.
The greatest tragedy is that these brave young men who put there lives on the line to protect our wildlife heritage, do so at considerable personal cost. Their compensation is certainly not financial, and the medical cover they receive is, at best, basic.
We need US$12,500 to fly this brave young man home and to give him a chance with adequate rehabilitation. Ironically that amount is equivalent to only eight pounds of ivory sold in Beijing."
Donations can be given through the GoGetFunding campaign page, found here: Whilst protecting rhino's Erick has been gored by an elephant