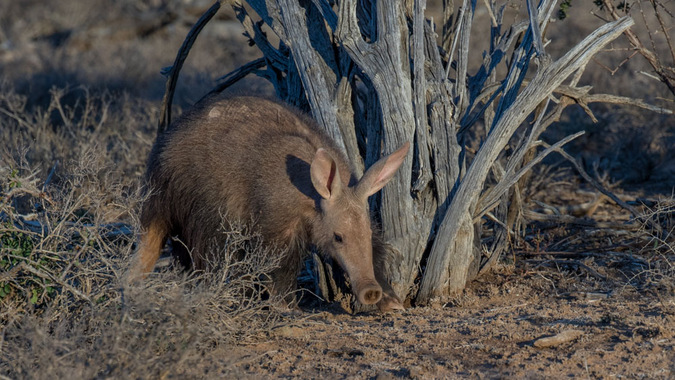 Written by Anthony Morreale, photographs by Anthony and Suzanne Morreale (4exoticimages.com)
Have you ever seen an aardvark? It's a question I have asked African safari guides for decades. The response always seems the same: "they are here but you never see them."
On one occasion in Kenya my guide answered in the affirmative but then went on to tell us that in his 20 years of guiding he had only seen one and it was dead on the road!
Having been on hundreds of safaris, on over 25 trips to Africa, I became obsessed with not only seeing this elusive creature but to get high quality photographic opportunities. My wife Suzanne and I scoured the Internet to learn as much as we could about their habitats, living patterns and reports of good sighting locations.
Most of what we learned was not encouraging. Although the aardvark is a common animal throughout Africa it is extremely shy, nocturnal, and possess relatively few defences. As a result, they are skittish of predators and stay close the many burrows it makes in a given territory.
For this reason, the aardvark is considered by many the unsung hero of the bush, as their deep burrows provide refuge and dens for numerous other animals who would otherwise struggle to birth and raise young. Creatures like bat-eared foxes, wild dog and hyena rely heavily on aardvark burrows to provide shelter for raising their young.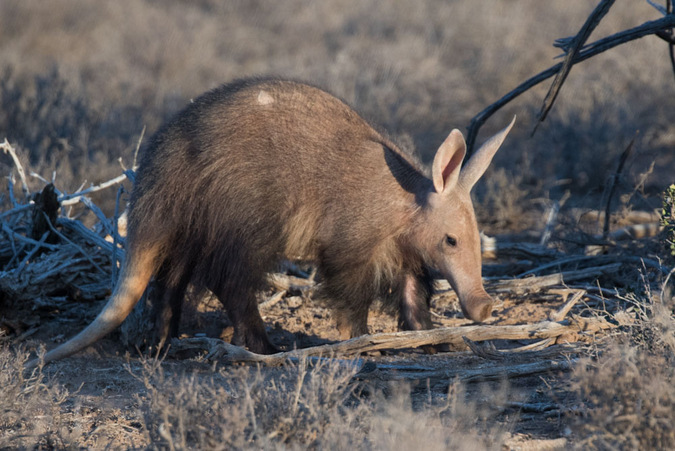 Our research led us to only a few candidates for locations with a high probably of seeing the aardvark. Aardvarks typically come out late at night, long after most evening and night safari's end so chances of seeing them in most game parks is extremely rare. Additionally, the aardvark is generally easy prey for large predators such as lion or leopard so they avoid areas where these animals are common.
Ultimately, our research led us to Samara Private Game Reserve in the Karoo of South Africa. Why Samara you ask? There are many reasons to go to Samara, but for me the top reason is that during the month of August there are often sightings of aardvark in daylight.
This could be because Samara has for a long time, and at the time of our visit, lacked large predator populations such as lions and only an occasionally seen leopard. The cheetah, which is more often seen in Samara, does not seem to be a predator of the aardvark.
Perhaps this gives the aardvark more confidence to look for food at any hour of the day. Notwithstanding these factors, Samara is an easy 4-hour drive from Port Elizabeth. The "Manor House" is an amazing accommodation with fantastic staff, private vehicle with a guide and a true South African Estate feel that works wonderfully for small groups at very reasonable rates. Having your own guide and vehicle allows for very specific focused safaris on your own schedule.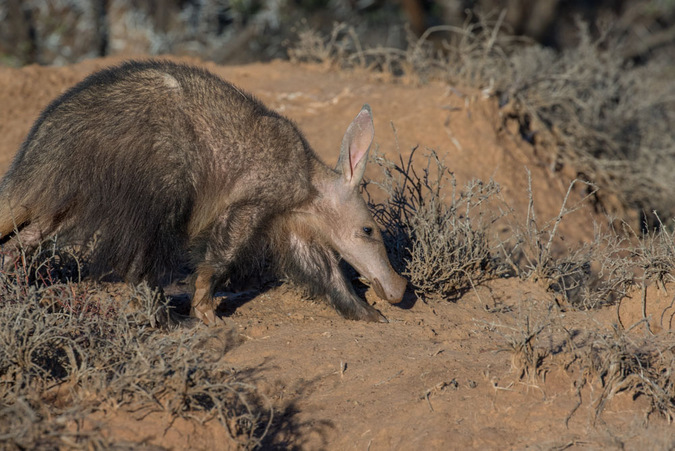 Upon our arrival at Samara we were greeted warmly by our guide and staff, who would become like family to us for the next four nights as we pursued our quest. After a brief tour of the property we were shown to our rooms and were surprised with a nice assortment of food and welcome drinks.
Our guide Julius started off the 3pm briefing with "I am sure you are tired from the long journey from America so we will allow you time to relax, enjoy the accommodations and we will begin our first safari in the morning."
I was dumbfounded. We had just travelled halfway around the world on a mission.
"We aren't so tired to skip on an afternoon safari" I exclaimed.
We, or at least I, wanted every chance I could to see an aardvark and we only had three full days to search. I was not sure if the rest of our group felt the same but I was going out alone if necessary!
"As you wish," Julius responded, "then we shall depart around 4pm!"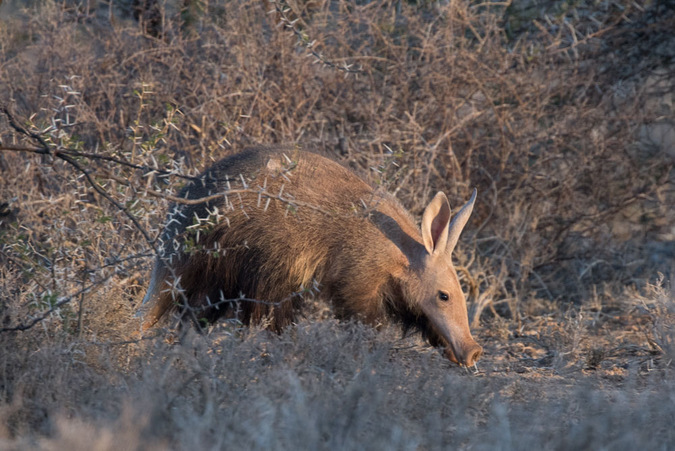 Our group of seven, except for one who did want to rest, then dispersed to ready for the excursion. After a spot of tea, we headed out into the park, hopeful that we would see an aardvark. However, even if we did not find an aardvark, other animals would be sighted and we would get our bearing on the landscape and areas surrounding our lodge.
Things started slow with a few small animal and bird sightings as the sun started sinking low into the sky giving us that classic sunset golden hour. Just as we commented about the beautiful light, Julius shouted out: "there's an aardvark!"
I suspect the entire group in the vehicle was in disbelief as approximately 30 metres in front of our vehicle was an aardvark slowly walking around in the bush foraging for food. It was at that time that I realised another great thing about Samara. Without big predators, we could get out of the vehicle and follow the aardvark on foot.
I had not even thought about this when planning the trip and had envisioned, like most safaris, we would be restricted to in-vehicle sightings in which we were more at the mercy of where we could drive, where the sun was located and the downward angle of the photography.
The aardvark didn't seem to be paying much attention to us as we climbed out of the vehicle and slowly, at the direction of our guide, closed in on the animal. I was so excited by the sighting I could feel my heart beating in my chest! Ultimately, we were able to get within about 15 metres of a medium-sized male and we were able to follow him through the modestly vegetated area.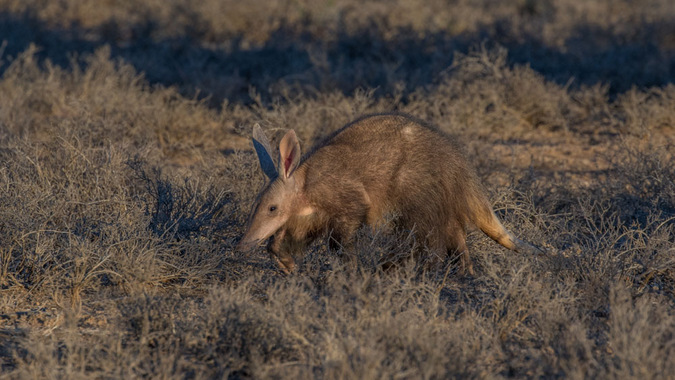 The setting sun at our back was golden and warm, the temperature was a comfortable 18 degrees Celsius and the wind was very light making conditions for photography nearly perfect. The aardvark, estimated at about four years old, put on quite a show moving from area to area, digging, eating and ultimately from time to time directing his gaze right at us, resulting in an amazing photographic opportunity. After approximately 20 minutes he turned his back to us and started to scamper away at a quicker pace and we knew the show of a lifetime was over!
Over the next several days we had many animal sightings including big towers of giraffe, a mother cheetah with cubs, bat-eared foxes, and black and white rhino. The Manor house staff spoiled us beyond belief and every day was a fun adventure. However, despite two long safaris each day we only had one additional sighting of an aardvark, which occurred just before dark on our very last safari. We again had an opportunity to follow the aardvark on foot though the bush for about 10 minutes, but this time he was fast moving and the lighting conditions were less then optimal.
Even though photographic conditions were not great we relished the sighting as we suspect this might be the last time we ever see an aardvark in the wild! The plans exist to soon reintroduced both elephant and lions into Samara in the upcoming years in an effort to repopulate the land with all the animals that were once native to the Karoo. Although, this might be great for those wishing to see more of the Big 5, we are quite sure that seeing aardvarks will become more difficult in the future. If this animal is on your bucket list we would encourage you to go soon.
About the authors: Anthony and Suzanne Morreale are avid wildlife and tribal photographers living in California but are frequent travellers to Africa. More information can be found on their website.