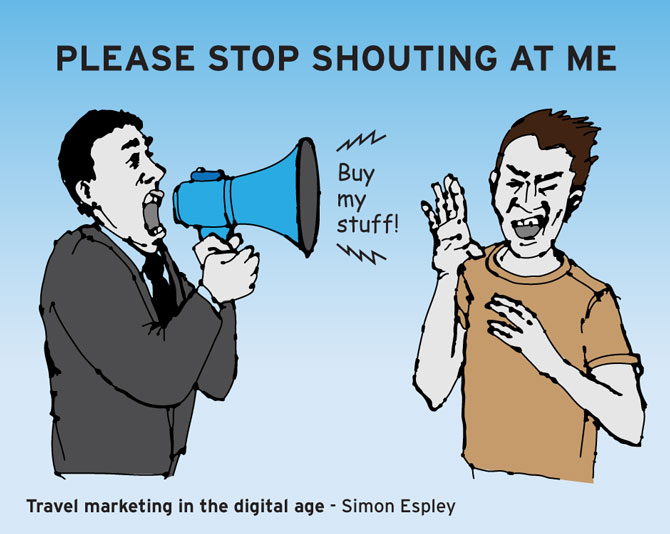 So I'm swiping away on a screen and up comes this advert that hits me between the eyes – not because of its riveting photograph or awesome deign, but because its shouting at me. No attempt to engage or even elicit an emotional reaction, just a one-way vomit of information. Just some product shoving itself into my face and expecting me to… what?
No this is not an advert for a funeral policy or 2nd hand car – it's for a lodge, an African tourist lodge. I see an average picture of a thatched building and some people in a game drive vehicle – and something about SPECIAL RATES and BOOK NOW. Really? We've never met and this is how you introduce and define yourself? And the link goes to a generic page that does not speak to the advert.
So maybe I am over-reacting I tell myself – and so I visit the lodge at the home of dialogue, Facebook. Guess what? More of the same – bland declarations and banal staged photos of people (staff?) – frozen smiles, ice bucket, freshly-ironed outfits. Again no attempt to engage or utilize the strengths of screen-based marketing to a social+mobile audience.
OK OK, last attempt – surely their blog will have a few interesting snippets. No, just more special offers and breathless announcements about the wonderful view from the verandah etc. I give up, case closed.
Its like some print campaign has been dumped into digital and left to its own devices. What we have here is lazy, formulaic marketing – same content over multiple platforms. And no attempt at dialogue.
Are you one of those lazy marketers? Do you avoid engagement? Has the evolution of media and creation of the empowered consumer left you behind in some stagnant backwater? Do you still think that its business as usual? What you need is multi-layered campaigns that are customised for each media platform (choose the platforms that work for you). You need CONTENT that is really useful to THEM or generates an emotional response, and you need to retrofit that content for each media platform. There's content everywhere – you just have to find it. And you need to engage. You need to get involved with your audience/market – they expect it. Gone are the days when you have someone make up an advert, place it in a few magazines and wait for the phone to ring. Gone. For good.
Get involved – you'll be amazed at the results.
Sign up or connect
Want to sign up (it's free) to receive an email notification when my next post in this series has been published?
Lets connect on Linkedin and Twitter
Send your questions to me here
Subscribe to our newsletter.