Written by: Kelly Fortune, Africa Geographic Travel 
Stepping onto your balcony and seeing a herd of over 20 elephants pass by your bedroom, huffing and puffing in a mini sand storm on their way to a watering hole, is something truly spectacular. Especially when compared to the everyday hustle and bustle of suburban life.
Recently I was spoiled to a weekend retreat in the Pilanesberg, compliments of SA Express and Kwa Maritane Bush Lodge, as the winner of the 'business card fishbowl draw' after a successful showcase hosted by Legacy Hotels and Resorts in Cape Town.
My fiancé and I dropped into the lap of luxury with a fully inclusive three-night trip to Pilanesberg Game Reserve. It began with a very smooth flight from Cape Town to Sun City's airport, before our 10-minute transfer to Kwa Maritane where we were welcomed by amazingly down-to-earth staff, with pancakes and ice cold fruit juice.
A yummy hamper of fruit, nuts and biltong and a bottle of red wine was awaiting us in our room before we took the opportunity to zone out with a couples massage and visit the lodge's photographic hide. In the hide we saw what I thought was a rock, but it turned out to actually be a hippo that had made the watering hole its home.
Our first game drive started off with a welcome speech from our charismatic guide, during which we were told we would have to say 'stop' should we wish to halt at a particular sighting. Having a vehicle full of old timer safari goers who agreed wholeheartedly to his suggestion, this worked well instead of stopping for every zebra or impala that crossed our path.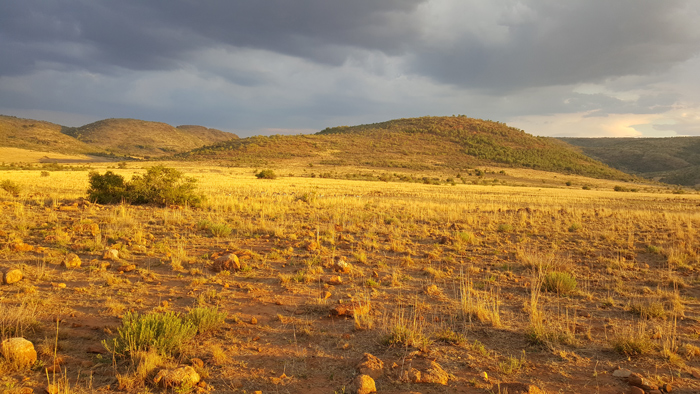 Still recovering from the laugh over our game drive guidelines, a member of our group yelled out: "LEOPARD… I think," bringing the vehicle to a halt and everyone's adrenalin sky high. With dead silence our cameras came out to snap some shots of the dainty, beautifully-marked serval strutting alongside the vehicle. Not a leopard, but no less a unique sighting.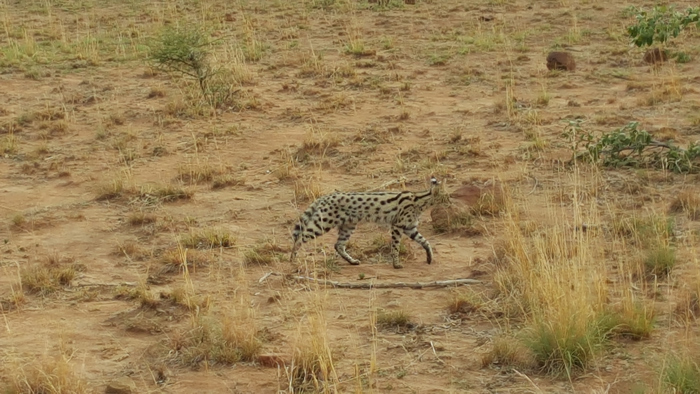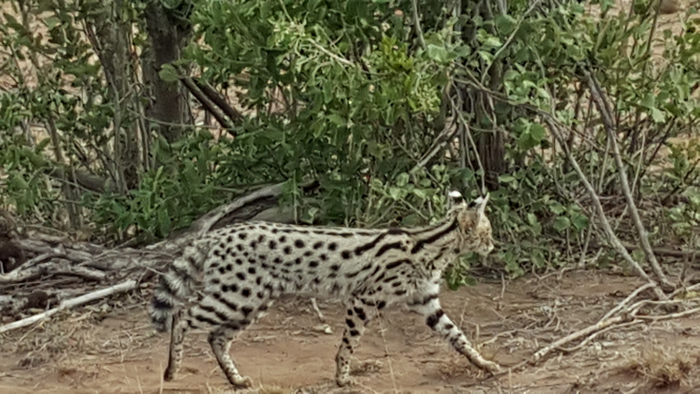 This was the start to our Pilanesberg journey and each drive in the days to come did not disappoint. We were spoilt with two burly male lions, one calling out to his companion that lay lazily just a few metres away – the kind of call that shakes your bones and gives you goosebumps all over.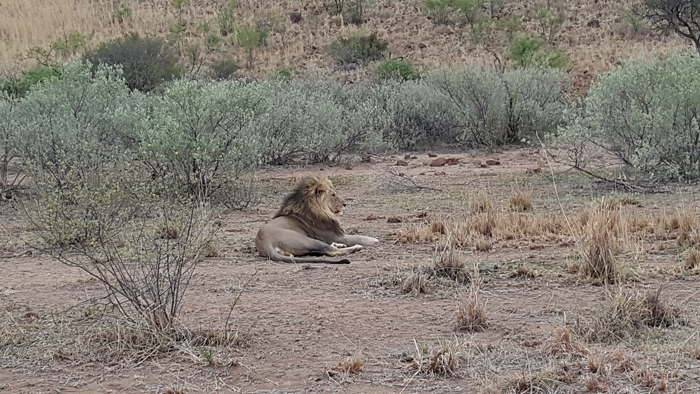 We also enjoyed a very inquisitive male elephant right next to our vehicle, plenty of elephant herds close by, white and black rhino in action with their offspring, two brown hyena, a family of four cheetah, baboons, lots of pregnant impala, wildebeest, kudu, black-backed jackal and giraffe. There was also a wide variety of birdlife, not only on drives but throughout the lodge – some even trying to pinch a scrap from our plates at breakfast.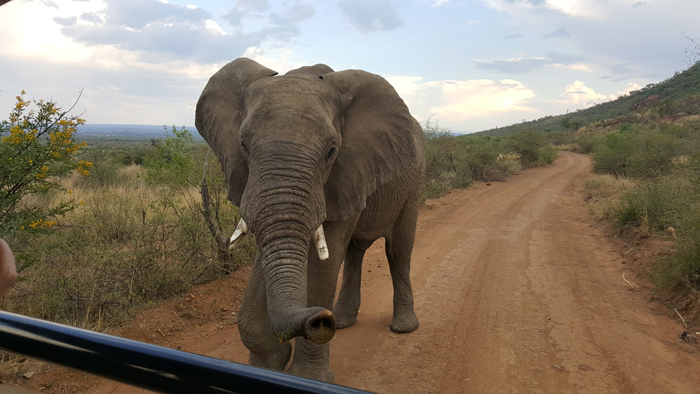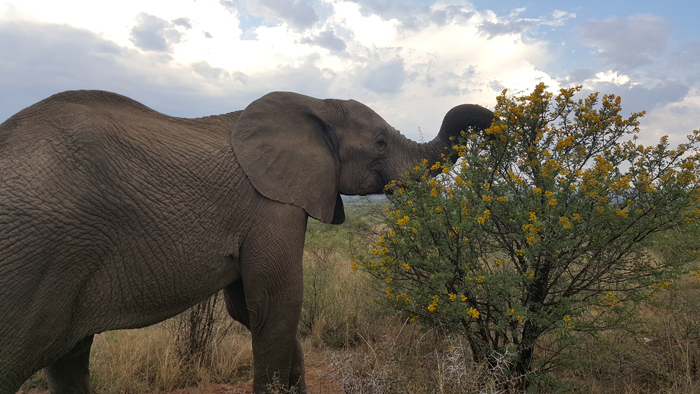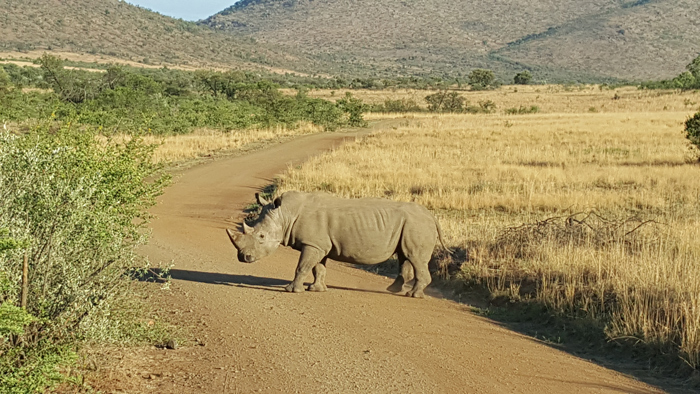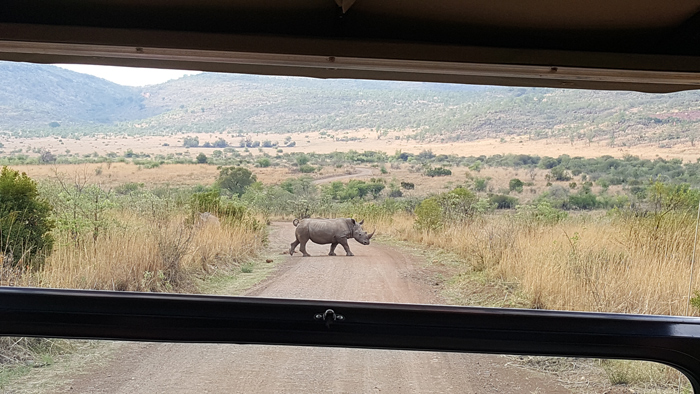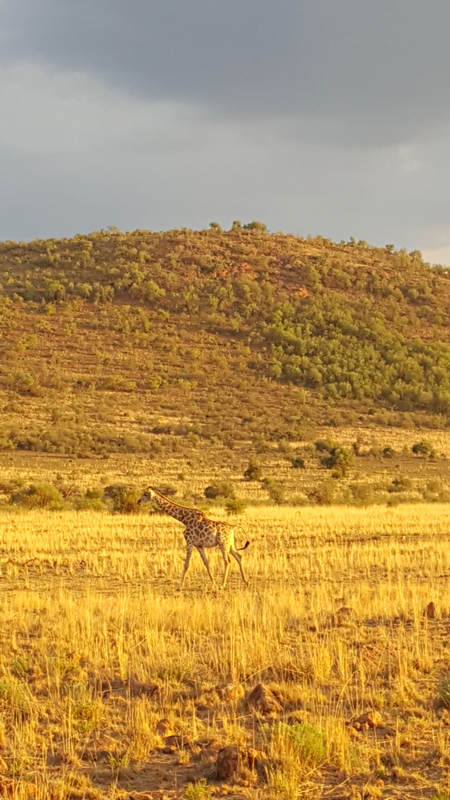 Meal times at Kwa Maritane are nothing less than mouth-watering, from our everything-under-the-sun breakfast and dinner buffets, which could make even festive season spreads look like canapés, to our Saturday evening 'boma bush braai' with local game meats. We feasted like royalty on every trimming from the 'plaas', while enjoying the chanting of the locals singing and dancing along to marimbas.
And so it came time to depart and, with one last goodbye from our resident go-away-bird, we took the hint and made our way back to Sun City airport for our flight back home.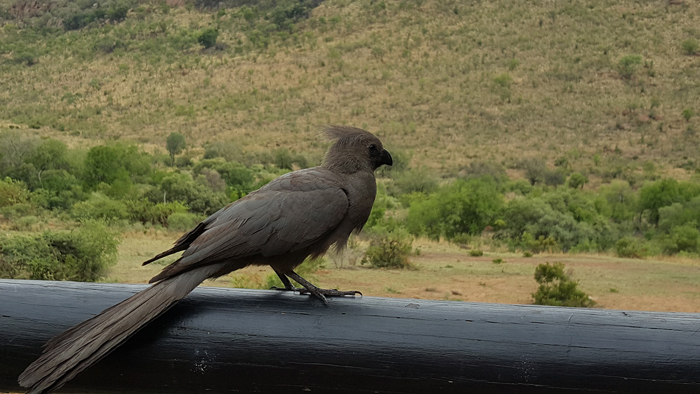 Subscribe to our newsletter.