Written and photographed by: Greg McCall-Peat
On hearing reports of a huge male lion that had made his way onto our traversing area at Umlani, we couldn't resist to go and take a look.
It had been some time since the previous dominant males had moved on, and since – we had a fully grown male set foot in the area – so we wanted to see who this newcomer was. That evening we headed out in the hopes that he would be active and we could see him in all his glory.
Just before we set out to go find him, we heard the distant roars of a lone male lion. Would a lone newcomer really be so brazen as to announce his presence in an area that he doesn't know? We were doubtful about whether it was him or not, but quickly made our way in the general direction of the deep roars that echoed through the African night, stopping every now and then to listen for more roars to guide us. However, after those initial roars, the night was still.
After discussing amongst ourselves where we thought the lion might be, we finally came to a conclusion and made our way to the area the original sound came from. On arrival, we could not see anything, then suddenly in the peripheral beam of the spotlight something caught our eyes. We moved closer and there he was, one of the biggest male lions we have set eyes on, and fast asleep.
We had nothing but time, so we sat with him while he slept. The minutes turned into hours, then in the distance we heard the whooping of hyenas.
This was enough to rouse the male from his sleep, he sat up and stared into the distance in the direction of the hyena calls. His huge dark mane blowing majestically in the wind, ears pricked and steely eyes focused.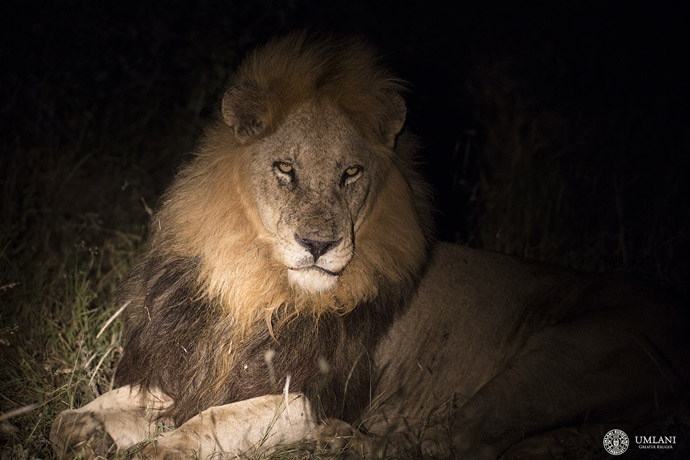 The male had a familiar look to his face. We couldn't put our fingers on it, but it seemed like we knew him. However, in the moment we were star struck and as we watched him begin to groom himself, we knew he was getting ready to move, so we patiently waited with him. Eventually, he stood up, showing off his impressive size before walking off. It wasn't long though before he lay down again. This time, he let out the most amazing roar, we could feel it reverberating through the vehicle. It's a sound that can carry 8km and we were hearing it from a few feet away.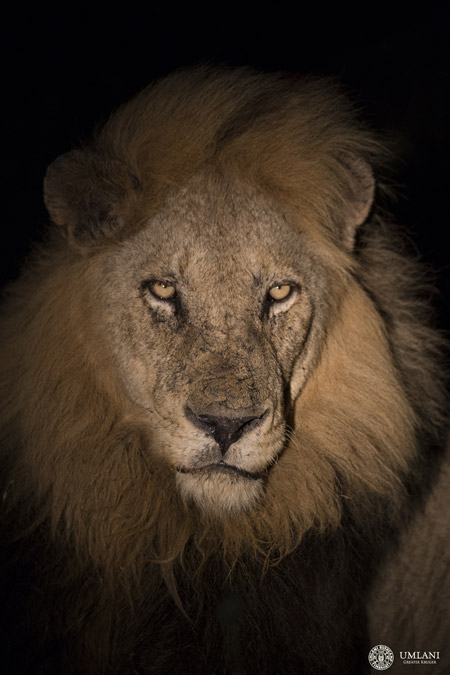 It was after this that we decided to leave him be and head back to camp.
When we got home, we did a bit of research and discovered that this male lion was part of a coalition of males that originally held territory in one of the other private game reserves down to the south of us. He travelled a massive area to end up here. The coalition is known as the Matimba males and there were originally six males but they're now down to three. Time will tell if they settle in here to live out their retirement years or if they move on as nomadic males.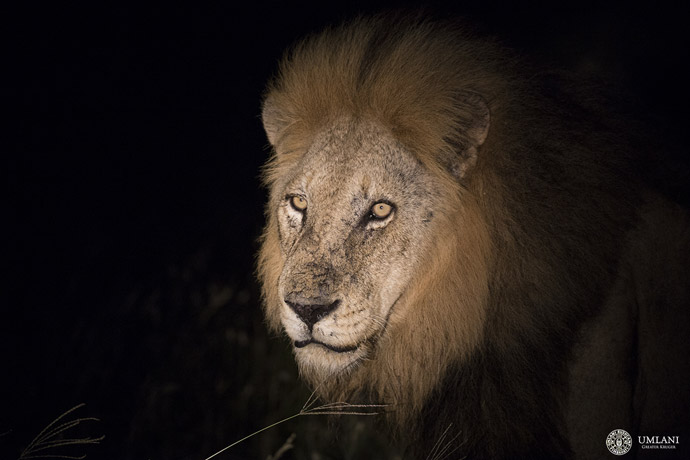 The opportunity to spend time with this one male and to hear his roars was something special and we hope for many more sightings of him.