Trevor Cole, Winner of the travel/scenic category in Africa Geographic's Photographer of The Year 2016, will be leading a 12 day photography tour to the lower Omo Valley in Southern Ethiopia in January 2017. Trevor resided in Ethiopia for four years and knows the Omo well. He will be partnering with Epic Photo Tours who have been organising all inclusive photo intensive tours to visit the tribes since 2007.
Travelling three per Land Cruiser, with the best local guides and staying at the most comfortable lodges, this trip is geared towards photographers at all levels. Part of your trip fee will be donated to Omo Child, an NGO which is working to abolish ritual infanticide. Cultural immersion is what this trip is about.
What makes an expedition to the Omo Valley, which is a quick one hour flight from Addis Ababa, unique is the sense of wonderment found by all. Kids are always observing you, for many it is their first exposure to a foreign culture.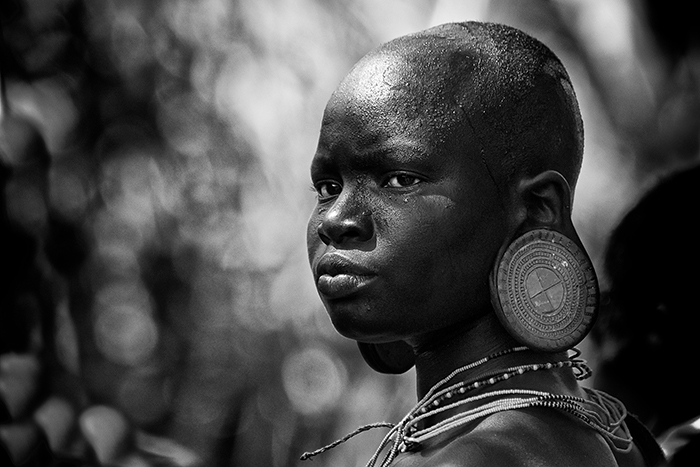 The Hamar, Kara, Mursi and Suri all use body paint derived from clays, which are found in the tropical soils. They paint themselves as a form of camouflage when hunting, or as decoration at special ceremonies, festivals and when outsiders visit. They also wear very distinctive beads and jewellery made from recycled materials – batteries, watch chains, bottle tops are but some of the examples.
The women of the Mursi tribe wear lip plates. They grind millet while their men tend to the goats. The Mursi live in Mago National Park and reside in thatched huts, cook by fire and are known for their ability to adapt to their harsh environment.
The kids paint their faces to express their individuality. On an Epic Photo Tours trip we donate bags of food and medical supplies. It is our way of thanking them for allowing us to photograph them.
The women of the Mursi and Suri have very distinctive lip plates and several tribes use butter and ochre on their hair as a form of adornment. They are nomadic pastoralists living their lives in a relatively lush savanna region. The Omo Valley is well known for its diversity of tribal peoples.
On a photo trip to the Omo Valley we may have the opportunity to photograph the Hamar bull jumping ceremony. A rite of passage that begins with the girls blowing horns and dancing.
Market day is a time when the tribes come together to gossip, strut their stuff, share news and buy foodstuffs – it is a mosaic of colours, sounds and joy.
Along the road it is always a joy to meet and greet the tribes as they jump into the river to cool off. Prior to marriage the girls shave each other's heads in artistic patterns.
Kids are all around and photographic opportunities exist everywhere.
The women of the Dorze tribe harvest tobacco and love to light up their home made pipes. Photographing them in their homes, villages and markets yields exhibition quality images.
Find out more about joining Trevor on this epic photographic adventure here.