In this week's news wrap the IUCN has updated the status of mountain gorillas, officially changing them from 'Critically Endangered' to 'Endangered', though the list also reveals that giraffes are in serious trouble; the IUCN also stated that certain Lake Malawi fish species are at risk of extinction; a new parliamentary report has called for a ban on captive lion breeding for hunting and the lion bone trade in South Africa; China has now postponed the lifting of a ban on the trade of rhino horn and tiger parts for medicine and other uses; the African Carnivore Initiative has been established to help conserve Africa's largest carnivores; and more than 400 buffaloes drown in the Chobe River.
Rare conservation win: Mountain gorilla population ticks up (full story: AG News Desk)
There are more gorillas in the mist – a rare conservation success story, scientists say. After facing near-extinction, mountain gorillas are slowly rebounding. On Wednesday, the Switzerland-based International Union for Conservation of Nature (IUCN) updated mountain gorillas' status from 'Critically endangered' to 'Endangered', a more promising, if still precarious, designation. There are now just over 1,000 of the animals in the wild, up from an estimated population of 680 a decade ago.
 "In the context of crashing populations of wildlife around the world, this is a remarkable conservation success," said Tara Stoinski, president and chief scientist of the Dian Fossey Gorilla Fund. Fossey, who died in 1985, had projected that the primates may be extinct by 2000. Instead, their populations have been slowly increasing thanks to sustained and well-funded international conservation efforts.
"We have made progress in terms of their protection, in terms of allowing an environment where mountain gorillas can continue to thrive and grow," said Anna Behm Masozera, director of the International Gorilla Conservation Program, based in Kigali, Rwanda. "But it's important to note that mountain gorillas' numbers could still slip back very quickly. We still have just two fragile and small populations," split between two national park areas.
Several factors have enabled mountain gorillas' modest rebound, said Masozera. The three governments have stepped up enforcement of national park boundaries — areas where hunting, logging and paved roads are illegal… (Continue to full story here)
Giraffes are in trouble, says IUCN status update (full story: AG News Desk)
The International Union for Conservation of Nature (IUCN) Red List of Threatened Species is once again drawing attention to the plight of giraffe. The IUCN Red List reveals that they are in serious trouble, with some now being considered as 'Critically Endangered'. Many people first became aware of the declining numbers of the iconic giraffe when they were uplisted to 'Vulnerable' on the IUCN Red List in 2016. Today's IUCN update comes as a further reminder that some of the currently IUCN-recognised giraffe subspecies are in real trouble.
The conservation status of seven of the currently IUCN-recognised nine giraffe subspecies has been assessed – five of these subspecies for the first time ever. For many, it comes as a shock that three of the giraffe subspecies are now listed as 'Critically Endangered' (Kordofan and Nubian giraffe) and 'Endangered' (Reticulated giraffe), while others range from 'Vulnerable' (Thornicroft's and West African giraffe) to 'Near Threatened' (Rothschild's giraffe). Only Angolan giraffe – with their stronghold in Botswana, Namibia and Zimbabwe – seem to be out of trouble and are listed as 'Least Concern'. Only the South African and Masai giraffe are yet to be assessed. While South African giraffe appear to be doing well, Masai giraffe have plummeted and will most likely be placed within one of the threatened categories of the IUCN Red List… (Continue to full story here)
Lake Malawi fish species at risk of extinction (full story: AG News Desk)
The latest update of the IUCN Red List of Threatened Species has revealed that overfishing is causing fish species in parts of the developing world to decline. According to the updated list, 54 fish species from two important fisheries are threatened by unsustainable fishing. Nine percent of the 458 fish species assessed in Lake Malawi are at high risk of extinction, causing concern for regional food security. Three out of the four species of Chambo (Oreochromis karongae, Oreochromis squamipinnis, Oreochromis lidole) – Malawi's most economically valuable fish – are 'Critically Endangered'.
Chambo fisheries are now on the brink of collapse. Over one-third of Malawians depend on Lake Malawi, Africa's third largest lake, for their food and livelihoods. Similar findings were highlighted in a recent report from the Lake Victoria Basin, where three quarters of all endemic freshwater species are threatened. Local livelihoods in several East African countries dependent on resources from these lakes are threatened by unsustainable fishing… (Continue to full story here)
Captive lion breeding and bone trade: MPs call for an end to the practice (full story: AG News Desk)
A new parliamentary report has called for a ban on captive lion breeding for hunting and the lion bone trade in South Africa. The Portfolio Committee on Environmental Affairs (PCEA) on Thursday, 8th November, adopted a report of the two-day colloquium that was held on captive lion breeding and the hunting of lions for bones on 21 – 22 August 2018. The PCEA requested that the Department of Environmental Affairs urgently initiates a policy and legislative review with a view of putting an end to the practice of breeding lions for hunting and the bone trade.
Entitled Captive Lion Breeding for Hunting and Bone Trade in South Africa, the 24-page report found that captive lion breeding held no conservation value. There was no evidence to support the flawed, minority-held, argument that the captive-bred lion industry is "a well-regulated, manageable industry that contributes way more positively to South Africa than negatively".
The report further asserts that the South African government should rethink its policy stance on the captive lion breeding industry, which runs the risk of making the country an "international pariah"… (Continue to full story here)
Good news as China now reverses decision to lift ban on trade in tiger and rhino parts (full story: AG News Desk)
BEIJING (Reuters) – China has postponed the lifting of a ban on the trade of rhino horn and tiger parts for medicine and other uses, the government said on Monday, after a storm of protest from conservation groups over a plan to water down the decades-old prohibition.
In October, the State Council issued a circular replacing a 1993 ban on the trade of tiger bones and rhinoceros horn, opening up exceptions under "special circumstances", including medical "research".
Environmental groups said lifting of the ban would be disastrous for endangered rhinoceros and tiger populations, even if the animal parts were only sourced from those bred in captivity. The "detailed regulations for implementation" of the October change had been "postponed after study", the official Xinhua news agency reported, citing State Council Executive Deputy Secretary-General Ding Xuedong.
Under the October plan, exceptions to the ban could be made for parts from those animals, bred in captivity, being used for medical and scientific research, education and "cultural exchanges"… (Continue to full story here)
African states make long-term commitment to conserve their largest carnivores (full story: CMS)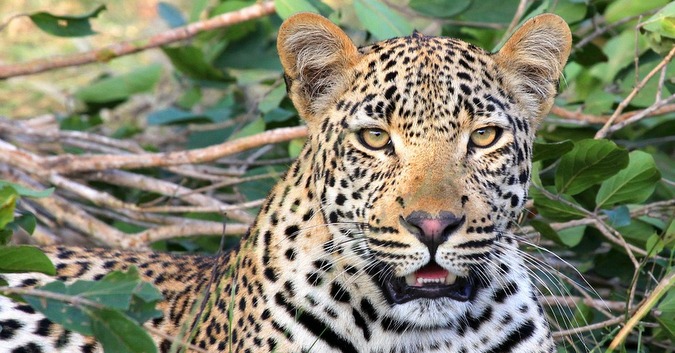 More than 30 countries hosting African wild dog, cheetah, leopard and lion met in Bonn from 5 to 8 November 2018 to establish the African Carnivore Initiative. The initiative constitutes the first Africa-wide commitment towards saving African wild dog, cheetah, leopard and lion.
Habitat loss and fragmentation, prey depletion, retaliatory killing of carnivores by owners of livestock and increasing trade in lion specimens and live cheetah are the main reasons for these animals' rapid decline across most of Africa.
Currently, the Red List Assessments of the IUCN are showing that the African wild dog inhabits six percent of its historic range, while it is nine percent for cheetah, 51 percent for leopard and 17 percent for lion. Supported by experts of the IUCN Cat Specialist Group, Range States agreed in Bonn on establishing a work programme to guide their conservation actions over the next coming years… (Continue to full story here)
Mass drowning of buffaloes in Namibia (full story: AG News Desk)
More than 400 buffaloes have drowned in the Chobe River that forms the border between Namibia and Botswana. Reports say that the incident happened on Tuesday along the border of the Chobe National Park. Initial investigations suggest that an exceptionally large herd was grazing at night in Namibia when a pride of lions chased them, causing the herd to stampede into the Chobe River in an area with steep river banks.
It is estimated that more than 400 buffalo drowned, probably as a result of large numbers of buffaloes panicking and trampling others in their attempts to climb the steep river banks. Mass drownings of wild animals are not unusual occurrences when several factors occur simultaneously, and they have occurred before on the Chobe River, notably off Sedudu Island. The large number of drownings in this case is unusual though, and a reminder of nature's unpredictability.
Bush 24's Facebook page had more on the incident, where Nic Proust stated that "the lions chased the buffalo which panicked and ran. Although they were in good condition compared to normal they are weaker at this time of year because of it being the end of the dry season so they panicked and ran into the water and so many drowned. The banks were also high in this area and the night [was] so dark that it was just the worst set of circumstances that meant they had no escape route and thus so many died."
According to the Botswana Government's press release, the carcasses have largely been removed, mostly harvested by community members who live along the river in Namibia… (Continue to full story here)
Subscribe to our newsletter.