The past few days have seen three bull elephants saved from being shot thanks to elaborate rescue efforts, and investigations continue into the recent failed attempt to smuggle five rhino horns out of South Africa.
Elephants and mango crops saved near Kruger (full story: Traveller24)
Three young bull elephants – who had escaped into farmland after breaking down fences in the Associated Private Nature Reserve (APNR) that borders the Kruger National Park – were saved from being shot after an elaborate rescue took place in the Limpopo Province.
The elephants had started raiding nearby farms at night, damaging mango orchards and infrastructure. These escaped elephants were technically classified as 'damage-causing animals' (DCA) and farmers could apply for the authorities to have them legally shot.
Fortunately, the farmers were tolerant of the elephants and a rescue operation, headed up by Elephants Alive, to safely dart and relocate the elephants was initiated.
It took quite some effort, involving a few helicopters, a large team, and a couple of flatbed trucks, but eventually all three elephants were successfully tracked down and darted. They were then carefully secured onto the trucks and returned to the safety of Balule Nature Reserve.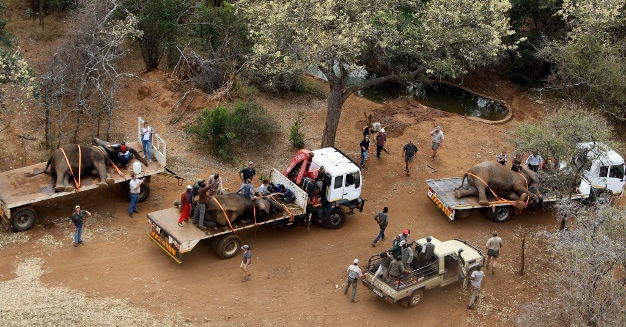 Confiscated rhino horn not linked to online rhino auction (full story: Traveller24)
Late last week a Chinese national was arrested after being caught trying to smuggle five rhino horns out of South Africa, through OR Tambo International Airport.
There was some concern that the rhino horns may have been linked to the recent online rhino horn auction held by John Hume. However, it has now been confirmed by the South African Minister of Environmental Affairs, Dr Edna Molewa, that the rhino horns and the auction are not linked.
She said that "the online auction was closely monitored by an Environmental Management Inspector from the Department and horns that were approved for sale during the auction are currently still in the possession of Mr Hume", and that the confiscated horns "have been sent for DNA testing in order to determine their origin".