In this week's news wrap a well-known hunter has been killed by a buffalo in Limpopo, South Africa; Zambia reinstates plan to cull 2,000 hippos; justice is served for foreign lizard poachers; an elephant cow with two-week-old calf is saved from a snare in Mozambique; and South African fisheries control officers nab abalone poachers.
Well-known hunter killed by buffalo (full story: AG News Desk)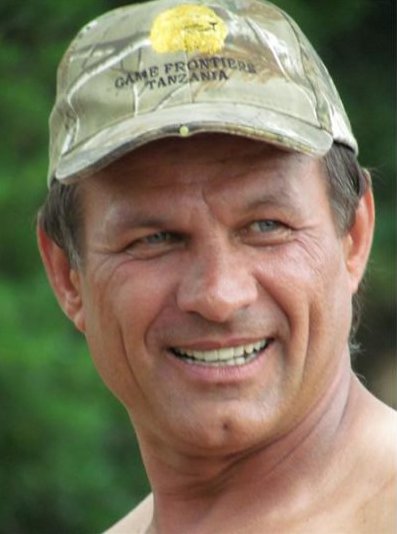 A buffalo has killed professional hunter, Claude Kleynhans (54), in what is considered a freak accident on the banks of the Levubu River in northern Limpopo, South Africa, on Tuesday, 22 May.
Kleynhans was the owner of Guwela Hunting Safaris in Limpopo.
According to his ex-wife, Kleynhans and his party had shot and killed a buffalo as planned. As they were going to clear the bush around the carcass another buffalo blindsided Kleynhans. It is believed the buffalo hit a femoral artery and Kleynhans died almost instantly.
Kleynhans, a fervent Christian, grew up in Modjadjiskloof and joined the police before moving into the professional hunting world. He is considered one of the country's finest ethical hunters. Kleynhans knew the bush well and understood conservation as well as trophy hunting. He leaves behind three children, his father and three siblings. (continue to full story here)
Zambia reinstates plan to cull 2,000 hippos (full story: AG News Desk)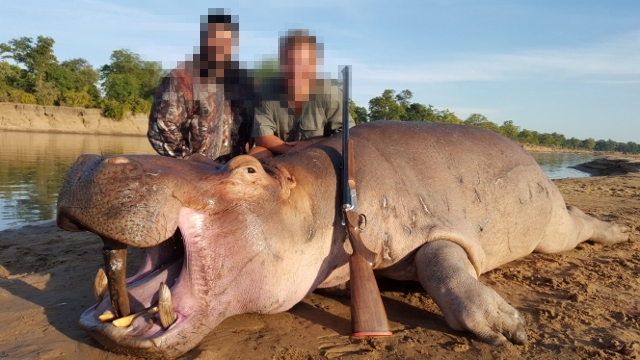 Conservationists are up in arms over the announcement by Zambian authorities that the 2016 decision to suspend the culling of 2,000 hippos has been overturned. The plan to reduce the hippo population in the Luangwa Valley over the next five years has been justified by Zambia's Department of National Parks and Wildlife (DNPW), arguing that the exercise is a wildlife management tool aimed at preventing anthrax outbreaks among animals due to high populations of hippo.
The cull is being promoted to trophy hunters by the South African hunting outfitter Umlilo Safaris as a 'hippo management hunt'.
Born Free, the conservationist organisation that led the efforts to stop the slaughter in 2016, is calling for the authorities to urgently reconsider and abort the agreement that only benefits private safari hunting companies and trophy hunters.
"Our sources reveal that the government has moved swiftly to reinstate the cull, perhaps hoping this would go unnoticed," said Born Free President, Will Travers. "They are, apparently, using the same flawed rational for the slaughter as last time."
He said the authorities had neither provided evidence demonstrating that there is an overpopulation of hippos in the Luangwa River nor proof that such a hippo cull of healthy animals would prevent a future outbreak of anthrax. (continue to full story here)
Justice served for foreign lizard poachers (full story: AG News Desk)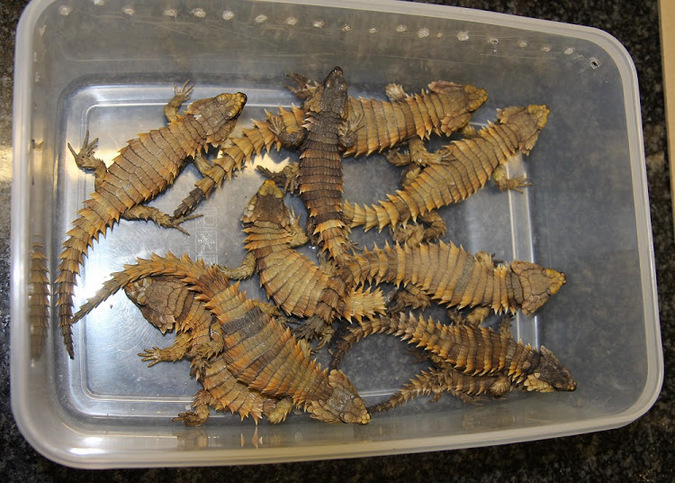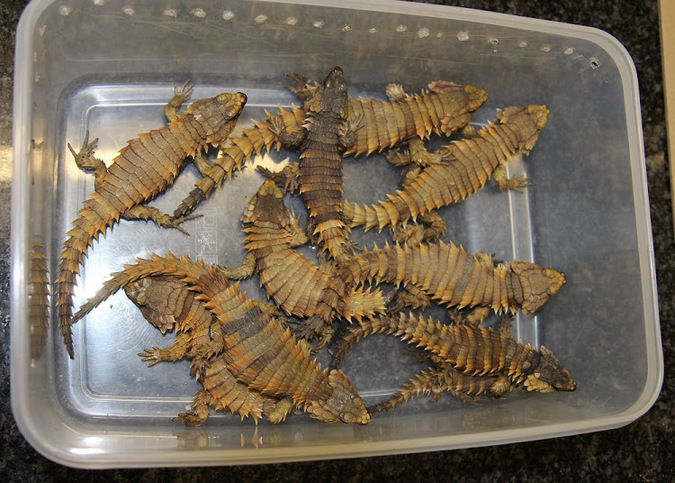 A Japanese man who had travelled to South Africa from Japan to make off with precious "items" found himself in a sticky situation when he saw a police roadblock.
Koji Ikoma threw his cooler bag out of the car window while police gave chase near Malmesbury in the Western Cape. When police opened the bag' they found 48 armadillo girdled lizards inside.
After an investigation by CapeNature and the police' Ikoma confessed to collecting' possessing and transporting the lizards. The crimes' he said' were committed for "financial gain".
He now faces 13 years behind bars or a R1-million fine after being sentenced this week. Ikoma was arrested in November 2017' and a month later another Japanese man was caught for the same offence.
Takasha Handa was picking his way through the veld near Nuwerus' also on the hunt for armadillo girdled lizards. He was caught with five of the creatures' and this week he was sentenced to six months in prison or a fine of R300,000. (continue to full story here)
Elephant cow with calf saved from snare (full story: AG News Desk)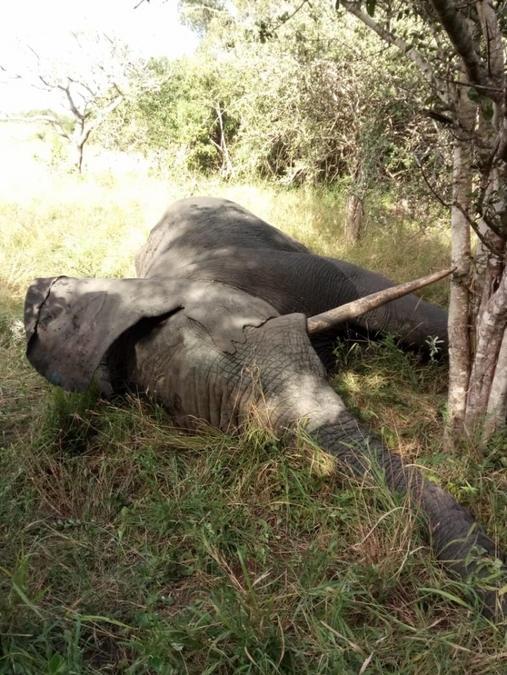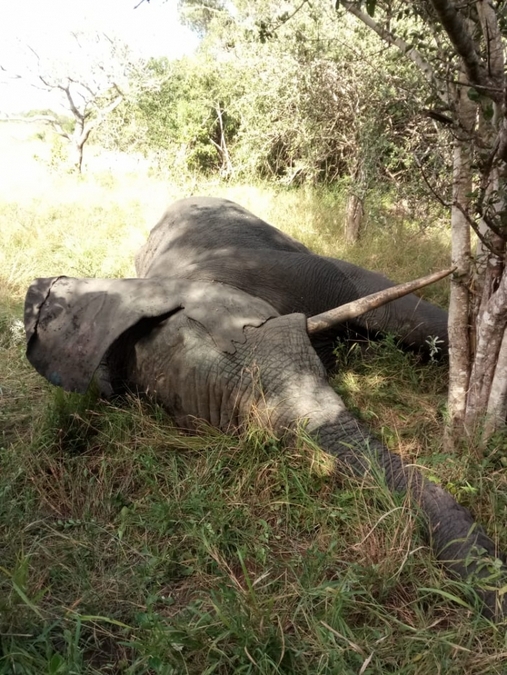 A remarkable rescue mission was undertaken Sunday, 20 May 2018 in Mozambique, when a female elephant, with a two-week-old baby right on her heels, was seen early-morning with a snare cutting into her left hind leg.
Brian Neubert, Peace Parks Foundation's Conservation Manager in Maputo Special Reserve, spotted the elephant in a group of around 20 other elephants. Flying with helicopter pilot Richard Fair, he noted her position and hastily returned back to base to refuel and mobilise a ground-crew to assist with removing the snare.
"After a fair amount of flying, she was again located around 3pm. She was darted from the air and while the helicopter chased the rest of the herd away, the ground grew started to move in. Once the area was safe, veterinarian Dr João Almeida was able to remove the snare and treat the wound," says Peace Parks Foundation's Operations Manager, Gavin Hulett.
The small calf was secured and held away from the mother while she was being treated. DNA samples were also taken of the mother by the Eduardo Mondlane University for their data base collection. Thanks to this effective teamwork and speedy response both the mother and baby elephant are doing well. (continue to full story here)
Fisheries control officers nab abalone poachers (full story: defenceWeb)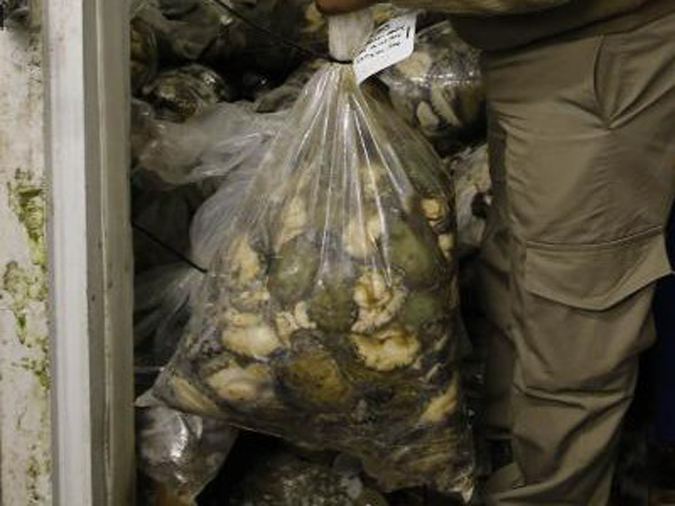 Fisheries control officers from the Department of Agriculture Forestry and Fisheries (DAFF) in South Africa arrested more than forty suspected poachers of marine living resources and confiscated five boats used in alleged poaching as efforts intensify to curb illegal harvesting of marine living resources (MLR).
The five confiscated boats are linked to poaching in the Gansbaai area with 13 suspects arrested for abalone poaching there. The latest confiscation was on May 26 when suspected poachers were pursued by law enforcement officers. The suspects reportedly jumped from the boat after which a search immediately ensued. No arrests have been made. The boat had more than 2,400 abalone units, 33 diving cylinders and other diving equipment aboard. All were confiscated and further investigations are underway.
"It is DAFF's resolve not only to deal with illegal harvesters of MLR but also to deal with illegal buyers," Carol Moses of DAFF Fisheries Communication Services said. (continue to full story here)