Written by Misha Gillingham from Wildluxe
Luxury travel blogger, Misha from Wildluxe, recently set out to discover Zambia's most luxurious properties near the Victoria Falls. In true luxe style, she exceeded all expectations. The best of it all? She's willing to share every last detail.
So, you've decided to visit Zambia and you know you want to see the Victoria Falls. What you don't know is where to stay or just how much your accommodation of choice will make or break your Zambian experience. You will be depending on your hotel or lodge for your meals, adventures, and safaris, in addition to being a place where you sleep. There are multiple luxury accommodation options near the Victoria Falls and choosing the right one for you can be an overwhelming task.
Here's a comparison of my two personal favorites, Tongabezi and Sindabezi, to help you decide which spot is best suited for you, or perhaps a taste of both!
Tongabezi
If you're anything like me, the thought of sleeping in a tent surrounded by wild animals is exhilarating, but also sends a few shivers down your spine. I knew I wanted that experience, but I needed a little stepping stone to get there, so I started out at Tongabezi first. Here, you're still technically in the bush and in the proximity of the all captivating African wildlife, but not quite as in-the-thick-of-it as at Sindabezi. Tongabezi is an enchanting safari lodge on the banks of the Zambezi River. It is definitely the more opulent and romantic accommodation option, as it offers fully air conditioned houses and river cottages with private butlers, plunge pools, elaborate African décor, expansive views, and WiFi. It is a great way to start out your trip, allowing you to recover from jetlag in total Zambian luxury.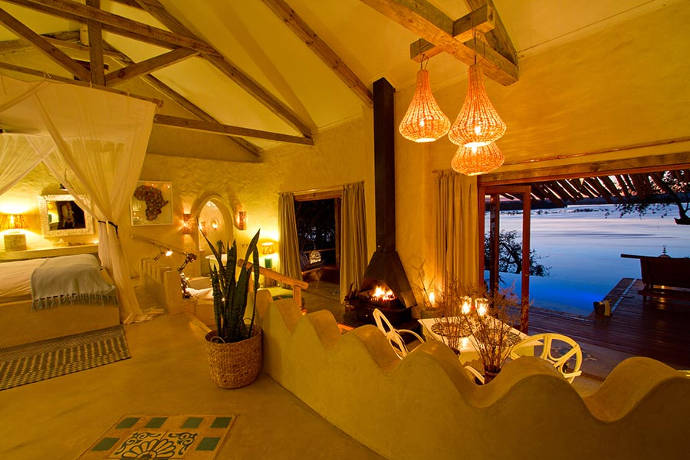 The dining experiences offered at Tongabezi were nothing short of spectacular. As a lunch option, you can take a river safari to a Zambezi sandbar and enjoy a small island all to yourself whilst feasting on the meal of your choice. The evening time starts with either a sunset river cruise, or sundowners by the fire on the romantic overwater deck, where you will witness perhaps the most vibrant sunset of your life. This can be followed by dinner in any spot of your choice, my favorites being the top deck of "The Lookout" or the floating Sampan platform right on the river – where it's almost as if you are dining with the hippos.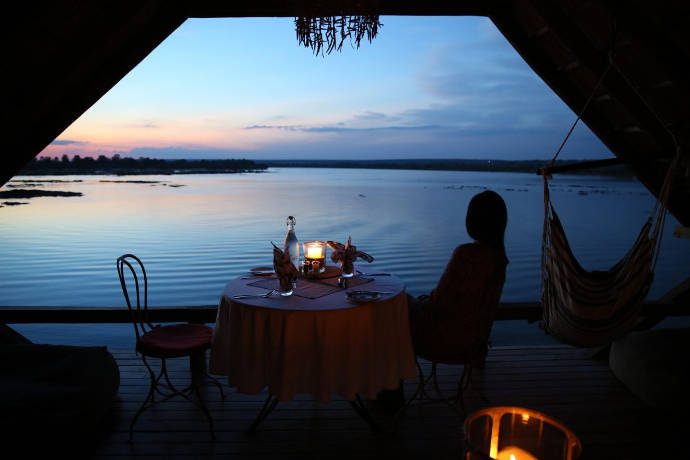 Sindabezi
While both properties offer endless amounts of adventure, Sindabezi is the more unique and adventurous of the two. It is an open-air luxury African bush camp, and actually the only luxury bush camp in the Victoria Falls region. It occupies the small private Island of Sindabezi on the Zambezi River, and is sandwiched right between Zimbabwe and Zambia. It is so remote that the only way to get there is by boat. This is an excellent and lavish glamping option if you want to be immersed in nature and wildlife in its most indigenous state (with a bathtub overlooking the Zambezi and a private chef, of course).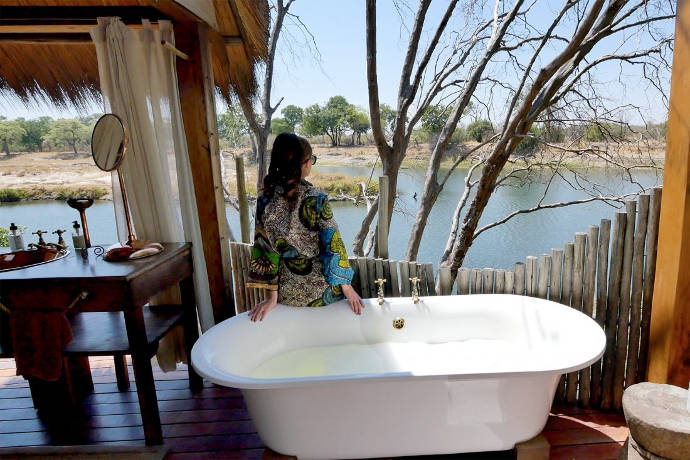 It is comprised of five luxury tents or "chalets". They're all open-sided with the magnificent Zambezi River wafting right beneath their decks. This draws the four-legged water-faring locals (especially the resident elephants and hippos) into close proximity.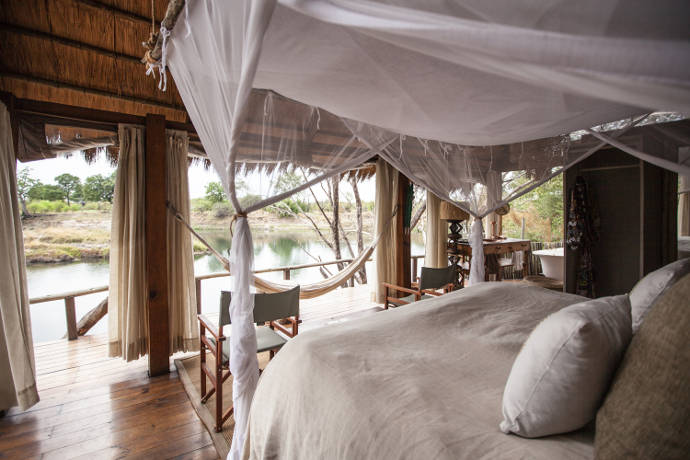 The chalets come equipped with everything you'd expect from a 5-star camp, including bathrobes, complimentary same day laundry service and a large tub or shower facility out in the open (yet hidden from other humans). They are well designed and visually enthralling; comprised of canvas siding and thatched rooftops, set on lovely wooden decks with all of the necessary furnishings. You won't find any air conditioning or swimming pools here. You won't see a spa, salon or fitness center, and there's no WiFi. The idea is to spend your time appreciating the rugged landscape and wildlife around you. The island does, however, offer a selection of lovely dining decks, lounges, a treehouse, and cozy campfires surrounded by plush seating.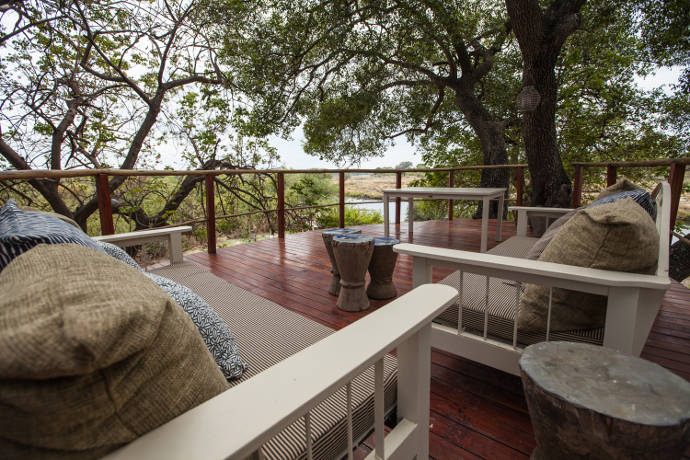 The experience on Sindabezi offers guests a very remote haven of quietude. The sounds of nature will lull you to sleep at night (or if you're like me, keep your peepers wide open). You'll wake up to a panoramic view of the blue-green river, backed by serene national park beauty. You'll have unparalleled views of buffalo, hippos, elephants, baboons, giraffes, and zebra as they get a drink from the Zimbabwean riverbank. This is any wildlife photographer's dream come true. It is no surprise that Fodor's rates Sindabezi as one of the top ten eco-lodges in Africa.
So, what's your choice?
The same adventures are available to guests at both Tongabezi and Sindabezi, but they are easier to access from Tongabezi, as Sindabezi is a 20-minute boat ride away. The staff at both properties are so warm and friendly and are such a large part of what makes these places so unforgettable.
So now it's time for you to decide which is the best choice for you. Tongabezi, Sindabezi, or Bi-Bezi – as the best option might be to divide your time between the two!