The Cape Leopard Trust cordially invites you to join them for a rare evening of leopard inspired artistry. There isn't a better combination than leopards, art and wine.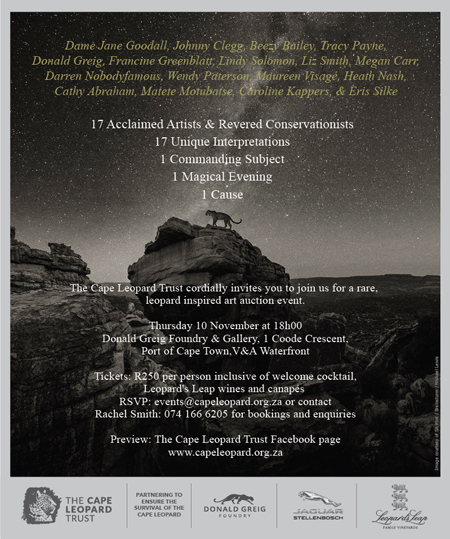 Join us for an evening of art-filled admiration on Thursday, 10th November 2016 as the trust, in partnership with the new Donald Greig Foundry & Gallery, Leopard's Leap wines and Jaguar Stellenbosch, auction off 14 unique leopard art pieces by some of the industry's most acclaimed artists.
Renowned for his work in bronze, Donald Greig grew up in the Highveld, a place that engendered him with a passion for wild, untamed areas of Africa and the animals that share these landscapes. Over the years Donald has developed an intimate and natural sense of animal anatomy and behaviour that has made him one of the world's most renowned bronze wildlife sculptors; his bronzes grace the halls of international and local collectors. He has a particular passion for leopards, and has crafted a bronze sculpture for the event to be auctioned along with 14 other unique leopard art pieces, individually created by local and international artists, celebrities and conservationists, each 'one of a kind' collectables.

The new gallery, opposite the site of the new Zeitz MOCCA, is now the largest bronze foundry in Africa, and has recently opened officially to the public. It is a fantastic space, showcasing the delicate art of bronze sculpting through the innovative use of glass windows, which give insight into the artist's work rooms. It is also home to an art scale scanner, should a client suddenly require a larger than usual art piece.
The MC and auctioneer for the night is Nik Rabinowitz. Chef and documentary filmmaker, Justin Bonello, will showcase a clip of his new documentary series, 
Leopard,
sharing how he recently came face to face with one of the Cape's most secretive inhabitants and why it inspired him to become a conservationist.
Contact the Cape Leopard Trust
to book your tickets for this prestigious event.
httpv://vimeo.com/151874842
As we encroach further on their habitat of these magnificent creatures, we need to put in place efforts to ensure their well-being, and that is exactly what the Cape Leopard Trust and Urban Caracal Project are striving to do through their research.
Support their work here
or g
et a MyPlanet card and select them as a beneficiary
!