Did you know that approximately one elephant is killed every 15 minutes on the African continent? This means that about 100 elephants are killed every day and 35,000 elephants are killed every year. Meanwhile one rhino is killed every 7-11 hours and extinction for both creatures looms within a generation.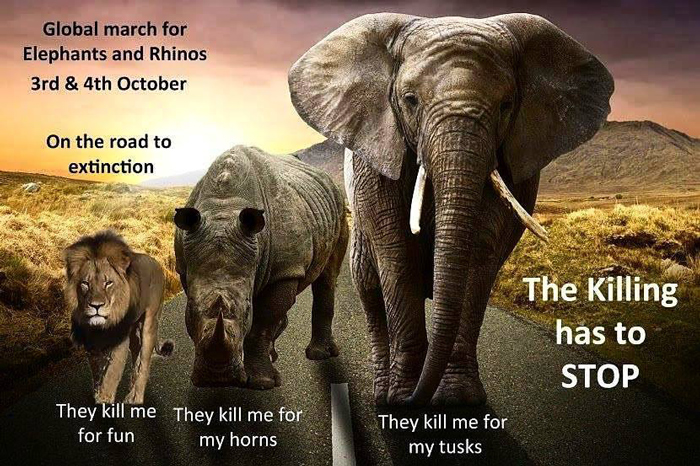 Did you know that 70% or more of illegally poached ivory finds its way to markets in China?
And did you know that the Global March for Elephants and Rhinos (GMFER) has worked tirelessly both locally and globally to bring attention to the illegal trade in ivory and rhino horn, and to expose the tragedy of poaching that destroys both animal and human lives?
Over 100 cities around the globe will be speaking out for elephants and rhinos on 3rd and 4th October 2015 to demand an end to the ivory and rhino horn trade.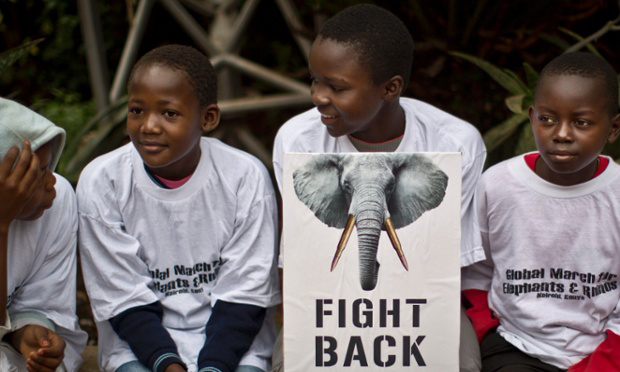 In 2014, more than 135 cities from all seven continents marched around the world in solidarity for elephants and rhinos (and lions).
Why do we march?
We march for Qumquat the elephant, who was shot at and killed while trying to shield her family on the border of Tanzania and Kenya. We march for iThemba the rhino, who was shot for her 5-year-old calf in KwaZulu-Natal. We march for the hundreds of rangers killed by poachers over the years.
We march for the dead, the butchered, and the vulnerable. We march for those alive and those not yet born. We march with the hope that a global movement, a people's movement, can change the dynamic on behalf of the last sentient giants. We march to call for grass roots advocacy and traditional NGO models to complement one another. We march because we hope for a successful confluence of strategy and policy on behalf of earth's wild giants. We march because we know that a mass movement of and by the people and for the non-human can change the world for animals. We march because extinction is a human rights issue, a civil rights issue and a social justice issue.
#GMFER is a grassroots all-volunteer organisation that works on behalf of earth's last elephants and rhinos. They are a dedicated group of advocates, lobbying strategically to promote local and global awareness about the elephant and rhino crises; calling for governments to take immediate action to end poaching in range nations, and demanding an end to the ivory and rhino horn trade at all levels.
You can help elephants and rhinos by marching at the start of October and publicising the event that you will be attending. To find out where and when your local march will be taking place click here.
For those in Cape Town, the march will kick off on October 3rd at 11am from The Kirstenbosch National Botanical Gardens.
Meanwhile, Johannesburg's march will be hosted by the Youth of South Africa, and the starting point will be at George Lea Park South in Parkmore, Sandton on 3 October, from 9am onwards. So if you're in the capital on that day, join them on this epic journey to celebrate the beauty of all that is truly African – our majestic wildlife and the vibrant hub of African arts, music and dance!