Written by: Kaveesha Naicker and Catherine Browne
Have you ever wanted to find out the name of that cool flower you saw or fascinating critter, or perhaps share pictures of the wonders you discovered whilst gardening, hiking, or camping? The Botanical Society of South Africa promotes appreciation and conservation of biodiversity, as well as environmental education and awareness. There's a great tool to help with all that – iSpot is a fun and informative platform to engage with like-minded nature-lovers.
When you come across an interesting plant or animal, but you're not sure what it is, just upload a picture of it onto iSpot and other users will assist you with identification! iSpot is a platform that encourages considerate discussion and debate, all in the name of science and conservation.
iSpot is for everyone, from students needing to gather data for school projects, scientific organisations creating awareness about a threatened species to your average nature lover wanting to boast about their interesting observations while on holiday.
iSpot is an award winning website that allows you to learn about various species from world class experts who will assist you with identification. At present there are over 51,000 users worldwide, with an increasing following in South Africa who have an impressive 8,000 iSpotters in its juvenile stage.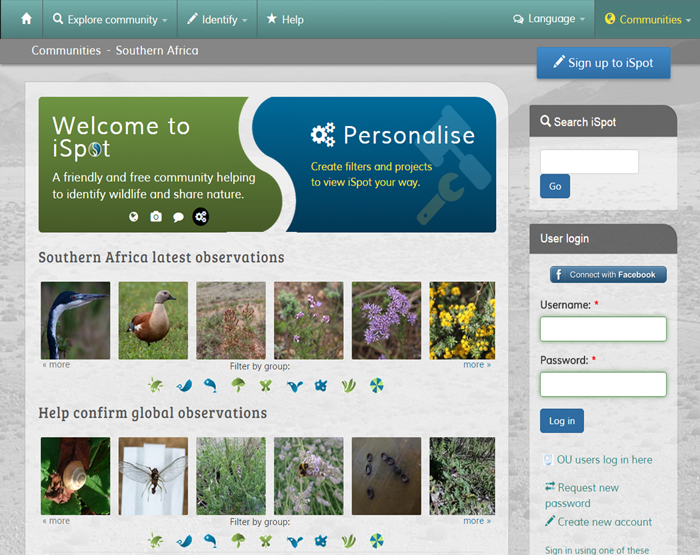 The website is an online platform for exhibiting fauna and flora. iSpot was created in the UK by the Open University as an educational tool that gives one the opportunity to learn about nature in a convenient, secure and user-friend way. The website is quite straightforward with step by step user instructions and up to date news on the most recent observations as well as articles about some of the interesting projects currently being conducting around the world.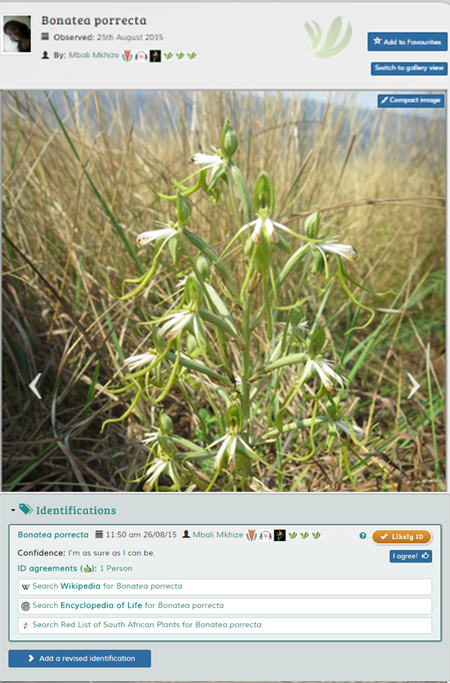 iSpot is much like Facebook and Instagram where you can share photos and interact with other nature lovers. The website has various features allowing you to explore the over 30 000 species already identified and make identifications of the things you've observed.
iSpot teaches you how to properly identify wildlife by using one of the ID guide keys. You have the option of joining the iSpot forum by assisting with the identification of other observations in the process you will gain a reputable status on the website.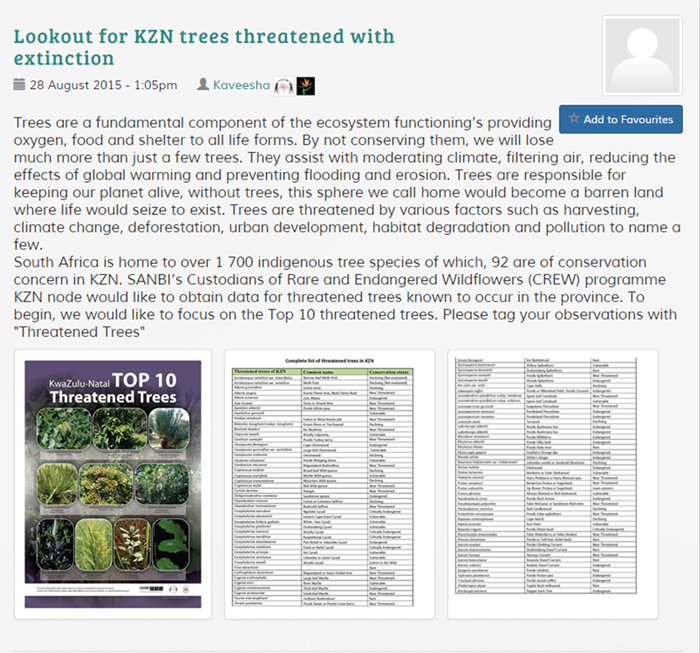 Creating projects to gather much needed data and showcasing of the interesting organisms you encounter is a standard feature of the website.
There are various global communities to explore with people interested in marine life, plant life, invertebrates, lichens and fungi, mammals, reptiles and amphibians. By getting involved with iSpot you will not only learn about wildlife, you could also contribute to local and international research.
The Botanical Society's mission is to win the hearts, minds, and material support of individuals and organisations, wherever they may be, for the conservation, cultivation, study and wise use of the indigenous flora and vegetation of southern Africa, for the benefit and sharing by all. You too can join their mission by becoming a Botanical Society member. In doing so, you contribute to conserving unique natural heritage, gain great benefits such as free access to national botanical gardens, resources, opportunities to meet with and enjoy activities and events with others and more. You can also support their mission by contributing to the Botanical Society of South Africa funds to drive and achieve conservation and environmental education initiatives by signing up for a MyPlanet card and making the Botanical Society your beneficiary.

"A sense of curiosity is nature's original school of education" – Smiley Blanton