Change is sweeping through the travel industry as the online.social.mobile revolution gives travellers greater control over their holiday planning and provides the travel industry with effective tools and communities for marketing, sales and reservations.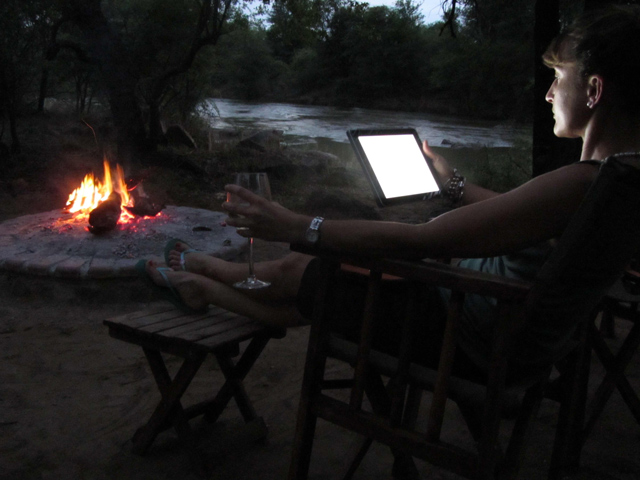 Change driven by the digital revolution
The past few years have seen a massive digital revolution that has empowered us ALL to have greater control over how we create, share and consume content.
The Fab Four of digital media (Apple, Amazon, Facebook and Google) have a stranglehold on the media industry and rising stars like Samsung, Twitter and Linkedin are joining the party.  Along the way many traditional publishers and retailers have been disempowered, with business owners, marketers and consumers now having direct access to powerful devices and software, high speed Internet, massive online communities like social media, online retail resources like Amazon and iStore, tools like geolocation and apps and strategies like search engine optimization and content marketing.  Don't fret about these buzzwords – we'll get to them in time.  This quote from Marc Andreessen, Netscape creator and Twitter investor, pretty much sums up the war that is raging in the media industry:  "It causes me a certain amount of pleasure today watching The New York Times Co try to cope with the consequences of the technology they laughed at".
Yes but why is this important to the travel trade?  Because we all use the media and retail industries to market our products to clients and suppliers.  If these industries have been turned inside out then so has our marketing strategy.  We should react by getting to know these media industry leaders plus the additional online travel-trade specific leaders such as TripAdvisor and Expedia.  We should at least know what they offer to our own businesses.
This revolution reminds me of what happened to travel agents years back, when the Internet enabled direct online flight reservations, causing many agents to drop off the map as their control over information and communication channels evaporated.  Real estate on the High Street became irrelevant as the online.social.mobile evolution kicked in.
The word 'disruption' is often used when describing the impact of online.social.mobile media on traditional business models – and for good reasons.  Digital disruption has affected just about every industry on the planet, including banking, the music industry, publishing and many more.  Why do you think banks are publishing apps?  Its not because they are now evolving into media or technology companies – it's because they realise that their clients expect them to interact and transact with them in this rapidly evolving digital space.  As we all go about running our businesses and dealing with day-to-day operations it's often difficult to see the wood for the trees.  Disruption is happening apace in the travel industry and we must all adapt, or risk losing our relevance to clients and suppliers.
3 Excellent posts you should read:
1. How marketing in the travel industry will change in 2013, according to some pretty bright and experienced people.
Extracts:
"Mobile and multichannel adoption will accelerate in 2013 as travel and hospitality brands focus on deeper engagement…" 
" … a huge majority of people are reading on a mobile device, they're also probably shopping for things they see there, too."
2. The impact of social media on travel – a funky infographic

Extracts:
"70% update their Facebook status while on vacation"
"50% of travel companies agreed that direct bookings were generated by social media"
 3. The use of tablets is driving travel bookings, – another infographic from Expedia and Comscore

Extracts:
"48% of respondents have used a tablet or smart phone to plan their trip this year"
"61% of tablet owners made a travel purchase on their devices in the first half of the year"
App reviews:
I was recently looking for info on Kenya and tested 8 Android apps before settling on 2 that now live on my phone:
1.  Magical Kenya (free)

  – Intuitive navigation, uncluttered design.  The Google map feature and trip planner tools are excellent.


 – Only 88 products listed, so this app needs lots more properties and services to add real value.
2.  Travel Kenya (free)

– lots of useful info, can search for accommodation via price bands

– Navigation isn't intuitive, there is no map (surely a map is essential?) and lastly there are no online contact details for the establishments listed – huh?
BUT:  You have to be online to access most content in these apps – could be a problem if you're somewhere rural and needing info immediately.
My next post:
8 Online Essentials for successful travel marketing and sales.
Sign up or connect
Want to sign up (it's free) to receive an email notification when my next post in this series has been published?
Lets connect on Linkedin and Twitter
Send your questions to me here
Subscribe to our newsletter.