I'm lying in my tent on a comfy camper stretcher, I hear the campfire crackling outside and the promise of strong, delicious 'moerkoffie' wafts over on the warm morning breeze.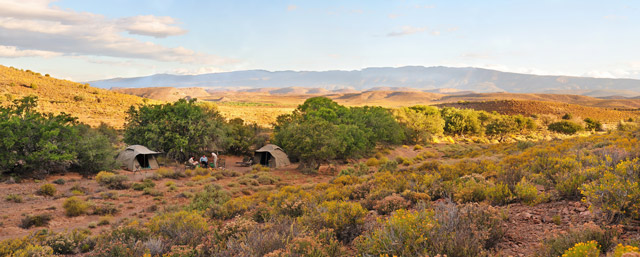 As I pull on my hiking boots I can hear Ricardo, the camp manager knocking about his al fresco bush kitchen with purpose.  'Come on folks', he says, 'shake a leg! We've got lots of exploring to do today!'  I wonder if my neighbours in the two other tents have managed to get any sleep at all…the camp is unfenced – and with the 'Big 5' and more roaming free across the semi-desert …your imagination runs wilder than the landscape you're in.
I'm in a fly camp set up in a remote pocket of the Sanbona Reserve – a 54,000 wildlife area in South Africa's Little Karoo. Less than three hours from Cape Town, this vast semi-arid landscape is home to indigenous San rock art and a plethora of local plant species including succulents and renosterveld. Thanks to the rehabilitation of the collective farmland, which had almost been destroyed by decades of livestock farming, wildlife such as hippo, elephant, buffalo, cheetah, lion and antelope species, have been slowly reintroduced to the region.
If you are looking to get out of your comfort zone but cannot quite bring yourself to rough it in the wild and eat out of a tin with a spork…then this is for you.  That said, glamping can be over the top glamorous with electric blankets and egyptian cotton sheets – this was fuss free and civilised –  you walk, you connect with nature, you breathe fresh air, you eat well – generally delicious stews cooked in a potjie pot over a wood fire (pictured above) – and you camp comfortably with a hot solar powered shower in the morning.  It's Africa – grounded.
Need to know:
I experienced glamping at the Sanbona Explorer Camp, which operates during the summer months of October to April.
Hiking trails run over 2 nights with a set departure each Friday of the week
The trails are hosted and guided by an armed qualified walking guide and last up to about 4 hours/day.
No persons younger than 16 years or older than 60 years are able to participate.
Are you a hiking fan? Check out Safari's selection of the 6 Best High Altitude Hikes in Africa