It is the season of giving! And as you begin to do that last minute shopping and attach shiny bows to those gift-wrapped parcels under the tree, it is important to bear in mind that giving goes beyond just those pretty presents. As Toni Sorenson said, "Christmas is about giving from the heart more than giving from the store." But wouldn't it be nice if you could give a gift while giving back?
The MySchool MyVillage MyPlanet is one of South Africa's biggest fundraising programmes and believe it or not, you can now make a difference, just by shopping. Every time you use your card at any of our partner stores we'll give back a percentage of your purchase value, on your behalf, to the school or charity you choose at absolutely no cost to you!
And this festive season with the MySchool Gift Catalogue you can find a gift for everyone on your list, while giving back. Shop for furniture and appliances at Tafelberg Furnishers, pick up Back2School goodies at Bidvest Waltons, find holidays galore with Flight Centre Red Label Holidays, buy season themed goodies at Woolworths or pick and choose between everything else you could ever need online at loot.co.za.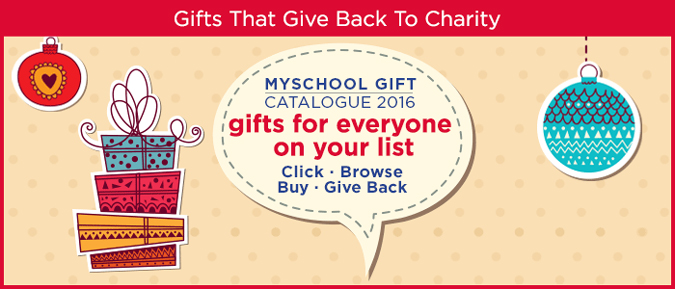 Pick your beneficiary and a portion of your money will help conservation, environment and animal welfare organisations, including WWF, SANCCOB, The Society for Animals in Distress, Endangered Wildlife Trust, the EWT MyPlanet Rhino Fund, the SPCA National Fund, FreeMe Wildlife Rehabilitation Programme, WESSA and BirdLife SA, among others. If you want to help even further, with gifts that give back, many of these charities feature their own online stores with a host of gifting goodies to choose from.
This festive season, every time you swipe your MySchool MyVillage MyPlanet card at a partner store, you will help your chosen charity.  Make Every Swipe Count!