On 8th October, the Southern African Foundation for the Conservation of Coastal Birds (SANCCOB) and South African National Parks (SANParks) are hosting the annual Penguin Festival at Boulders Beach in Simon's Town to celebrate African Penguin Awareness Day. The day is dedicated to raising worldwide awareness about the plight of the endangered African penguin, the only penguin endemic to the African continent.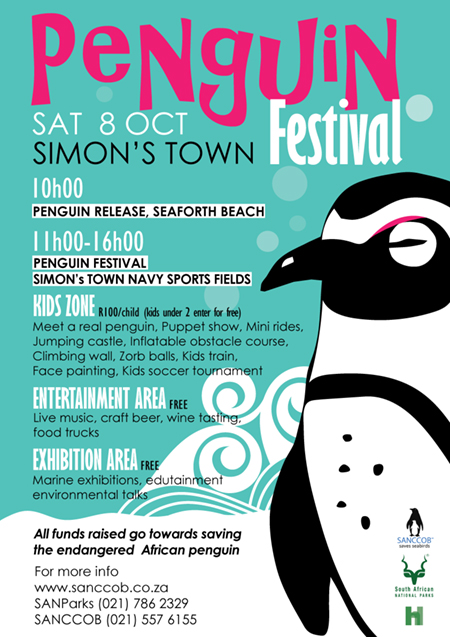 The festival starts with the release of African penguins that were rehabilitated by SANCCOB and takes place at 10am at Seaforth Beach in Simon's Town. Parking can be found at the Seaforth Beach parking area. Be sure not to miss this moving event as these penguins waddle their way back into the ocean.
After the release, festival-goers can head to the Simon's Town Navy Sports Fields, situated right next to Seaforth Beach, for the start of the festival activities.
This year includes three big tented areas for live music, kids' games, edutainment and various exhibitions from marine conservation organisations. Kids' activities include a chance to meet a real ambassador African penguin, a mini-soccer tournament, a puppet show, mini rides, an inflatable obstacle course and many other fun activities. For the adults, there will be craft beer, wine tasting, a special cooking demonstration by a SASSI Braai Ambassador and various tantalising food trucks.
General admission is free and R100 for an all-access pass to the kids games. Kids under two enter for free. The festival runs from 10am until 4pm on the Saturday.
With the help of partners such as SANParks, SANCCOB admits close to 1,500 African penguins (and a 1,000 other seabirds) for rehabilitation to its centres and releases them back into to the wild to boost the wild African penguin population. Alarmingly, only 2% of the African penguin population remain in the wild today.
Together, SANCCOB, SANParks and their partners in conservation are at the forefront of saving the charismatic African penguin species. All proceeds from the festival are donated to SANCCOB in support of their African penguin conservation work. SANCCOB and SANParks proudly welcomes the Hans Hoheisen Charitable Trust, managed by Nedbank Private Wealth, as the official sponsor for the Penguin Festival. The Hans Hoheisen Charitable Trust facilitates the work of Public Benefit Organisations aimed at protecting, restoring and improving the sustainable use of South African species and eco-systems.
7 ways you can help to conserve African penguins:
1. Adopt and name an African penguin 
2. Report injured penguins and/or oiled birds to SANCCOB by calling (021) 557 6155 (normal work hours) / 078 638 3731 (after hours & weekends) or to SANParks on 021 786 2329 (office hours) or 0861 106417 (24-hour emergency number)
3. Donate to SANCCOB online or see what items are needed on SANCCOB's Wish List.
4. Visit SANCCOB's online shop for penguin goodies.
5. Volunteer at SANCCOB by emailing volunteers@sanccob.co.za
6. Start your own fundraising campaign for SANCCOB with Givengain.
7. Raise funds for SANCCOB by simply swiping your MySchool MyVillage MyPlanet card.

African Penguin Awareness Day is also being celebrated at a second penguin release and festival at the Stony Point penguin colony in Betty's Bay on the 15th October. Hosted by SANCCOB and CapeNature, the event includes fun-filled activities for young and old, all in the name of the endangered African penguin.