This is what happens when father Christmas visits the Tongabezi Trust School
"Christmas, my child, is love in action. Every time we love, every time we give, it's Christmas."
– Dale Evans.
This holiday season we asked the kids at the Tongabezi Trust School what Christmas means to them. Here is what some of the pupils had to say.
They all said: Celebration.  The birth of Jesus Christ.
Honest said: Time to spend with your family.
Hope said: Time for forgiving and time for giving presents.
Teresa said: Time for loving each other.
Munalula said: Time to share.
In 1996, Tongabezi opened a trust school called Tujatane for the local children of the Zambian community. What started as 15 pupils in a preschool class, comprising mostly of the staff members children, transformed into a primary school with over 220 learners.
Christmas miracles happen every day at the school because the spirit of Christmas is never far away.
There's nothing like being a kid at Christmas time. So when Father Christmas travelled 12,000 km from the North Pole to visit Tujatane in Zambia you could imagine the giddiness that followed.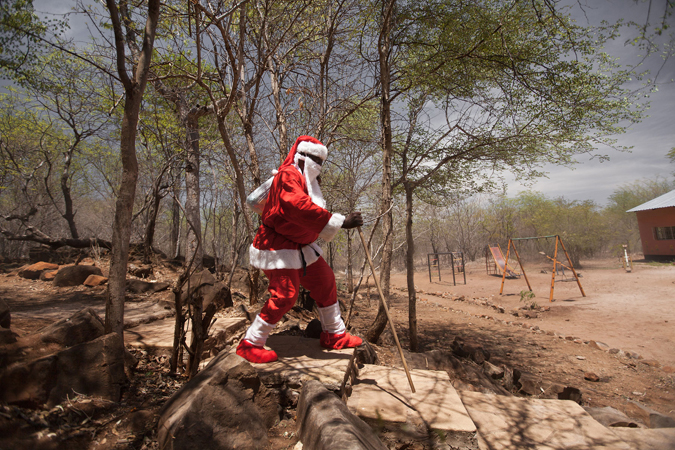 At the end of each year, an annual Christmas party takes place which is full of music, dance, and food provided by Tongabezi. The students perform a dance, song, or poem and after the last performance, all of the children and staff sing for Father Christmas. The voices grow louder and louder until they can be heard from the North Pole and Santa miraculously appears onto the stage with a big "ho, ho, ho." Each child patiently waits in line to receive a small gift from Father Christmas.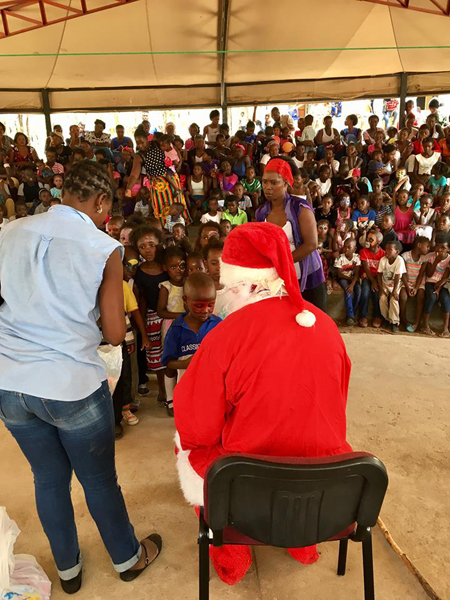 Leading up to Santa's visit, the children design Christmas cards and one very special one gets chosen for sale. The 2016 Tujatane Christmas card is the Zambezi Christmas elephant designed by eleven year-old Emmanuel. The postage and printing costs are generously donated, enabling 100% of proceeds to go directly towards educating and supporting the school children.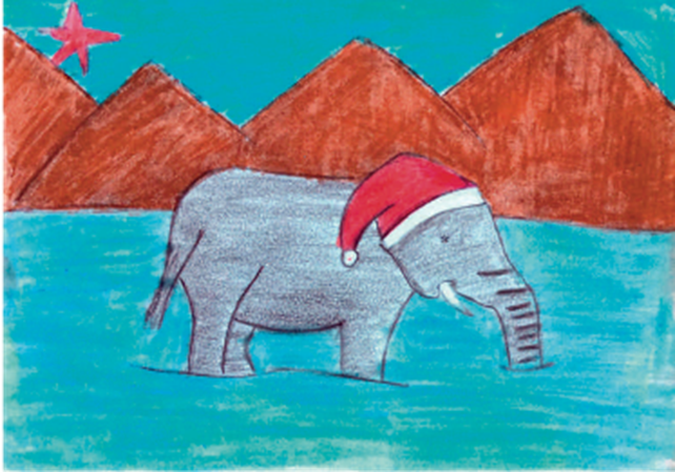 Although Tujatane closes for the holiday season, the opportunities for learning and growth continue through their holiday club program.
Vanessa Parker, the founder of the school, shares a little more about the program:
"The holiday club has been going since we started the school.
We focus on specific fun activities mostly, but also use this time for revision programmes when national exams are looming and for extra teaching support for children who are struggling in class.
It gives the pupils a chance to focus on music, art, sports, traditional dance, drama, poetry, chess, and beading. Due to the pupils living in villages, they do not always have extracurriculars to keep them busy during the holidays. Besides collecting water, firewood, and looking after siblings at home, the programmes at school enables the children to have a fun activity and learn a skill at the same time.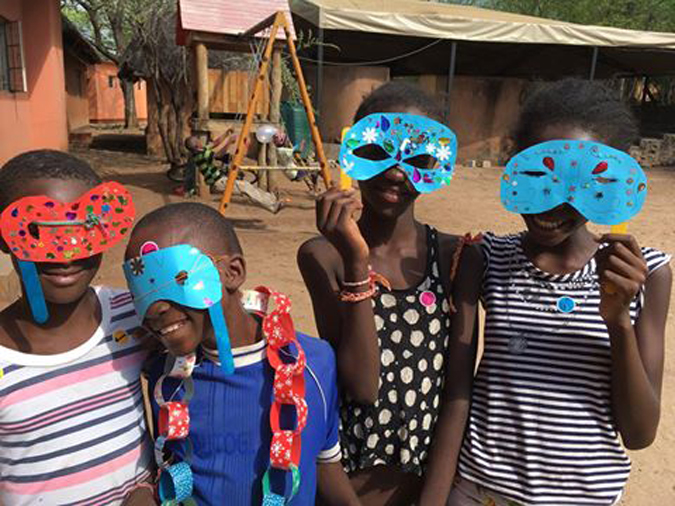 Right now I am in my office and the music programme is happening.  The voices of the children drifting into my office are completely magical and so uplifting.  What talent we have.  I am always so proud of the kids."
Vanessa poses another question to the pupils, but this time asking what they like about coming to music during the holidays:
Steve Milupi said: I like to learn more things and how to play instruments.
Busiku said: To come and improve the songs we haven't learnt properly.  I love singing and dancing and everything.
Teresa said: I like to learn how to sing properly.  I feel very proud of my singing and love learning to sing better.
Matthews (one of the older music scholars) said: For me if I come here this is where I find my true happiness.  I feel like I have a family.  I feel like I am the happiest person in the world and I feel free.
Tongabezi invites all guests to visit the local trust school and meet the young learners and teachers of Tujatane. Often, this is one their favourite experiences during their stay. For those looking to donate or sponsor a child during the giving season, here's the best way to do it:
If you would like to donate from the United States, click here.
If you would like to donate from the United Kingdom, click here.
To sponsor a child or to find out more information, please contact Vanessa.
Subscribe to our newsletter.