It is no coincidence that the inspiration behind the name Sephiri Tours came from the spotted hyena and that the logo is a picture of an animal that has given us some of the best wildlife encounters we have ever had. It is these amazing experiences that have put this beautiful creature at the top of my favourites list.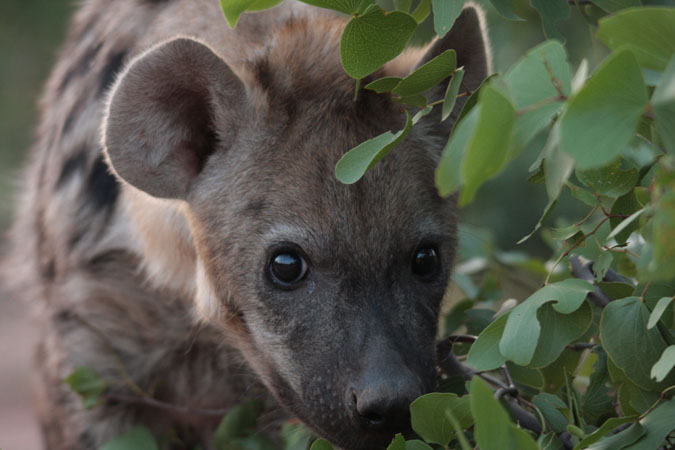 My first real experience with the spotted hyena came in 2013 when Andrew and I were based in the Northern Tuli Game Reserve in Botswana. We had seen, on more than one occasion, a few different hyenas in an area surrounded by rocky out-crops. Andrew suspected that there might be a den in the area so over the next few days we began exploring on foot to see if we could find any sign of them. One afternoon we struck gold, in a ravine between two rocky hills a hyena lay sleeping. We slowly made our way closer her and settled down to enjoy our find.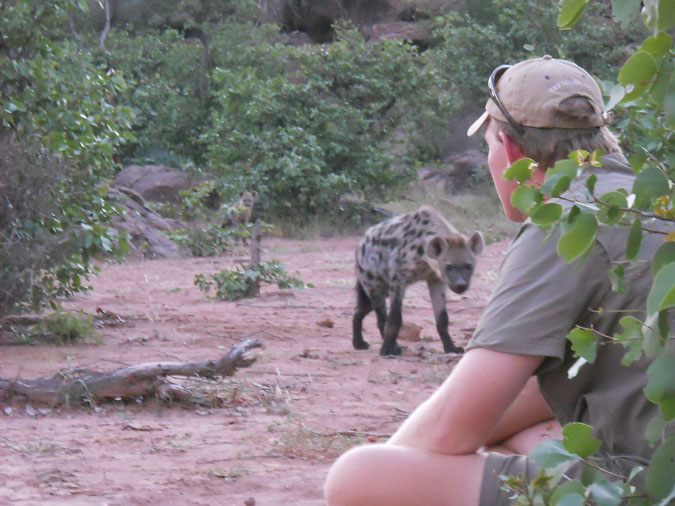 As we sat watching the sleeping animal and listening to Andrew as he shared some of his knowledge with us I suddenly got a funny feeling that something was watching us. I slowly turned around, almost afraid to look, and there was something there! A young hyena was standing just ten metres from us every bit as enraptured by us as we were by its mother. After holding his gaze for a moment, I alerted Andrew to the fact that we to had an audience and he suggested that we move back slightly just in case mom got unhappy with our near proximity to her baby.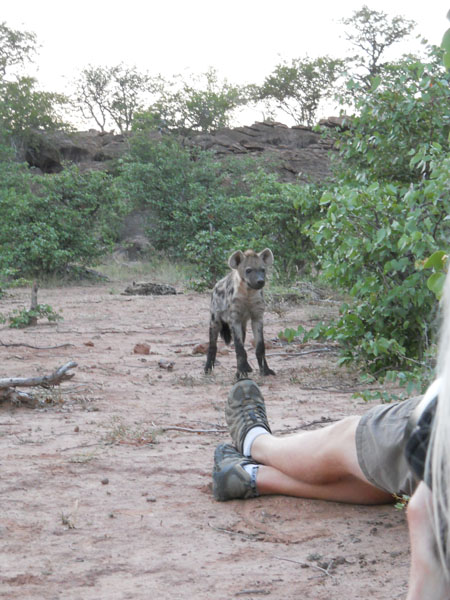 Over the next few weeks we visited the den site regularly and were amazed by how comfortable with our presence the puppies became. One pup particularly was very bold and if we sat still and quietly enough it would come within a meter of us, and on one occasion was close enough to take a whiff of Andrew's shoe!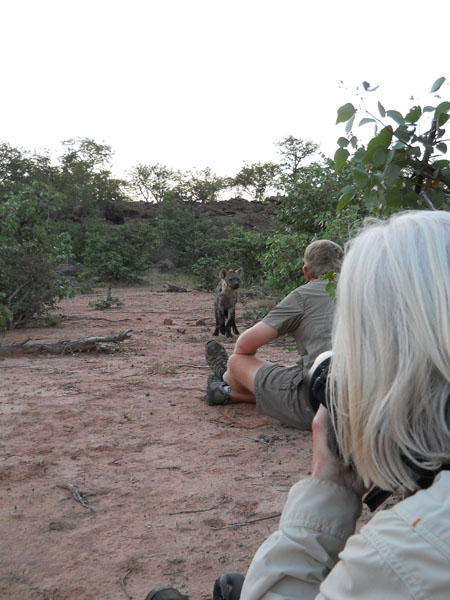 Sadly, shortly after this incident we left Botswana but we made that bold little pup our company logo as a reminder of how privileged we were to have such a rare experience.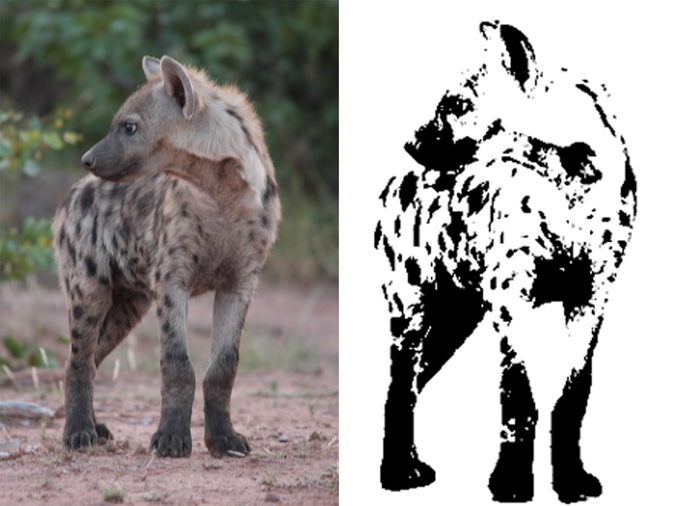 In 2015 while freelancing at a lodge in the Welgevonden Game Reserve I once again came across my favourite animal but this time it was in a hunt that I will never forget!
I was sitting in the lodge's lounge reading a book and waiting for Andrew and our guests to return from their evening game drive when I heard a scuffle on the pool deck right outside the door. My first thought was that elephants were drinking from the pool again as that was a very common occurrence, but when I looked out I couldn't see anything. The sound continued so I got up to investigate and there on the floor outside, between the dinner table and the glass door, was a young male impala. He was struggling to get up because his hooves were slipping on the polished concrete floor. I immediately opened the door to go out and try help him.
Once again, my sixth sense alerted me and I looked up and there on the edge of the deck stood a fully grown spotted hyena. Without thinking I immediately ran at the predator to try frighten him off which worked, thank goodness! I then put the staff on "impala watch" while I went to radio Andrew and ask him to please hurry up and get back! As we waited the hyena never went far from the lodge and continued to wait for us to go inside so he could claim his prize. Eventually the game drive vehicle returned and Andrew immediately asked "is the impala still in the pool?" obviously, the radio signal wasn't great…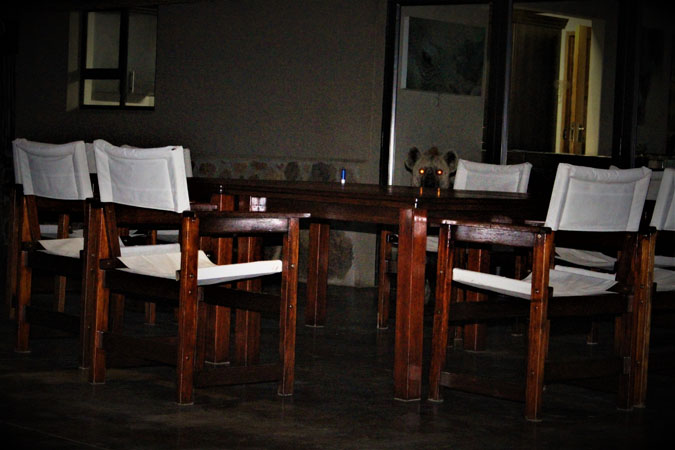 After explaining the situation, we quickly set about rescuing the poor animal. Andrew held him on his lap as I drove about a kilometre from the lodge  dropping the youngster near a herd of impalas hoping he would join up with them.
With the rescue mission considered a success we made our way back to the lodge and continued with our evening. After dinner, we were all sitting down in the fire pit chatting when suddenly we saw that the hyena was back and sniffing the deck where the impala had been lying earlier, just a few steps away from where we were sitting. As if sensing all the eyes on him, he looked up at us over the dinner table and then nonchalantly continued his investigation. He walked the entire deck all the while taking no notice of the humans sitting watching him. The next morning the lodge had became a bit of a crime scene as we found the remains of a young male impala, presumably the same one from the night before, in front of the deck. In the end nature prevailed.
Since then, apart from one fleeting glance, I had not seen the animal I favour above all others, but in November this year during a trip to the Kruger National Park my luck changed!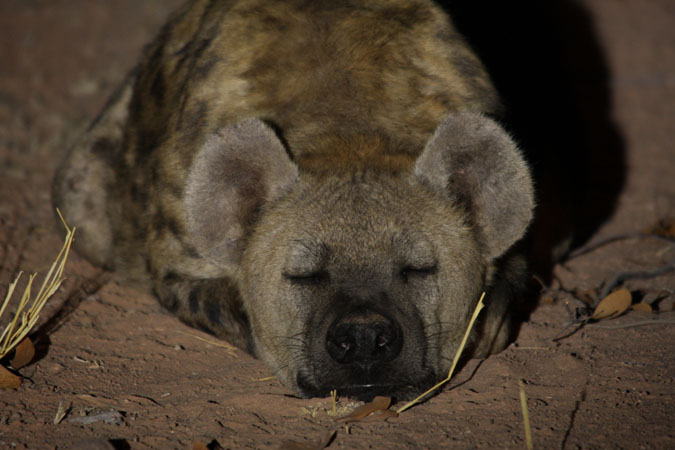 Half an hour or so into our drive we came across a bunch of cars stopped which naturally meant that there was something to be seen. As we waited our turn to drive up closer to the sighting we scanned the area but couldn't see anything. As we got to the front of the queue we realised we were looking too far off, right next to the road was a spotted hyena dozing as her three pups moved around her.  We sat and watched one of the youngsters chew on a stick while the other two licked the rain drops off their mother. Just when we thought it couldn't get any better, it did, the pups got up and came right up to our vehicle and much to our amusement one of them decided that the side step of our vehicle looked rather tasty and started chewing it!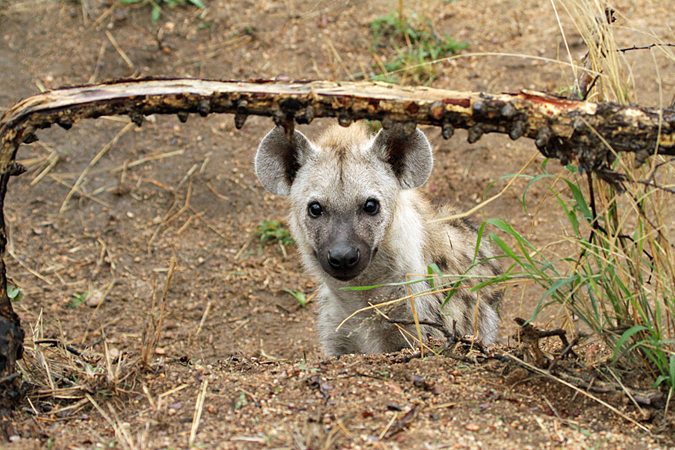 I don't know how we have come to have so many unique encounters with these animals but I am glad that we have because it has given us the opportunity to experience first-hand a remarkable side to these exquisite animals that is rarely showcased and has given us the chance to truly appreciate an animal that is often over looked because of its appearance and seemingly sinister nature.
Subscribe to our newsletter.