As an ocean loving and marine-dependent nation, South Africa celebrates marine month every October. With nearly 3,000km of stunning coastline surrounding a large portion of our country, many activities are held throughout October to both celebrate and raise awareness for our life-giving oceans.
These are mostly for school kids, who marvel at the wonders of the deep blue and delight in the brightly-coloured specimens and creatures in rock pools, on beaches and below the sea.
However, you too might remember a few facts about the size of the world's oceans from your childhood days. For instance, the sea covers more than three quarters of our planet, and there are more recorded living creatures in our oceans than on land and even more that have not yet been recorded.
While our knowledge of the sea might be rusty, many of us consider ourselves seafood lovers – valuing flavours and the culinary side of fresh fish and seafood as a part of our diet and dining lifestyle. So this marine month, spare a second to think about where your seafood comes from.
Environmental organisation WWF works across the seafood supply chain to drive positive change towards sustainable seafood in order to ensure that the ocean is protected in the long-term and well-managed in the short to medium-term. To this end, WWF works with small-scale fishermen on the sea, commercial companies who supply seafood, retailers and restaurants who sell and serve it, as well as those of us who eat it.

Using a simple traffic light system, WWF's Southern African Sustainable Seafood Initiative (SASSI) tells you whether to tuck in (green-list), think twice (orange-list) or avoid completely (red-list).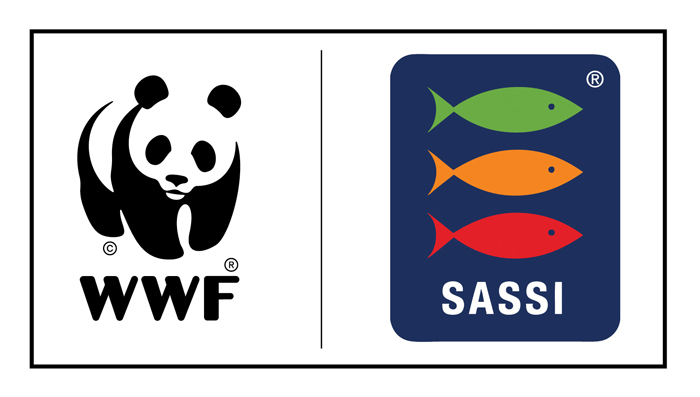 While multi-level engagement and action is necessary from the corporate level to consumer lifestyle choices, we also reflect on our oceans' diverse coasts as a place of recreation and retreat – whether a family outing to a favourite beach or a stroll along a deserted coastline. The cyclical ebb and flow of waves, the salty sea air and the sand beneath our feet all have a powerful rejuvenating capacity.
Unlike the many nature reserves and protected areas on land, only a tiny portion – less than 1% – of our coasts and their marine ecosystems are declared as protected areas.
Yet as we get older, we often forget to acknowledge the miracle of the marine world, let alone celebrate these splendid natural systems for all they provide. This marine month, we invite you to embrace the child within and to re-explore your connection to the sea. Here are a few ideas as to how you can do this:
Mobile-savvy consumers: Show interest in what you are eating – download the free SASSI mobile app or send an SMS to 079 499 8795 with the name of the fish and you will receive an instant response on the status of the seafood you are about to buy or eat.
Online 'surfers': Discover delightful #SASSIstories at www.sassistories.co.za and send a mail to your local retailer asking them about their sustainable seafood targets.
Seafood diners: When next ordering your seafood meal, ask your waiter about the restaurant's commitment to serving sustainable seafood.
Day trippers: Visit one of South Africa's marine species displays (aquariums or coastal info walks) or find a new beach or marine reserve to explore on a morning or afternoon outing.
Shoppers: Get a MyPlanet card and add WWF South Africa as a beneficiary. That way when you purchase seafood or other products at the participating stores, part of your money is going to a good cause!