Written and photographed by Claire Birtwhistle
"Cheetah! Cheetah! 3 o'clock!" Our ranger whispered in an urgent tone, his spotlight illuminating the slender body of a male cheetah.
We veered off the road and into the bushes to get a better look, but as quickly as he'd appeared, he was gone again. We frantically scanned the dark bushes in front of us, but he was nowhere to be seen. My sister, Ruth, and I exchanged excited glances – while it was a brief encounter, it was still magical.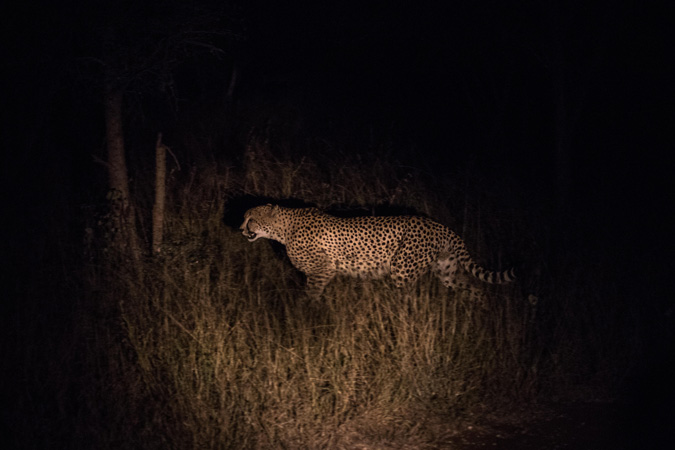 On arrival the day before at Rhino River Lodge in KwaZulu Natal, my sister and I had discussed with our ranger, Kyle, what we would like to see while there. A few of our humble requests were: "Leopard, cheetah, pangolin… oh and a kill!" You know, just your average, every day game sightings. Ranger Kyle thought this was hilarious but promised to do his best. At the time, we didn't quite know just how well he would actually deliver.
We were heading back to the lodge after sundowners when we first spotted the cheetah. After enjoying a glass of wine in the bush, none of us were really paying attention until his eyes reflected in the spotlight. Suddenly, we were all on the edge of our seats, desperately hoping for a better view.
The cheetah didn't stick around for long. He had an agenda. At first we thought he might be hunting a nearby herd of impala. However, after spending some time with the impala and seeing no signs of distress, we decided to move on. We headed to the fence line where we found him again, marching up and down, marking his territory as he went along.
We followed him for a short while before heading back to the lodge for dinner. Ranger Kyle assured us that we could return in the morning to look for him again. The next morning we went to the fence line and it wasn't long before we found him. Although, this time he wasn't alone.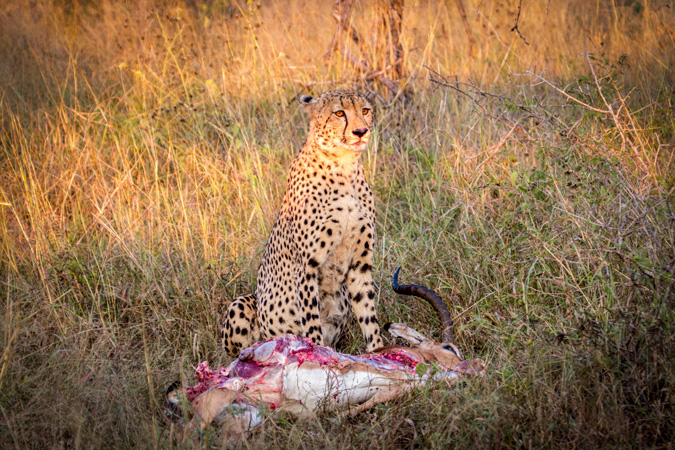 Lying at his feet was the fresh carcass of a fully grown male impala – and the cheetah was tucking in. Our ears picked up every sound as his teeth ripped through sinew and skin, just metres away from us.
I had an even closer view through my telephoto lens, but when I offered it to Ruth to look through, her face went green at the thought. "I'm close enough, thanks" was her response. I couldn't blame her. We were ridiculously close to this cheetah and his breakfast, and after watching him devour almost half an impala, we were grateful that our breakfast was served only after the morning game drive.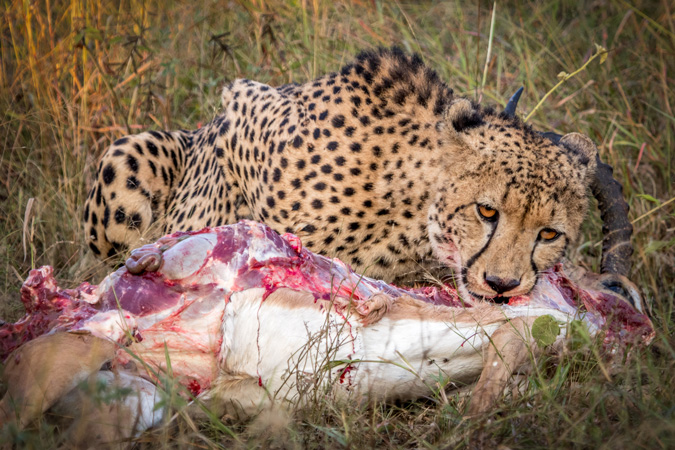 It turned out that this cheetah's eyes had been bigger than his stomach when he picked this impala from the breakfast buffet. Before long, he admitted defeat and, in true cat fashion, went to lounge in a patch of sunlight. Thus, giving us our cue to leave him in peace.
Not exactly a leopard or a pangolin, but a pretty fantastic sighting in itself. We'll certainly be holding Ranger Kyle to this standard when we return to Rhino River Lodge.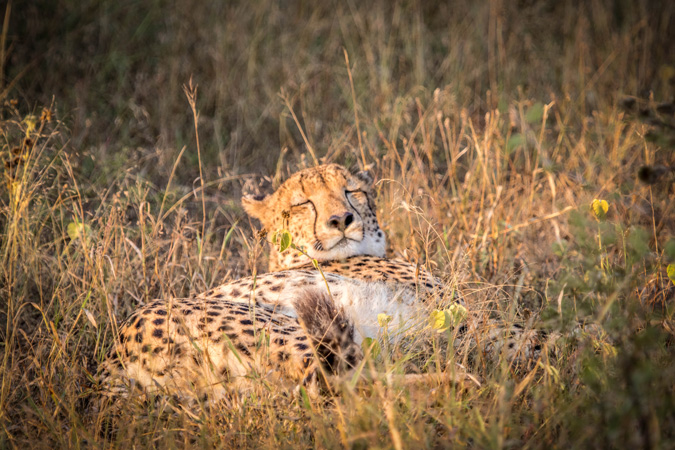 Subscribe to our newsletter.