The Cape Aflame coffee-table book uses stunning photography to chronicle the story of the Cape Fire. Over three days, in near gale-force winds and record temperatures reaching 42.4 °C, the Muizenberg Fire ripped across Cape Town's famed peninsula – from False Bay in the east to the Atlantic Ocean in the west – cutting it in half and laying waste 5,120 hectares of fynbos covering the Table Mountain National Park's mountainous central section. All monies realised by the sale of The Cape Aflame will go directly to funding much-needed resources required by our wildland-firefighting and animal-rescue services.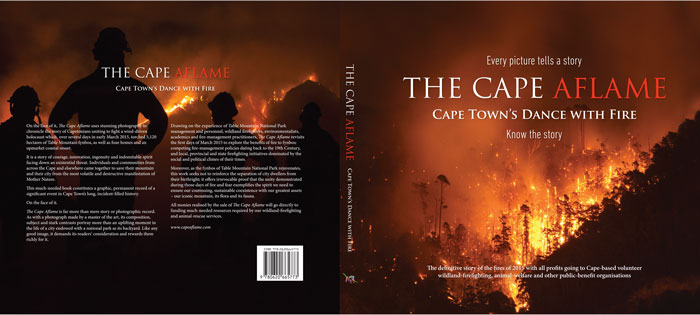 Residents of Cape Town's southern suburbs and the coastal villages of its deep south, would have been forgiven for thinking that dawn had arrived shortly after midnight on 1 March 2015. Mimicking the early morning sun, which would later rise above the eastern horizon, a fiery orange corona – its colours and hues shifting and changing as they reflected off or merged with tendrils of fast-moving cloud and billowing smoke – rose above Muizenberg's St James' peak.
Like no fire before it, progress of the Muizenberg Fire was reported, minute by minute, day by day as it destroyed homes and businesses on both sides of the mountain.
Following the Muizenberg Fire of 2015, the largest in recent recorded history, an eclectic group of South Africans coalesced around a common cause. Motivated by the spirit shown by their fellow citizens in controlling a necessary natural phenomenon capable of pitting Capetonians against their rich natural heritage, the group set out to not only record the Muizenberg Fire, but to deliver to all South Africans their collective history of unity in the face of adversity.
The book is a story of courage, innovation, ingenuity and indomitable spirit facing down an existential threat. Individuals and communities from across the Cape and elsewhere came together to save their mountain and their city from the most volatile and destructive manifestation of Mother Nature.
Using the Muizenberg Fire as both a lens and a mirror, The Cape Aflame book explores the development, over many decades, of an integrated fire-management system in a city that has, for centuries, danced around the management of fire. This detailed and visually stunning record of the great blaze is dedicated to all South Africans who rallied to suppress it – most especially those who sacrificed their time, skills or lives to do so.
Drawing on the rich experience of Table Mountain National Park management and personnel, wildland firefighters, environmentalists, academics and fire-management practitioners, The Cape Aflame revisits the first days of March 2015 to explore the benefits of fire to fynbos, competing fire-management policies dating back to the 19th century, and local, provincial and state firefighting initiatives dominated by the social and political climes of their times.
Moreover, as the fynbos of Table Mountain National Park rejuvenates, this work seeks not to reinforce the separation of city dwellers from their birthright; it offers irrevocable proof that the unity demonstrated during those days of fire and fear exemplifies the spirit we need to ensure our continuing, sustainable coexistence with our greatest assets – our iconic mountain, its flora and its fauna.
The photographers, writers, project leads and publisher of The Cape Aflame coffee-table book will not benefit financially from the proceeds of this book. Those in constant need of resources to continue maintaining – voluntarily – the delicate ecologies of a modern, world-class city hard up against a pristine natural environment, will.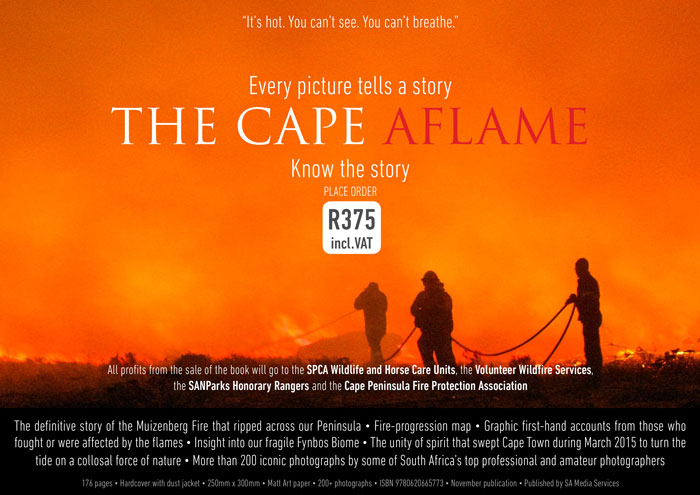 The book was envisaged as a high-end coffee table book, however the purpose was never just to convey pictures that had a wow factor, the intention was to bring little known knowledge about wildfire firefighting, who actually fights these fires, what integrated fire management is to the public as well as an understanding of how and why the Muizenberg Fire had occurred.
The book is a 250 x 300mm hard cover book, 176 pages, with a foreword by Paddy Gordon, Table Mountain National Park manager, and an afterword by Philip Prins, Table Mountain National Park fire manager. The book is available via pre-order online until November and will be available in Wizardz Stores as well after that. Price is R375 incl VAT. For more information or to order the book click here.
---
To read more about the Cape Fire read Africa Geographic's Life in the Ashes
Subscribe to our newsletter.