Written by: Rachel Lang
More than a place to indulge in scrumptious traditional cuisine, the Boma Restaurant at Victoria Falls is a sensory celebration that brought to life everything I love most about Africa – authenticity, rhythm, warmth, colour, a spirit of adventure and joyful faces.
If there were a worldwide competition for the people with the most beautiful smiles, I bet Zimbabwe would be somewhere at the top.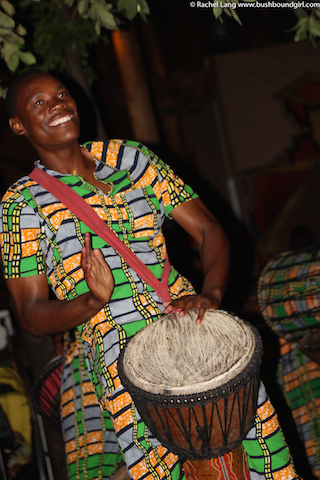 On arrival, each guest is draped with a uniquely coloured traditional fabric wrap and decorated with little dots of face-paint on their cheeks. By the time I walked into the main dining area I felt a perfect sense of belonging. It was like going to a theatre production, except instead of sitting and watching the play, I was part of it!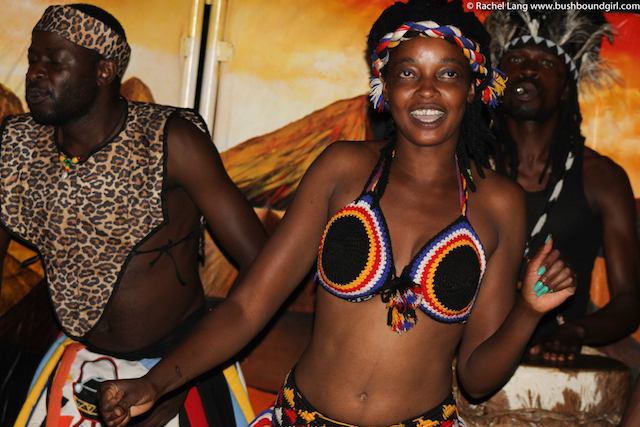 Just like a theatre, there were a number of very interesting characters to meet during the evening. One of these was Iyapapa Kachimi, the 'sangoma' or medicine man from Chipinga, who also calls himself "Mohlanga". I followed Iyapapa into a grass hut where we chatted and, without much warning, he began to throw bones and mutter all kinds of things that were lost on me.
He then translated his findings in English, "You, Rachel, are thinking very too much … you will have great success but it will still take some time … you will have maybe two or three children but ten grandchildren and a long, long life."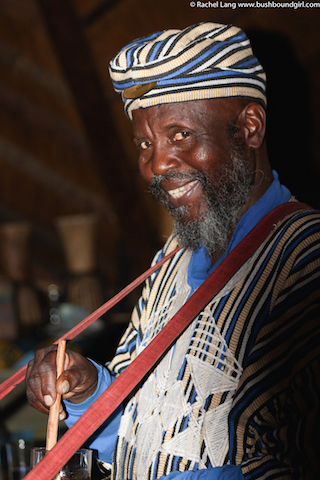 Another unforgettable character was "The Boma Man", Keison Masekesa, who has worked at The Boma since 1999. "Some vod-i-ka for you?" Keison asked. I peered curiously at his tray of vodka glasses and various other containers and spoons. "Uh… what else is in it?" I asked. "I mix with cinnamon, which is very good for the heart, and lemon and honey. A nice wash down from dinner."
Zimbabwean food has some interesting cultural influences. When Europeans arrived in the 1850s, they brought provisions such as bread, sugar and tea into the country. There were also Portuguese traders who introduced peanut crops, a very popular ingredient in many Zimbabwean dishes, blended with local crops like yams, pumpkins, corn, squash and papaya. One of my favourite dishes was peanut butter spinach – simply delicious!
There was also a lot of interesting meat to choose from, mostly local game – impala, kudu, warthog as well as crocodile, goat, chicken and beef. I loved the eland meatballs! Being so close to the Zambezi River means delicious fresh fish. To preserve food for winter months, Zimbabweans dry various produce and meats after the rainy season. Tiny dried out fish called 'kapenta' are also a common snack.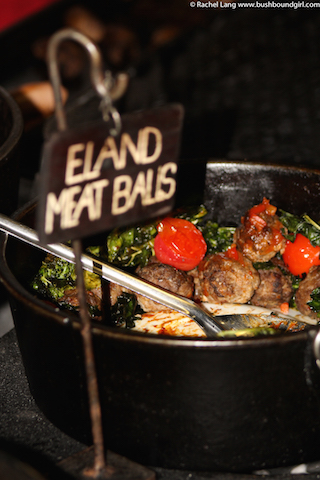 The Boma is a wonderful place for families. There were kids running wild, somehow blending perfectly into the vibrant organised chaos of the evening – dancing, singing, talking animatedly to waiters and, of course, taking their turns to eat a mopane worm and earn a specially signed certificate. Mopane worms are a famous African delicacy and a highly regarded source of protein for many Zimbabweans.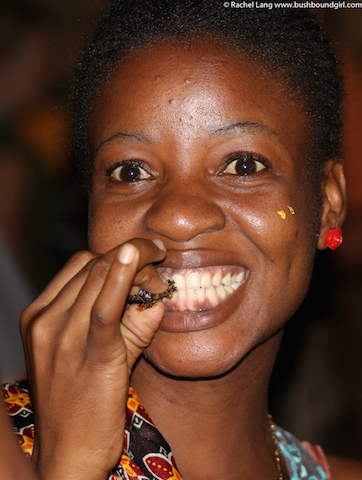 Then the drumming began! Every person was given a drum of their own to play, which had the children suddenly glued to their seats for the first time all evening and completely enthralled by the drum master.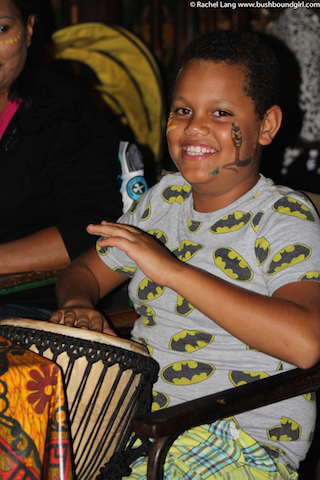 I will definitely return to The Boma again! Perhaps next time I will be brave enough to step out from behind the camera and put on my dancing shoes… Oh yes, I will!
Remember:
– Make an advanced reservation to avoid disappointment as The Boma is often fully booked. (Phone: +263 13 43211-20 or +263 13 43201 or e-mail.
– While in Victoria Falls, I recommend staying at the wonderful Victoria Falls Safari Lodge Resort or one of Africa Albida's other magnificent accommodation options. They also have a shuttle service to get you to The Boma and back safely, although the restaurant is on the property and close enough to walk to.
– Don't arrive any later than 7pm as you won't want to miss out on any of the special performances that make the evening so memorable.