At Passage to Africa, we get to work with some pretty cool people.  This story however takes safari and cool to a whole new level.  One of our suppliers, the newly founded, Barclay Stenner Safari Co. were stunned to discover that one of their first big expeditions was to take part in the filming of Taylor Swift's latest music video, Wildest Dreams, that was filmed in the Makgadikgadi Salt Pans in Botswana.
The team worked hard to find and create magical safari moments for world renowned director, Joseph Kahn to capture in the Wildest Dreams music video. The hit music video was launched at the MTV awards pre-show on Sunday and hit over 5 million views in 24 hours on YouTube.
Watch Taylor Swift's Wildest Dreams music video here:
"The production was initially cloaked in secrecy and we didn't know who it was for, which was frustrating at first," said James Stenner, co-founder of Barclay Stenner Safari Co. "We were blown away when we heard it was for none other than a global superstar, Taylor Swift! It wasn't like a normal safari at all."
The production involved a tiger moth aircraft flown from South Africa, as well as helicopters, and state of the art filming equipment that presented some interesting logistical challenges. Especially so when filming six locations in four days, and covering over 1500 kilometres in the process.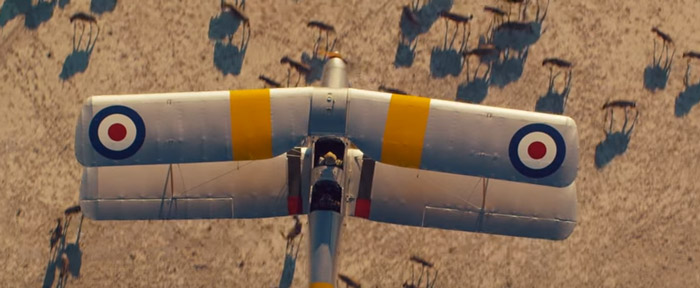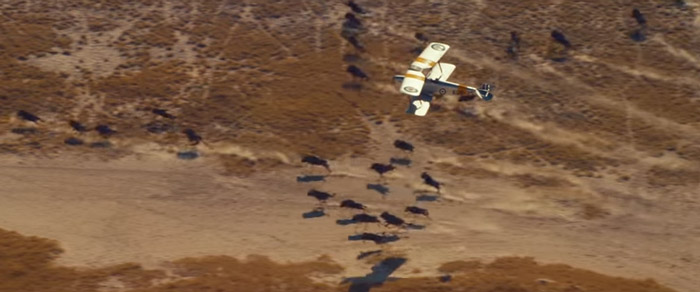 "The director, Joseph Kahn, was unsure, on arriving at the airport, that it was actually true – he would be sleeping in a tent for the first time in his life, and in the wilds of Africa to boot," said Stenner. "It was a real honour to hear him say how much he had loved his experience with us and that he was now hooked on the safari experience."
John Barclay added, "The shoot was adventurous – especially during horse riding scenes shot with wild giraffes. There are no cues for a scene with a global superstar cantering past a journey of giraffe in the middle of Botswana. It took us a few tries to understand that the giraffes were far more at ease with the presence of a horse than the director and cameraman on foot, so Joseph, together with Botswana horse specialist David Foot dreamed up the idea of the 'horsecam.' For the first time in his life Joseph held a camera on horseback, with the horse being led into the right places and situations by a safari guide."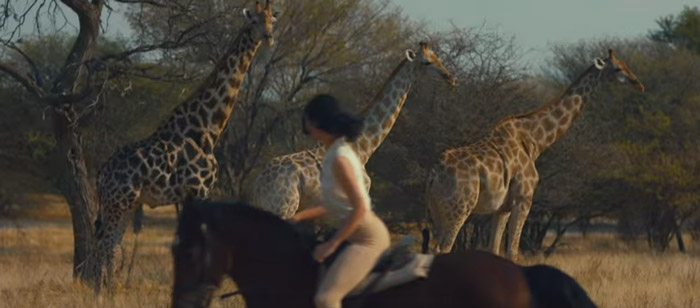 Covering such a vast expanse of ground on a precisely timed schedule means having the expertise to cope with the challenges you meet on the way. John Barclay explained, "A large quantity of fuel was required for the tiger moth and chopper in two different locations, both miles from civilisation. We had to act fast on the first day when we discovered the supply vehicle's trailer had failed over 750km away. The problem was resolved and after another eighteen hour day in the bush all the fuel was delivered on time." Overcoming these logistical challenges are part and parcel of running a safari operation.
The film crew were blown away by their wildlife experiences and beautiful locations that Barclay Stenner had shown them. The parting words from both producers and the director were, "You guys rock, you did it so well and thank you."
"We always get excited at the opportunity of showing the magic of Botswana to first timers and repeat guests alike, this time we are overjoyed to have worked on a project that will show the magic of the wild to the world," said James Stenner. "We really hope this spreads global awareness of the importance of conservation and preservation in order to keep this pristine wilderness and its wildlife as mother nature intended. We commend and salute Taylor Swift for her decision to put all the proceeds of the video into animal conservation here in Africa through the African Parks Foundation. We had lots of help along the way and it really great to work together to promote Botswana globally as a leading safari destination."
We commend Barclay Stenner, associate partners of Royal African Safaris, for their work with Taylor Swift and Joseph, and for officially making the Makgadikgadi the hottest destination in Botswana, and possible the world!
Subscribe to our newsletter.