Arnold Schwarzenegger recently spent some time in South Africa for the Arnold Sports Festival – an annual multi-sport event named after the legendary professional actor, bodybuilder and politician himself.
During his time in the country Arnold shared a video on his snapchat showing him playing with a lion at the Lion Park outside of Johannesburg.
This was followed by a controversial image of himself with a lion, captioned, "Wait! This lion is stealing my protein!" The image has done the rounds, and raised questions about celebrities promoting the often less-than-ethical practices of cub petting and lion walking that have been shown to have strong ties with the canned lion hunting industry. This even after Schwarzenegger spoke out over the killing of Cecil the lion last year and was quoted saying: "Stop killing big cats. Killing a lion isn't ballsy. Going into the Octagon or joining the military – that's ballsy. Try that before you kill a lion. Protecting big cats is also ballsy."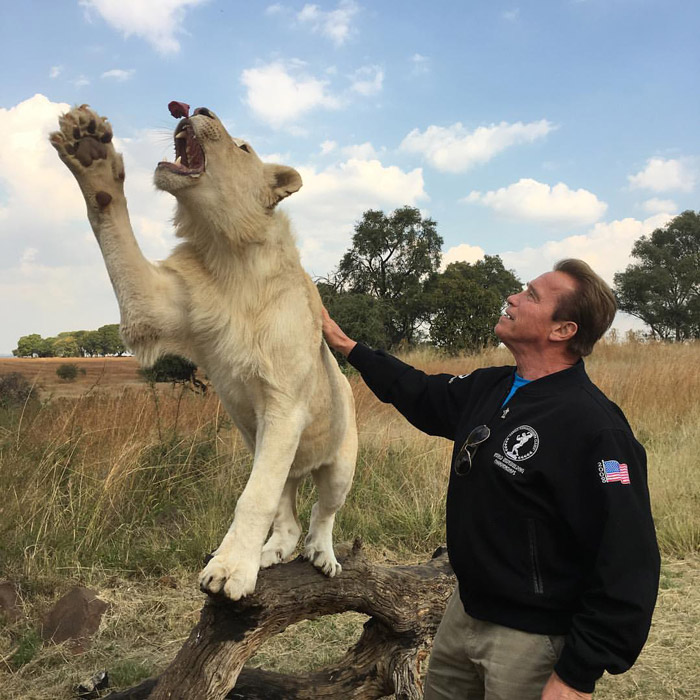 The image was met with by nearly 3,000 comments on his Facebook page with some fans praising his behaviour: "Finally a wealthy person photographed with a big cat that they haven't killed in cold blood, way to go Arnold you're the best," and "It's about time we see a celeb ENJOYING nature and the beautiful animals that inhabit it, and NOT posing for pictures over its dead corpse after shooting it. You are ALL class Arnold Schwarzenegger and set a great example not only for us, the little people, but for all of Hollywood to follow. RESPECT!"
However, others were disappointed in the celebrity stating, "Love ya Arnold but this photo is sooo wrong.. to be able to get that close to a lion is wrong… what kind of facility was it? Many in the guise of conservation and lion rescue but mostly this is BS and many are affiliated with the canned hunting industry… please get ur croonies to do their research… And should it be genuine then they still shouldn't be petted if the lion's best interests were really at the heart of it." And, "Been a huge fan for a long time. Walking with lions and cub petting is the feeder industry for canned hunting. Please DO NOT SUPPORT THIS! I love Africa and lions, and to see trophy hunting supported is sickening!"
The star also posted a video that shows an elephant chasing his vehicle while on safari with the statement: "I couldn't have written this safari encounter better if it was a movie. I'm absolutely in awe of these beautiful, strong animals, even though some of us had to change our pants after this. We need to stop killing them – take a photo, not a shot. Would you rather be able to experience these creatures or a hunk of ivory? I thought so."
Subscribe to our newsletter.