Going away with a loved one should always be an exciting and special experience, whether you've been planning it for months or whether it's a spontaneous weekend away. Achieving this can be easier said than done as travel at the best of times can be stressful and frustrating; slogging big bags across expansive airports, hours of discomfort in packed out airplanes and spending countless minutes travelling to that final destination will surely kill the romance on your holiday before it's even began.
But imagine if it was different; imagine seamless flights, comfortable and efficient airplanes and an exclusive boutique retreat five minutes away from the airport. The Belgrace Boutique Hotel is just that, a European styled country house situated amidst the rolling green hills of Mpumalanga.
I arrived at the hotel after an incredible week of travel from Cape Town to Londolozi in the Sabi Sands, to Tongabezi lodge in Livingstone Zambia and now back to Mpumalanga for a final night of indulgence before heading back home to Cape Town.
The hotel sits quietly behind illustrious silver gates at the end of a driveway flanked by macadamia trees. As you drive in it is as if you have been transported to the rolling hills of Tuscany and into a world of unimaginable beauty.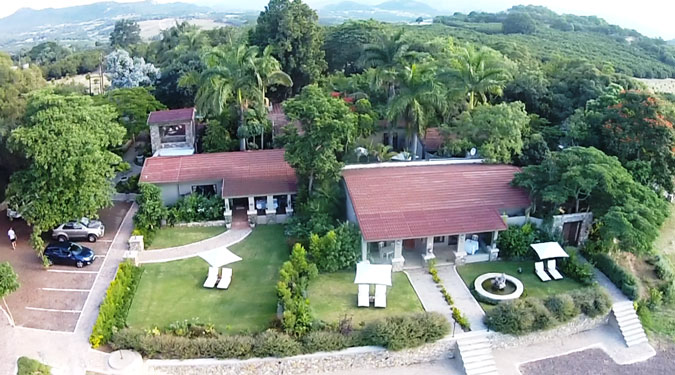 The Belgrace offers visitors a unique experience that is designed with love in mind, it is a sanctuary of unapologetic romance with all the charm of a Tuscan villa.
Each room is immaculate and uniquely decorated to enhance those feelings of intimacy and passion. Every detail from the ceiling to the floor has been carefully attended to in order to achieve this, with French trimmings that mark each room with a neo-classical flair that just exudes romance and harks back to a time of classical antiquity.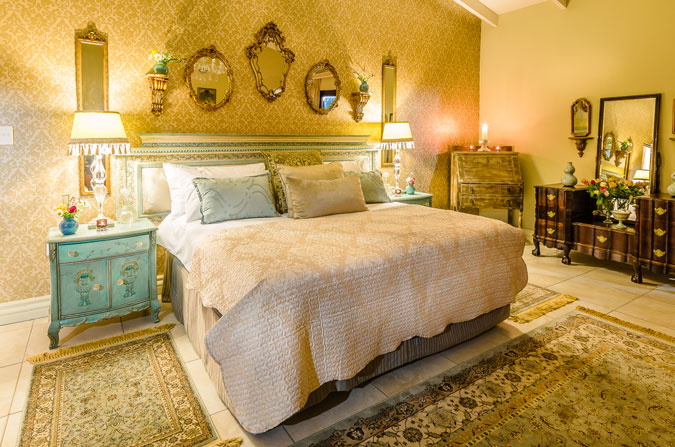 I stayed in the Wedgewood Deluxe suite; a room fit for a queen! I fell immediately in love with the blue and gold French décor that gave the suite its palatial sparkle. Every inch of the space has been designed with ornate and meticulous attention to detail, the furniture is hand painted and dainty glass chandeliers lend the rooms their romantic glow. There are personal touches everywhere, clearly inspired by someone who has a deep understanding of how to create an environment for love.
When I arrived my king sized four-poster bed was covered with rose petals, and a bottle of champagne lay invitingly in a vintage ice bucket next to the window. I felt like Marie Antoinette at Versailles, surrounded by European grandeur and unadulterated luxury. Doors at the far corner of the room led out onto my own private veranda, it was fully furnished and fitted with a Jacuzzi that had been set up for my arrival. Rose petals lay perfectly strewn around it, inviting me in to relax and recharge my weary body whilst enjoying the view of my own private little garden.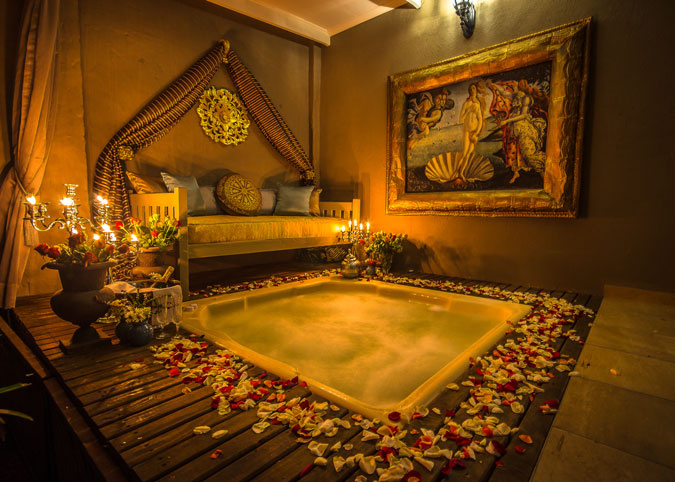 I spent the next couple of hours languishing in the Jacuzzi, nibbling on some of the romantic spoils and sipping on a glass of bubbly, allowing myself a few blissful moments to succumb to the ambience of the space. It was raining lightly outside and the warmth of the water was just what the doctor ordered. I had everything at my finger tips… well, everything except a romantic partner to share this piece of heaven with!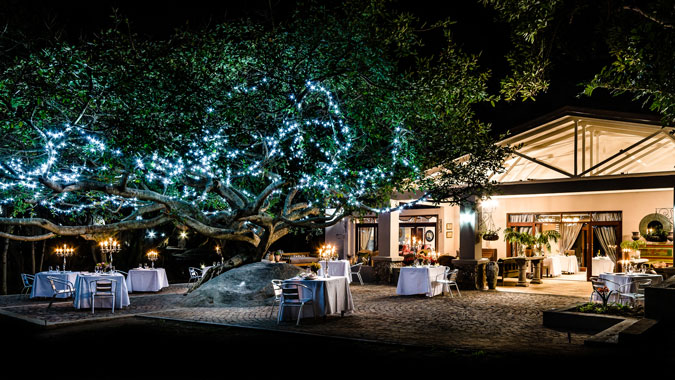 After an afternoon of relaxation I readied for dinner and walked along an outdoor path towards the Rock Fig restaurant, an exclusive dining experience for hotel guests only.
The sky was a moody grey and the smell of rain was revitalizing. A rock fig tree is the centerpiece of the garden, adorned with gentle blue fairy lights that light up the outdoor area and give the space an enchanted shimmer. The restaurant itself looks out over the garden, inside it is a warm Parisian styled room that delivers an elegant and fine dining experience. I was immediately attended to and within moments I was sipping happily on a big glass of red wine.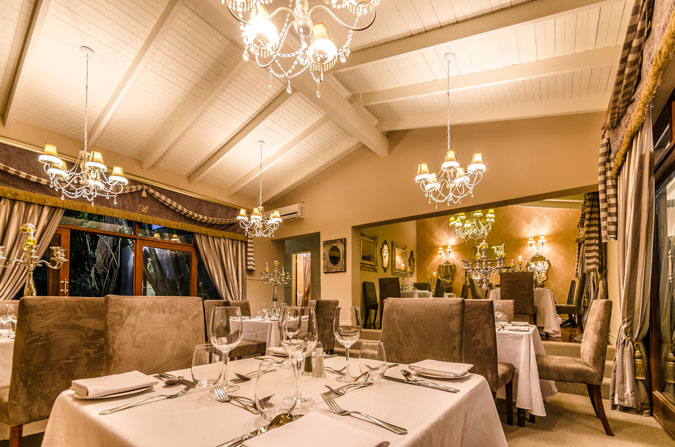 The food was sensational, I enjoyed a three course meal that was so clearly made with love it kissed your tastebuds on every mouthful.
During the meal the owners of this fine establishment, Shaun and his wife Belinda, had taken the time to meet all their guests and came to give me a personal account of the hotel and their inspiration behind the business. They were exceptionally accommodating and have an obvious passion for what they do.
The effects of a busy week were starting to take their toll and I was looking forward to the moment my head would touch the soft silky pillow of my four-poster bed.
That night I slept like an angel on a bed of clouds and woke up as if from a dream. I gazed longingly around my lavish room, sad that I would soon be leaving this magical place and wishing I could turn back the clock and relive it all again.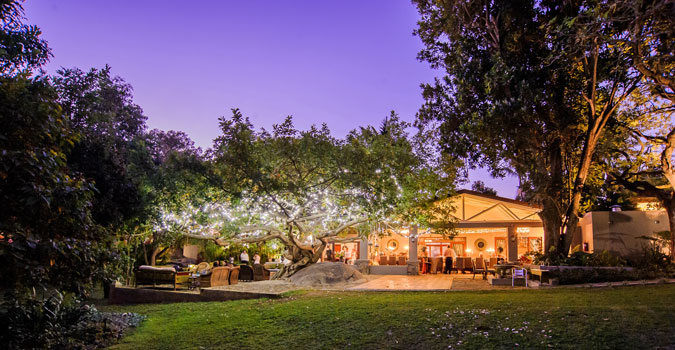 I reluctantly packed my bags and prepared myself for breakfast. Shaun had offered to give me a tour of the premises before I left, so I nibbled on a delicious continental buffet and went to meet him in the outdoor lounge area, eager to see all the other opulent room options.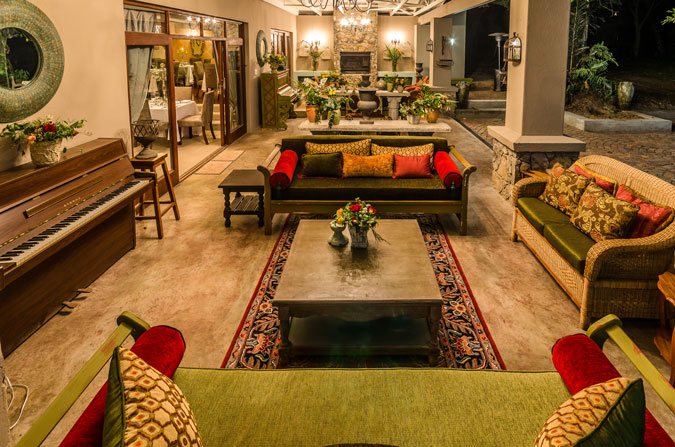 The Belgrace is truly a hotel with heart; Shaun and his wife Belinda have done an exceptional job in combining the exclusivity of a luxurious European style villa with the comfort of a home away from home experience.
From the moment you arrive at the Belgrace hotel you are ensconced inside a world of love and romance, the personal touches, ornate décor and attention to detail will leave you charmed and enamoured, it is the most perfect marriage of luxury and convenience and with Valentines day around the corner it's an ideal time to visit with the one you love.
I'd like to extend my thanks to the Belgrace Boutique Hotel, and to Airlink, for providing a seamless connection between bush and Falls; the ideal connection for passengers wanting to combine time in Kruger's bush with some time at the Mighty Falls.
Subscribe to our newsletter.