These are the 5 most popular news stories from 2017 (in order of popularity),  judged purely by the number of times each post was read. As usual, bad news enjoys a larger audience than good news. 
1. Rhino orphanage attacked (full story: AG News Desk) – February 22, 2017
In a brutal manifestation of how out of control the rhino situation is in South Africa, Thula Thula Rhino Orphanage was attacked, baby rhino(s) killed, care-givers savagely beaten and a young woman sexually assaulted.
On the night of 20 February 2017, the relative sanctuary of Karen Trendler's revered Thula Thula Rhino Orphanage, set on a hilltop amidst a sea of rural villages in KwaZulu Natal, was shattered as five men brazenly breached the security system and brought destruction and chaos to this special team of people and their rhino babies. Karen was not at the orphanage at the time of the attack, and her young team were subjected to the horrific ordeal.
The team from Operation Rhino 7 – the national South African Police Service anti-poaching programme – were alerted and have already impounded a vehicle and rifle and arrested two men in nearby Ermelo. They continue to work hard to bring the perpetrators to book… (full story found here)
2. Acclaimed filmmakers gored by buffalo in Botswana (full story: AG News Desk) – March 6, 2017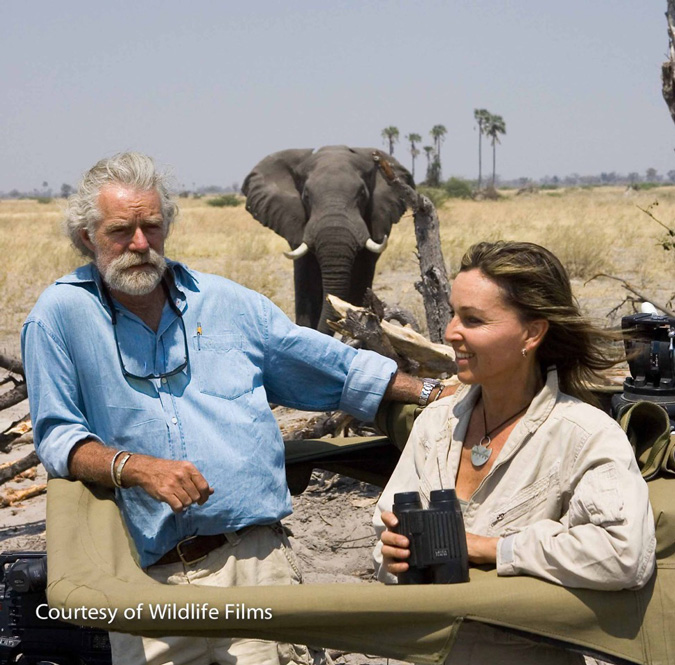 Award-winning filmmakers Dereck and Beverly Joubert were gored by a buffalo on Thursday night in the Okavango Delta, Botswana. Both were injured and Beverly was committed to an intensive care unit, where she is recovering well, according to an update on their Facebook page.
In addition to their numerous filmmaking awards, the Jouberts are National Geographic Explorers-in-Residence and wildlife conservationists, who have been filming, researching and exploring in Africa for over 30 years.  Their mission is the conservation and understanding of the large predators and other key wildlife species that determine the course of all conservation in Africa. They are the founders of the Big Cats Initiative with National Geographic, which currently funds 80 grants in 27 countries for the conservation of big cats… (full story found here)
3. Giant elephant Satao 2 poached in Tsavo, 6 super tuskers left (full story: AG News Desk) – March 6, 2017
SATAO 2 is dead, and another of the last tuskers left in Africa has been poached, leaving only 6 of these giants in the Tsavo Conservation Area in southern Kenya. This is a devastating blow to elephant conservation and to super tusker genes.
SATAO 2 was named after SATAO, the iconic giant who was poached in 2014 and was one of the largest tuskers left on Earth. A 'tusker' is an elephant whose tusks each weigh in excess of 100 lbs / 45,45kg. The tusks of Satao 2 weighed 51kg and 50.5kg.
Kenya Wildlife Service (KWS) rangers discovered the gruesome kill site before the poachers had the time to remove the tusks. Although not totally certain, indications are that SATAO 2 was killed by a poison arrow. In subsequent investigations, two people have been apprehended and weapons seized. KWS continues to work hard to rid Tsavo of poaching teams that roam the reserve… (full story found here)
4. R.I.P Tullamore, the last lion of the 5 Musketeers (full story: AG News Desk) – June 9, 2017
Tullamore, the last of the famous '5 musketeers' desert lions of northern Namibia has been killed in the Okongue area, along with a lioness and two cubs, in the ongoing battle between rural cattle farmers and free-roaming lions. The lions were poisoned. Tullamore was the last surviving member of a group of 5 desert lions made famous by the movie 'The Vanishing Kings'
Since the movie was made Tullamore's 4 musketeer comrades were all killed by farmers – three were poisoned and one was shot in 2016. Tullamore was then moved to the Okongue area for his own safety. He then became the dominant male of a new pride, some of whom were killed with him in this latest incident. Both Tullamore and the lioness carried collars, which were allegedly burned after the killings. The killings may have happened a while ago, as Tullamore was reported missing by researcher Flip Stander in early April… (full story found here)
5. 'Iconic tusker' shot by trophy hunters in Zambia (full story: AG News Desk) – September 27, 2017
A large bull elephant was shot and killed in Zambia this past weekend by a trophy hunter. The term 'iconic Tusker' was used to describe the elephant and celebrate the hunt, but it is not clear if this was indeed a true 'Tusker' (with tusks weighing 100 pounds on each side). It is estimated that there are fewer than 50 true Tuskers left in Africa, and probably only 25-30.
The hunt was reportedly legally organised through Stone Hunting Safaris, where hunting in Zambia takes place in "the Luangwa Valley, Kafue Flats, and Bangweulu Swamps in governmental conservation areas or large privately owned ranches, depending on the required species"… (full story found here)
Subscribe to our newsletter.