"During my first trip to Ant's, one of the guides told us: 'Once you get the dirt of the Waterberg in your shoes, you will come back'. I must have gotten a truck load in my shoes – I've been back 17 times!" ~ Bobbi Laurens.
When a guest returns to your lodge 17 times, you know you're doing something very right. Bobbi Laurens first stayed at Ant's in January 2011 and can't seem to get enough of the place.
As avid horse riders, it's tradition for Bobbi and her friend to do two annual riding trips together. Taking turns to pick the destination, it was Bobbi's friend that found Ant's on a riding holiday website. The requirements were someplace warm in Africa (but without malaria) and Ant's was the ideal destination!
Bobbi shares why she loves Ant's so much:
"I keep coming back to Ant's due to a number of things. Firstly, the quality of the lodge. The rooms are stunning and comfortable and the food is fantastic! I always joke that I come back for the butter cookies that they keep in a jar in every room.
The staff are always welcoming, warm and very professional. I live in Los Angeles, California, so it's a bit of a jaunt over to Ant's for me – but it's worth the travel time.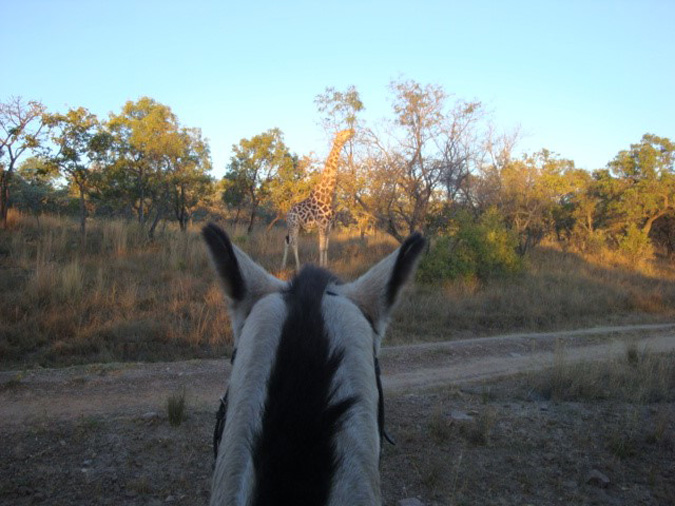 Ant's horses
Besides the lodge and lodge staff; the horses and the riding are just wonderful. The horses at Ant's are all good, solid, steady horses; not to say they are boring "nose to tail" rides. All the horses are well schooled and if needed can be turned away and ridden away from the group.
The staff are excellent at matching up horses to the rider's level of competency. The first ride they always 'underhorse' a guest so they can do an assessment of the person's riding ability. I've seen people who have only done arena riding have so much fun cantering out in the open. Trust me, they like to canter at Ant's. Only if you want to though. No one is forced to go fast if they don't want to.
I've always felt very comfortable and secure on the horses I've ridden at Ant's.
Horse riding in the bush
There is something special about riding a horse out amongst the wildlife. On horseback a person can get very close to the animals, as they are less skittish around the horses. I always get a laugh at how a bull kudu will stand behind a sapling – less than ten feet away from the rider – holding stock still, convinced that no one sees him.
I've seen what I call 'the usual suspects': giraffe, impala, warthog, wildebeest, zebra and blesbok on just about every ride. I've seen sable antelope, roan antelope, hartebeest, nyala, duiker, waterbuck, Cape buffalo, rhino, baboons, jackals, bat-eared foxes, and my favorites, banded mongoose.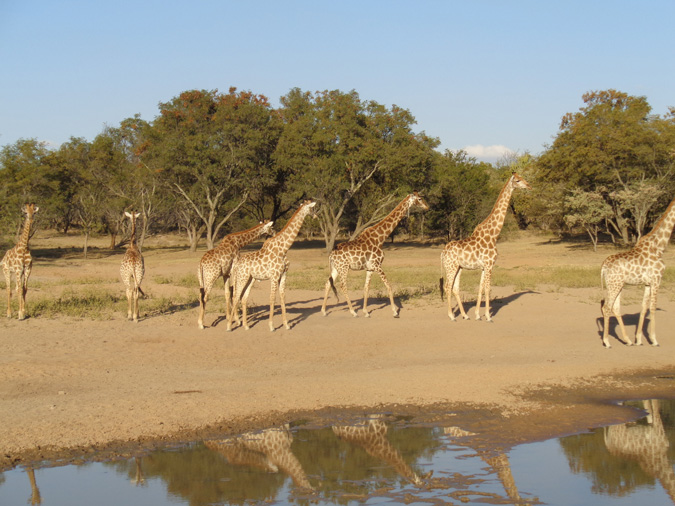 The perfect blend…
For me, Ant's is the perfect blend of riding, wildlife viewing and fine dining.
Sometimes it's the thrill of a fast canter with zebra and wildebeest scattering as you ride past them, sometimes it's watching the sun go down on a clear night at sundowners after a ride.
I've had so many fun experiences at Ant's. Tracking a Cape buffalo calf at 6am with two guides so that we could tell the veterinarian where to find it, is one experience I've always found special. What is really special to me though, is every ride. Each one is different and each one just makes me want to come back again and again. Which I keep doing!"
Ant's definitely is a home-away-from-home for Bobbi, so it's no surprise that she has already lined up her next two trips!
Find out more about Ant's Nest and Ant's Hill Bush Homes here.