Written by: Hagai Zvulun
It never ceases to amaze me how much there is to see if we slow down enough to see it. And the amazing diversity of life that you can discover in East Africa with Matembezi is astonishing.
While scuba diving on Mbwangawa reef on the northeast corner of Unguja island in the Zanzibar archipelago, I noticed a little tiger cardinalfish, Cheilodipterus macrodon, in a crook of a plate coral reef outcrop, at a depth of about 15 metres.
From a distance of a couple of metres, it seemed to have a peculiar blotch behind its eye. Curious I moved closer, while it seemed to regard me with the same curiosity.
I couldn't believe my luck – this "blotch" was a little isopod of about one centimetre in length. Slowing my breath I crept closer, and was successful in getting a few images of the small isopod neatly attached to the cardinalfish's head.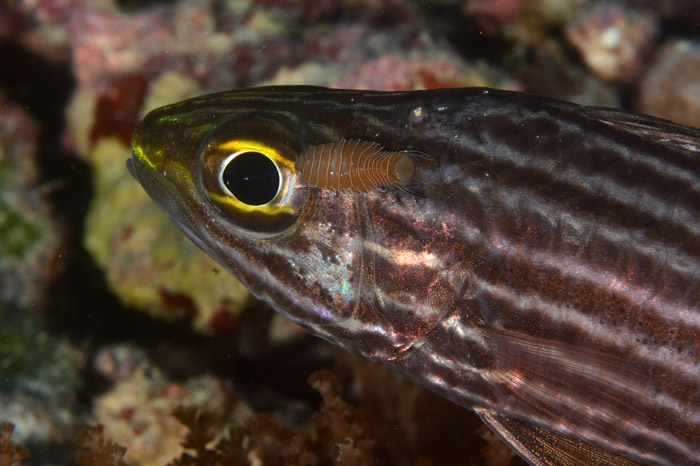 Isopods are actually quite common and are circumtropical in distribution, but are rarely seen. They are commonly known by the rather alarming name of tongue-biter cymothoid, Cymothoid exigua.
The cymathoids are actually scavengers rather than parasites, feeding on plankton from their vantage point on their hosts.
Starting their life as free swimming males, they attach themselves to their host fish by several pairs of hook-like legs. They then lose the ability to swim so settle as a mating pair for life on the heads of fish, usually very close to the eyes (one on either side) causing no real damage to the fish except maybe some deformity where they are attached.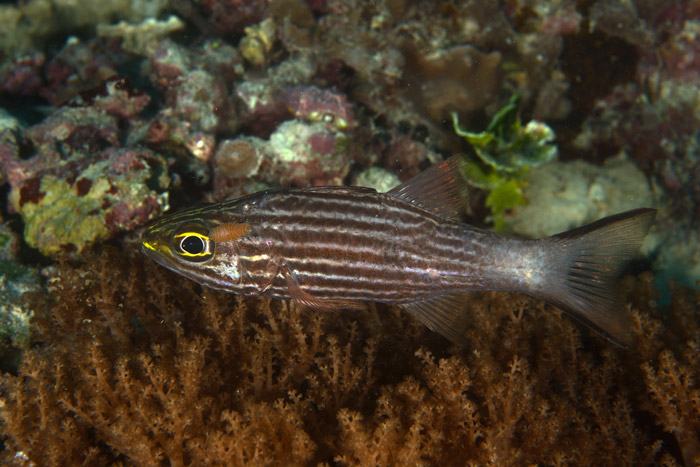 Some may even enter through the fish gills and attach themselves to the tongues, in which case the tongue will atrophy and eventually be permanently replaced by the isopod with no further damage to its host.
Just another beautiful example of nature's complexity.
Subscribe to our newsletter.