It's 5am and the alarm goes off. Brimming with excitement you get up to go on a day trip into the Moremi Game Reserve in Botswana. You grab your padkos (road trip food) and the few bottles of water and everyone bundles into the 4×4 to begin the adventure.
At about 8:30 the gate is in sight and after paying for the park fees you go and check the sightings board. Lions, leopard, and a female cheetah with her four cubs have all been seen recently and you also have the inside information that they are regularly seen around the Black Pools area, so of course this is where you decide to concentrate your search.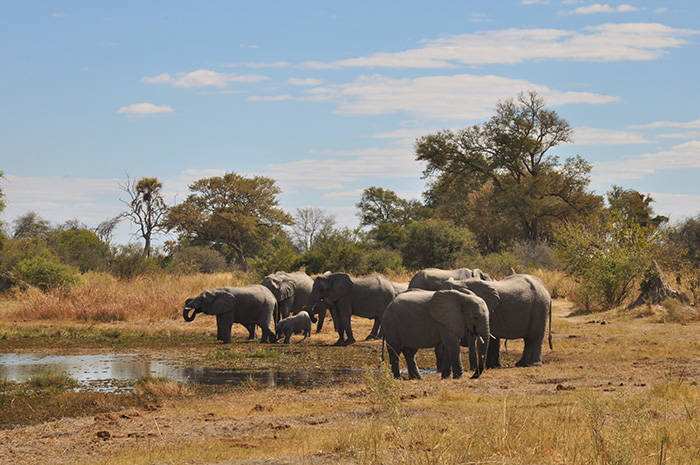 As the day progresses you enjoy some of the best the park has to offer. You see elephants around almost every corner, buffalos wallowing in the mud, crocodiles basking in the sun, as well as a diverse range of antelope species.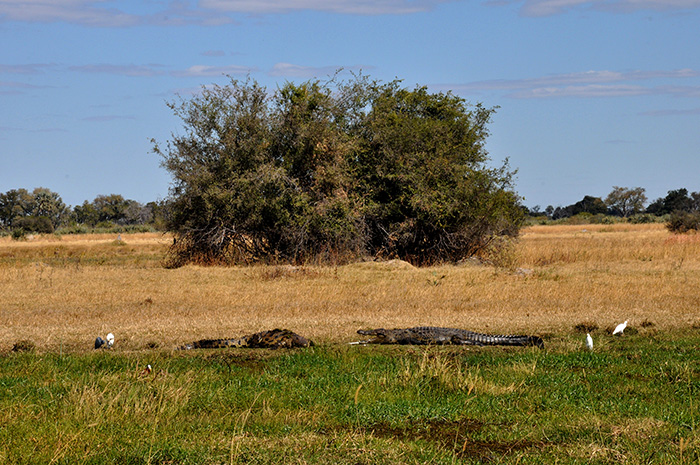 Just past midday the first pangs of hunger are beginning to be felt within the car and a plan to stop for lunch is quickly made. According to the map there is a picnic spot not too far from where you are, so you start heading in that direction when all of a sudden the vehicle comes to a sinking stop.
You now find yourself in a patch of very thick, loose sand and no matter how many times you try to go backwards or forwards you just find yourself sinking deeper and deeper. With no cellphone signal available there are two options, try to get yourself out or wait and hope that another vehicle drives by. You choose option one and with no real equipment available start trying to dig the tyres out using what you've got, your hands.
After hours and no real progress you start to realise that there may be nobody coming and the first feelings of panic start to set in. As the sun begins to set, the debate turns to whether you should wait by your vehicle or leave its relative safety to try to get to a main road to try and flag a passer-by down. Its decided that you should stick together because it is starting to get dark and you start to hope that the gate will notice that you did not leave the park and that help will be sent.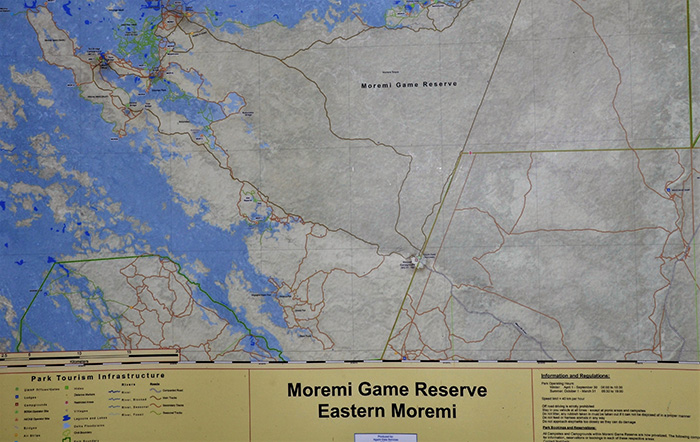 As night begins to set in you decide it's time to climb back into the single cab your vehicle has and settle in for the worst case scenario, a night stuck in the bush with hardly any food, a dwindling water supply and no camping equipment. No sooner are you back in the car when, from the direction you debated going in to look for help, a big leopard emerges and walks right past you.
This is not all, throughout the night you are visited by herd after herd of elephants who, when discovering this strange object in their park, take to sniffing and feeling the car while you sit inside terrified. It is not long before you realise that it's going to be a long night, possibly the longest of your life.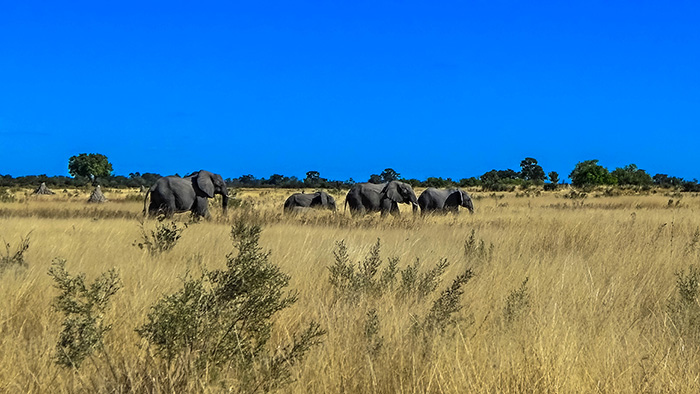 When morning finally arrives you are exhausted from a night of hardly any sleep and when you take stock of your situation you realise that you are down to your last litre of water. With this in mind you try to stay positive and keep digging and putting anything you can find under your tyres to try to get a bit of traction but as the morning begins to get late you are starting to lose hope.
This sounds like the plot for a movie but in fact this is exactly what happened to a couple that Andrew, Sephiri Tours' head guide and his tour group discovered deep in the Botswana bushveld.
Andrew and his tour group were making their way to a picnic spot for lunch during their stay in Moremi when they stopped at a sign post to make sure they were going in the right direction. As they were sitting checking maps Andrew suddenly noticed a red flag in the bush moving towards them. He jumped out the car as a man emerged from the bushes filthy dirty and collapsed on the ground next to him with a look of pure relief on his face.
As the man started to catch his breath he begged the group to go back to the gate and call the park rangers for help. While the group calmed the man down and gave him water Andrew walked over to where the man's wife and vehicle were to give her some water and assess the vehicle's situation. Realising that he and his crew had the right equipment, Andrew reassured the couple that he could help them.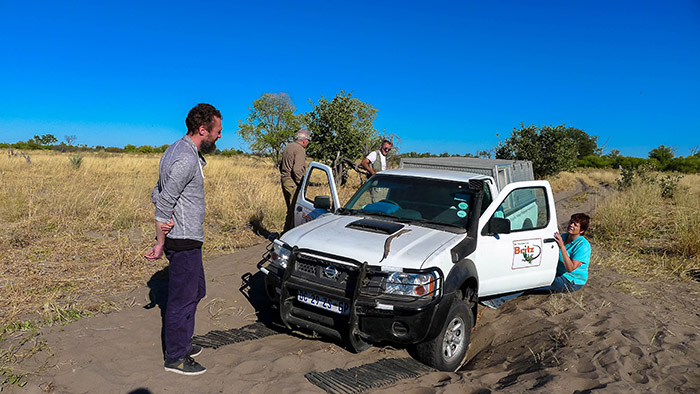 After bringing their two vehicles around, Andrew started to explain his plan to the rest of the group. As the vehicle had sunk so low that the diff was on the ground what they needed to do was jack the vehicle up, take sand from the centre and put it back into the rut, lay sand tracks under the tyres and then lower the vehicle back down. The last and most crucial phase was to lower the tyre pressure in order to increase surface area and over all traction on the sand tracks.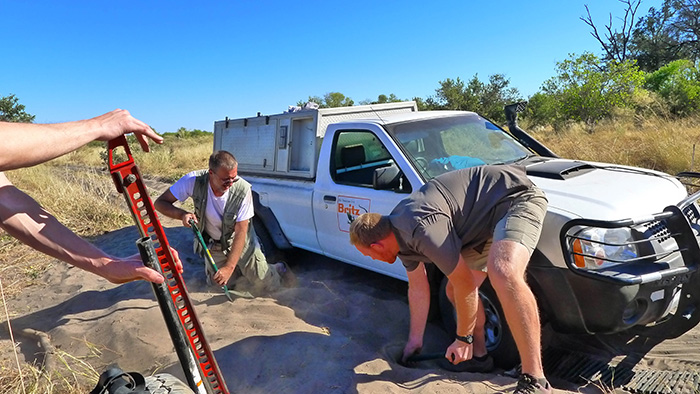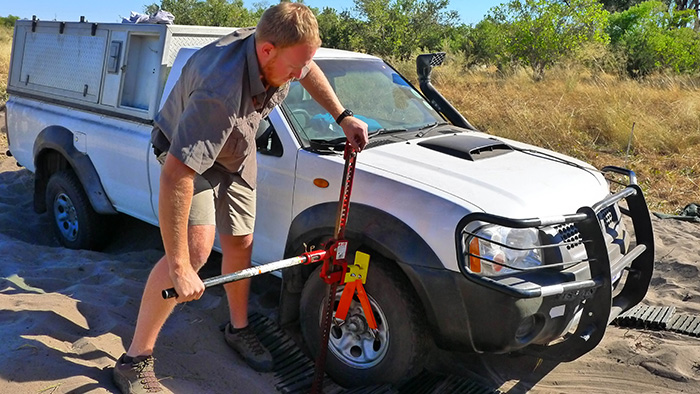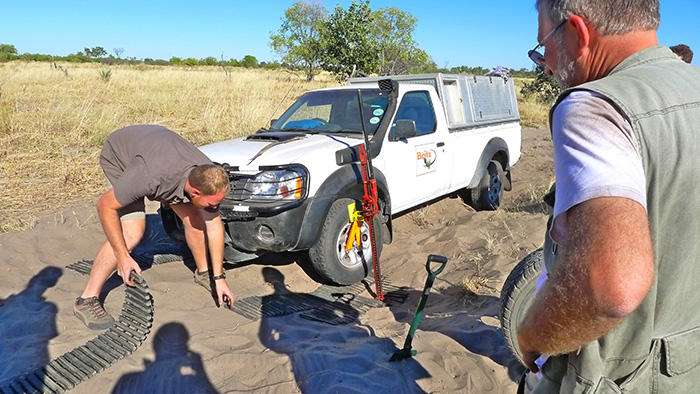 Just over an hour later the task was complete and the moment of truth had arrived, would the vehicle drive out as planned? Needless to say it did, cheers were shouted and tears of relief and joy were shed by the couple as they realised their harrowing ordeal had come to an end. After all their hard work everyone agreed that a good meal was in order and everyone made their way to the notorious picnic site where they enjoyed a well-earned brunch before carrying on with their day.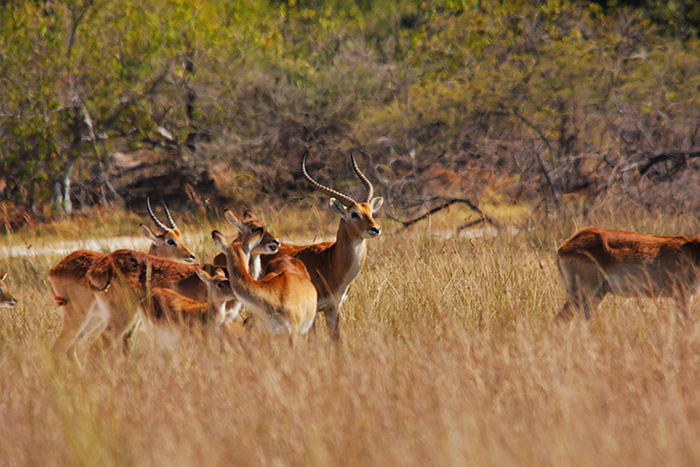 A few weeks later Andrew received an email from the German couple to say that they were safely back home and were now looking back on their night in the bush and appreciating just how amazing it was to experience what they did. They now hope to visit Moremi again soon perhaps this time with Andrew as their guide, just in case.
Subscribe to our newsletter.